THE THIRD THING
By: D.H. Lawrence
August 23, 2023
A (pro- or anti-) science-, mathematics-, technology-, space-, apocalypse-, dehumanization-, disenchantment-, and/or future-oriented poem published during sf's emergent Radium Age (c. 1900–1935). Research and selection by Joshua Glenn.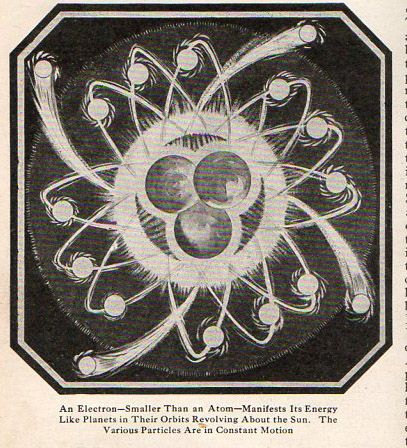 Water is H2O, hydrogen two parts, oxygen
one,
but there is also a third thing, that makes it
water
and nobody knows what it is.
The atom locks up two energies
but it is a third thing present which makes
it an atom.
— from Pansies (1929)
I don't pretend to understand particle physics, but wasn't Lawrence's question answered in July 2012?
We've learned since 1929 that there are two groups of particles: fermions (quarks and leptons of various sorts), which make up matter, and bosons, which constitute the forces (or "interactions") between material objects. Mass, we now understand, is not an intrinsic property of particles but rather a property of the interaction between each particle and the so-called Higgs field, a universal quantum field able to provide mass to elementary particles.
Atoms and other solid bodies can form thanks to this field, and in particular thanks to a particular sort of boson — the Higgs boson, the existence of which was confirmed in July 2012 — that is a perturbation of the Higgs field itself.
***
RADIUM AGE PROTO-SF POETRY: Stephen Spender's THE PYLONS | George Sterling's THE TESTIMONY OF THE SUNS | Archibald MacLeish's EINSTEIN | Thomas Thornely's THE ATOM | C.S. Lewis's DYMER | Stephen Vincent Benét's METROPOLITAN NIGHTMARE | Robert Frost's FIRE AND ICE | Aldous Huxley's FIFTH PHILOSOPHER'S SONG | Sara Teasdale's "THERE WILL COME SOFT RAINS" | Edith Södergran's ON FOOT I HAD TO… | Robert Graves's WELSH INCIDENT | Nancy Cunard's ZEPPELINS | D.H. Lawrence's WELLSIAN FUTURES | & many more.