THE TISSUE-CULTURE KING (9)
By: Julian Huxley
October 30, 2022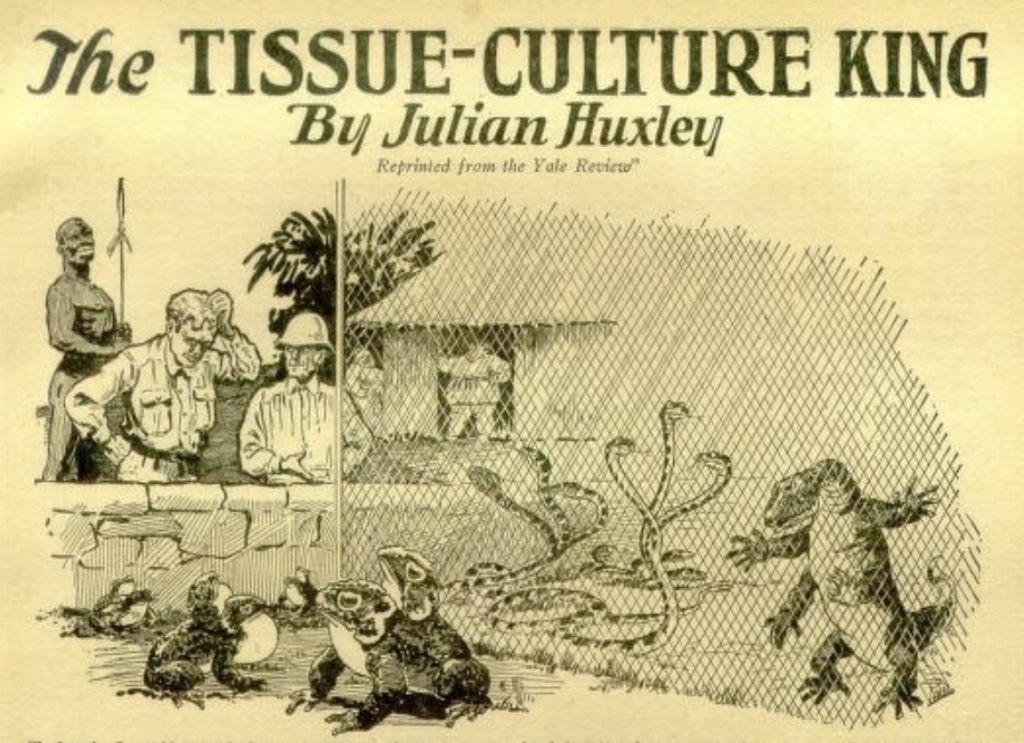 HiLoBooks is pleased to serialize "The Tissue-Culture King," a 1926 short story by biologist Julian Huxley, for HILOBROW's readers. Sometimes subtitled "A Parable of Modern Science," it is an allegory of science's subordination to capitalist imperatives. Fun fact: Here is where you will find one of the earliest mentions of the anti-telepathic properties of tin-foil hats.
ALL INSTALLMENTS: 1 | 2 | 3 | 4 | 5 | 6 | 7 | 8 | 9.
***
And then I realized what had happened. Bugala had waked up; he had wiped out the suggestion we had given to the superconsciousness, and in its place put in another. I could see him thinking it out, the cunning devil (one must give him credit for brains!), and hear him, after making his passes, whisper to the nation in prescribed form his new suggestion: "Will to return! Return!" For most of the inhabitants the command would have no meaning, for they would have been already at home. Doubtless some young men out on the hills, or truant children, or girls run off in secret to meet their lovers, were even now returning, stiffly and in somnambulistic trance, to their homes. It was only for them that the new command of the superconsciousness had any meaning — and for us.
I am putting it in a long and discursive way; at the moment I simply saw what had happened in a flash. I told Hascombe, I showed him it must be so, that nothing else would account for the sudden change. I begged and implored him to use his reason, to stick to his decision, and to come on. How I regretted that, in our desire to discard all useless weight, we had left behind our metal telepathy-proof head coverings!
But Hascombe would not, or could not, see my point. I suppose he was much more imbued with all the feelings and spirit of the country, and so more susceptible. However that may be, he was immovable. He must go back; he knew it; he saw it clearly; it was his sacred duty; and much other similar rubbish. All this time the suggestion was attacking me too; and finally I felt that if I did not put more distance between me and that unisonic battery of will, I should succumb as well as he.
"Hascombe," I said, "I am going on. For God's sake, come with me." And I shouldered my pack, and set off. He was shaken, I saw, and came a few steps after me. But finally he turned, and, in spite of my frequent pauses and shouts to him to follow, made off in the direction we had come. I can assure you that it was with a gloomy soul that I continued my solitary way. I shall not bore you with my adventures. Suffice it to say that at last I got to a white outpost, weak with fatigue and poor food and fever.
I kept very quiet about my adventures, only giving out that our expedition had lost its way and that my men had run away or been killed by the local tribes. At last I reached England. But I was a broken man, and a profound gloom had invaded my mind at the thought of Hascombe and the way he had been caught in his own net. I never found out what happened to him, and I do not suppose that I am likely to find out now. You may ask why I did not try to organize a rescue expedition; or why, at least, I did not bring Hascombe's discoveries before the Royal Society or the Metaphysical Institute. I can only repeat that I was a broken man. I did not expect to be believed; I was not at all sure that I could repeat our results, even on the same human material, much less with men of another race; I dreaded ridicule; and finally I was tormented by doubts as to whether the knowledge of mass telepathy would not be a curse rather than a blessing to mankind.
However, I am an oldish man now and, what is more, old for my years. I want to get the story off my chest. Besides, old men like sermonizing and you must forgive, gentle reader, the sermonical turn which I now feel I must take. The question I want to raise is this: Dr. Hascombe attained to an unsurpassed power in a number of the applications of science — but to what end did all this power serve? It is the merest cant and twaddle to go on asserting, as most of our press and people continue to do, that increase of scientific knowledge and power must in itself be good. I commend to the great public the obvious moral of my story and ask them to think what they propose to do with the power which is gradually being accumulated for them by the labors of those who labor because they like power, or because they want to find the truth about how things work.
***
RADIUM AGE PROTO-SF: "Radium Age" is Josh Glenn's name for the nascent sf genre's c. 1900–1935 era, a period which saw the discovery of radioactivity, i.e., the revelation that matter itself is constantly in movement — a fitting metaphor for the first decades of the 20th century, during which old scientific, religious, political, and social certainties were shattered. More info here.
SERIALIZED BY HILOBOOKS: Jack London's The Scarlet Plague | Rudyard Kipling's With the Night Mail (and "As Easy as A.B.C.") | Arthur Conan Doyle's The Poison Belt | H. Rider Haggard's When the World Shook | Edward Shanks' The People of the Ruins | William Hope Hodgson's The Night Land | J.D. Beresford's Goslings | E.V. Odle's The Clockwork Man | Cicely Hamilton's Theodore Savage | Muriel Jaeger's The Man With Six Senses | Jack London's "The Red One" | Philip Francis Nowlan's Armageddon 2419 A.D. | Homer Eon Flint's The Devolutionist | W.E.B. DuBois's "The Comet" | Edgar Rice Burroughs's The Moon Men | Charlotte Perkins Gilman's Herland | Sax Rohmer's "The Zayat Kiss" | Eimar O'Duffy's King Goshawk and the Birds | Frances Hodgson Burnett's The Lost Prince | Morley Roberts's The Fugitives | Helen MacInnes's The Unconquerable | Geoffrey Household's Watcher in the Shadows | William Haggard's The High Wire | Hammond Innes's Air Bridge | James Branch Cabell's Jurgen | John Buchan's "No Man's Land" | John Russell's "The Fourth Man" | E.M. Forster's "The Machine Stops" | John Buchan's Huntingtower | Arthur Conan Doyle's When the World Screamed | Victor Bridges' A Rogue By Compulsion | Jack London's The Iron Heel | H. De Vere Stacpoole's The Man Who Lost Himself | P.G. Wodehouse's Leave It to Psmith | Richard Connell's "The Most Dangerous Game" | Houdini and Lovecraft's "Imprisoned with the Pharaohs" | Arthur Conan Doyle's "The Sussex Vampire" | Francis Stevens's "Friend Island" | George C. Wallis's "The Last Days of Earth" | Frank L. Pollock's "Finis" | A. Merritt's The Moon Pool | E. Nesbit's "The Third Drug" | George Allan England's "The Thing from — 'Outside'" | Booth Tarkington's "The Veiled Feminists of Atlantis" | H.G. Wells's "The Land Ironclads" | J.D. Beresford's The Hampdenshire Wonder | Valery Bryusov's "The Republic of the Southern Cross" | Algernon Blackwood's "A Victim of Higher Space" | A. Merritt's "The People of the Pit" | Max Brand's The Untamed | Julian Huxley's "The Tissue-Culture King" | Clare Winger Harris's "A Runaway World" | Francis Stevens's "Thomas Dunbar" | George Gurdjieff's "Beelzebub's Tales" | Robert W. Chambers's "The Harbor-Master" | Mary E. Wilkins Freeman's "The Hall Bedroom" | Clare Winger Harris's "The Fifth Dimension" | Francis Stevens's "Behind the Curtain" | more to come.