A VICTIM OF HIGHER SPACE (7)
By: Algernon Blackwood
July 9, 2022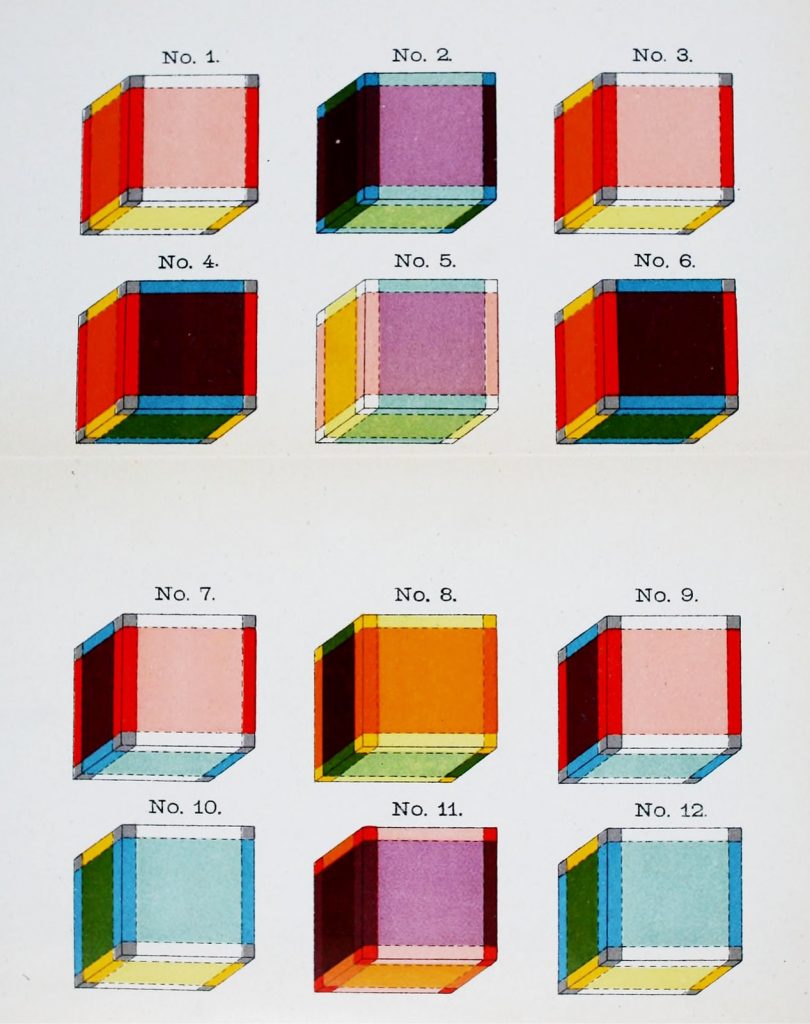 Images from The Fourth Dimension, a 1904 book about the "tesseract" — a four-dimensional analog of the cube — by Charles Howard Hinton, the British proto-sf writer who coined the term in 1888.
HiLoBooks is pleased to serialize Algernon Blackwood's 1914 proto-sf story "A Victim of Higher Space" — featuring the occult investigator, mystic, and clairvoyant John Silence, about whom Blackwood would write five other stories — for HILOBROW's readers. Here, Blackwood grapples playfully with the notion of a spatial fourth dimension — asking us to imagine how humans might experience or imagine a space extended in an extra dimensions they could not see.
ALL INSTALLMENTS: 1 | 2 | 3 | 4 | 5 | 6 | 7 | 8 | 9.
***
Mr. Mudge stopped and again mopped his brow. A light trembling ran over the surface of his small body like wind over grass. He still held tightly to the arms of the chair.
"At first," he presently resumed, "my new experiences were so vividly interesting that I felt no alarm. There was no room for it. The alarm came a little later."
"Then you actually penetrated far enough into that state to experience yourself as a normal portion of it?" asked the doctor, leaning forward, deeply interested.
Mr. Mudge nodded a perspiring face in reply.
"I did," he whispered, "undoubtedly I did. I am coming to all that. It began first at night, when I realised that sleep brought no loss of consciousness —"
"The spirit, of course, can never sleep. Only the body becomes unconscious," interposed John Silence.
"Yes, we know that — theoretically. At night, of course, the spirit is active elsewhere, and we have no memory of where and how, simply because the brain stays behind and receives no record. But I found that, while remaining conscious, I also retained memory. I had attained to the state of continuous consciousness, for at night I regularly, with the first approaches of drowsiness, entered nolens volens the four-dimensional world.
"For a time this happened regularly, and I could not control it; though later I found a way to regulate it better. Apparently sleep is unnecessary in the higher — the four-dimensional — body. Yes, perhaps. But I should infinitely have preferred dull sleep to the knowledge. For, unable to control my movements, I wandered to and fro, attracted, owing to my partial development and premature arrival, to parts of this new world that alarmed me more and more. It was the awful waste and drift of a monstrous world, so utterly different to all we know and see that I cannot even hint at the nature of the sights and objects and beings in it. More than that, I cannot even remember them. I cannot now picture them to myself even, but can recall only the memory of the impression they made upon me, the horror and devastating terror of it all. To be in several places at once, for instance —"
"Perfectly," interrupted John Silence, noticing the increase of the other's excitement, "I understand exactly. But now, please, tell me a little more of this alarm you experienced, and how it affected you."
"It's not the disappearing and reappearing per se that I mind," continued Mr. Mudge, "so much as certain other things. It's seeing people and objects in their weird entirety, in their true and complete shapes, that is so distressing. It introduces me to a world of monsters. Horses, dogs, cats, all of which I loved; people, trees, children; all that I have considered beautiful in life — everything, from a human face to a cathedral — appear to me in a different shape and aspect to all I have known before. I cannot perhaps convince you why this should be terrible, but I assure you that it is so. To hear the human voice proceeding from this novel appearance which I scarcely recognise as a human body is ghastly, simply ghastly. To see inside everything and everybody is a form of insight peculiarly distressing. To be so confused in geography as to find myself one moment at the North Pole, and the next at Clapham Junction — or possibly at both places simultaneously — is absurdly terrifying. Your imagination will readily furnish other details without my multiplying my experiences now. But you have no idea what it all means, and how I suffer."
Mr. Mudge paused in his panting account and lay back in his chair. He still held tightly to the arms as though they could keep him in the world of sanity and three measurements, and only now and again released his left hand in order to mop his face. He looked very thin and white and oddly unsubstantial, and he stared about him as though he saw into this other space he had been talking about.
John Silence, too, felt warm. He had listened to every word and had made many notes. The presence of this man had an exhilarating effect upon him. It seemed as if Mr. Racine Mudge still carried about with him something of that breathless Higher-Space condition he had been describing. At any rate, Dr. Silence had himself advanced sufficiently far along the legitimate paths of spiritual and psychic transformations to realise that the visions of this extraordinary little person had a basis of truth for their origin.
After a pause that prolonged itself into minutes, he crossed the room and unlocked a drawer in a bookcase, taking out a small book with a red cover. It had a lock to it, and he produced a key out of his pocket and proceeded to open the covers. The bright eyes of Mr. Mudge never left him for a single second.
***
RADIUM AGE PROTO-SF: "Radium Age" is Josh Glenn's name for the nascent sf genre's c. 1900–1935 era, a period which saw the discovery of radioactivity, i.e., the revelation that matter itself is constantly in movement — a fitting metaphor for the first decades of the 20th century, during which old scientific, religious, political, and social certainties were shattered. More info here.
SERIALIZED BY HILOBOOKS: Jack London's The Scarlet Plague | Rudyard Kipling's With the Night Mail (and "As Easy as A.B.C.") | Arthur Conan Doyle's The Poison Belt | H. Rider Haggard's When the World Shook | Edward Shanks' The People of the Ruins | William Hope Hodgson's The Night Land | J.D. Beresford's Goslings | E.V. Odle's The Clockwork Man | Cicely Hamilton's Theodore Savage | Muriel Jaeger's The Man With Six Senses | Jack London's "The Red One" | Philip Francis Nowlan's Armageddon 2419 A.D. | Homer Eon Flint's The Devolutionist | W.E.B. DuBois's "The Comet" | Edgar Rice Burroughs's The Moon Men | Charlotte Perkins Gilman's Herland | Sax Rohmer's "The Zayat Kiss" | Eimar O'Duffy's King Goshawk and the Birds | Frances Hodgson Burnett's The Lost Prince | Morley Roberts's The Fugitives | Helen MacInnes's The Unconquerable | Geoffrey Household's Watcher in the Shadows | William Haggard's The High Wire | Hammond Innes's Air Bridge | James Branch Cabell's Jurgen | John Buchan's "No Man's Land" | John Russell's "The Fourth Man" | E.M. Forster's "The Machine Stops" | John Buchan's Huntingtower | Arthur Conan Doyle's When the World Screamed | Victor Bridges' A Rogue By Compulsion | Jack London's The Iron Heel | H. De Vere Stacpoole's The Man Who Lost Himself | P.G. Wodehouse's Leave It to Psmith | Richard Connell's "The Most Dangerous Game" | Houdini and Lovecraft's "Imprisoned with the Pharaohs" | Arthur Conan Doyle's "The Sussex Vampire" | Francis Stevens's "Friend Island" | George C. Wallis's "The Last Days of Earth" | Frank L. Pollock's "Finis" | A. Merritt's The Moon Pool | E. Nesbit's "The Third Drug" | George Allan England's "The Thing from — 'Outside'" | Booth Tarkington's "The Veiled Feminists of Atlantis" | H.G. Wells's "The Land Ironclads" | J.D. Beresford's The Hampdenshire Wonder | Valery Bryusov's "The Republic of the Southern Cross" | Algernon Blackwood's "A Victim of Higher Space" | A. Merritt's "The People of the Pit" | Max Brand's The Untamed | Julian Huxley's "The Tissue-Culture King" | Clare Winger Harris's "A Runaway World" | Francis Stevens's "Thomas Dunbar" | George Gurdjieff's "Beelzebub's Tales" | Robert W. Chambers's "The Harbor-Master" | Mary E. Wilkins Freeman's "The Hall Bedroom" | Clare Winger Harris's "The Fifth Dimension" | Francis Stevens's "Behind the Curtain" | more to come.