A VICTIM OF HIGHER SPACE (5)
By: Algernon Blackwood
June 26, 2022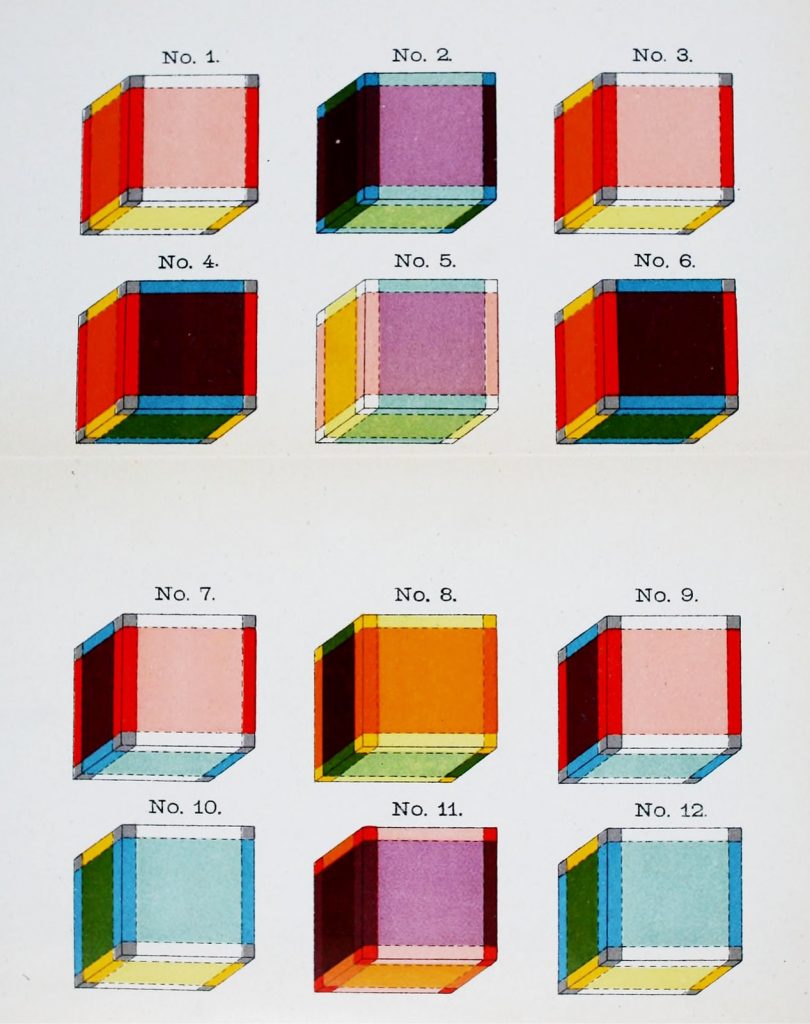 Images from The Fourth Dimension, a 1904 book about the "tesseract" — a four-dimensional analog of the cube — by Charles Howard Hinton, the British proto-sf writer who coined the term in 1888.
HiLoBooks is pleased to serialize Algernon Blackwood's 1914 proto-sf story "A Victim of Higher Space" — featuring the occult investigator, mystic, and clairvoyant John Silence, about whom Blackwood would write five other stories — for HILOBROW's readers. Here, Blackwood grapples playfully with the notion of a spatial fourth dimension — asking us to imagine how humans might experience or imagine a space extended in an extra dimensions they could not see.
ALL INSTALLMENTS: 1 | 2 | 3 | 4 | 5 | 6 | 7 | 8 | 9.
***
In his growing excitement, Mr. Mudge attempted to drag the chair forward a little nearer to his listener, and then smiled faintly as he resigned himself instantly again to its immovability, and plunged anew into the recital of his singular "disease."
"The audacious speculations of Bolyai, the amazing theories of Gauss — that through a point more than one line could be drawn parallel to a given line; the possibility that the angles of a triangle are together greater than two right angles, if drawn upon immense curvatures — the breathless intuitions of Beltrami and Lobatchewsky — all these I hurried through, and emerged, panting but unsatisfied, upon the verge of my — my new world, my Higher Space possibilities — in a word, my disease!
"How I got there," he resumed after a brief pause, during which he appeared to be listening intently for an approaching sound, "is more than I can put intelligibly into words. I can only hope to leave your mind with an intuitive comprehension of the possibility of what I say.
"Here, however, came a change. At this point I was no longer absorbing the fruits of studies I had made before; it was the beginning of new efforts to learn for the first time, and I had to go slowly and laboriously through terrible work. Here I sought for the theories and speculations of others. But books were few and far between, and with the exception of one man — a 'dreamer,' the world called him — whose audacity and piercing intuition amazed and delighted me beyond description, I found no one to guide or help.
"You, of course, Dr. Silence, understand something of what I am driving at with these stammering words, though you cannot perhaps yet guess what depths of pain my new knowledge brought me to, nor why an acquaintance with a new development of space should prove a source of misery and terror."
Mr. Racine Mudge, remembering that the chair would not move, did the next best thing he could in his desire to draw nearer to the attentive man facing him, and sat forward upon the very edge of the cushions, crossing his legs and gesticulating with both hands as though he saw into this region of new space he was attempting to describe, and might any moment tumble into it bodily from the edge of the chair and disappear form view. John Silence, separated from him by three paces, sat with his eyes fixed upon the thin white face opposite, noting every word and every gesture with deep attention.
"This room we now sit in, Dr. Silence, has one side open to space — to Higher Space. A closed box only seems closed. There is a way in and out of a soap bubble without breaking the skin."
"You tell me no new thing," the doctor interposed gently.
"Hence, if Higher Space exists and our world borders upon it and lies partially in it, it follows necessarily that we see only portions of all objects. We never see their true and complete shape. We see their three measurements, but not their fourth. The new direction is concealed from us, and when I hold this book and move my hand all round it I have not really made a complete circuit. We only perceive those portions of any object which exist in our three dimensions; the rest escapes us. But, once we learn to see in Higher Space, objects will appear as they actually are. Only they will thus be hardly recognisable!
"Now, you may begin to grasp something of what I am coming to."
"I am beginning to understand something of what you must have suffered," observed the doctor soothingly, "for I have made similar experiments myself, and only stopped just in time —"
"You are the one man in all the world who can hear and understand, and sympathise," exclaimed Mr. Mudge, grasping his hand and holding it tightly while he spoke. The nailed chair prevented further excitability.
"Well," he resumed, after a moment's pause, "I procured the implements and the coloured blocks for practical experiment, and I followed the instructions carefully till I had arrived at a working conception of four-dimensional space. The tessaract, the figure whose boundaries are cubes, I knew by heart. That is to say, I knew it and saw it mentally, for my eye, of course, could never take in a new measurement, or my hands and feet handle it.
"So, at least, I thought," he added, making a wry face. "I had reached the stage, you see, when I could imagine in a new dimension. I was able to conceive the shape of that new figure which is intrinsically different to all we know — the shape of the tessaract. I could perceive in four dimensions. When, therefore, I looked at a cube I could see all its sides at once. Its top was not foreshortened, nor its farther side and base invisible. I saw the whole thing out flat, so to speak. And this tessaract was bounded by cubes! Moreover, I also saw its content — its insides."
***
RADIUM AGE PROTO-SF: "Radium Age" is Josh Glenn's name for the nascent sf genre's c. 1900–1935 era, a period which saw the discovery of radioactivity, i.e., the revelation that matter itself is constantly in movement — a fitting metaphor for the first decades of the 20th century, during which old scientific, religious, political, and social certainties were shattered. More info here.
SERIALIZED BY HILOBOOKS: Jack London's The Scarlet Plague | Rudyard Kipling's With the Night Mail (and "As Easy as A.B.C.") | Arthur Conan Doyle's The Poison Belt | H. Rider Haggard's When the World Shook | Edward Shanks' The People of the Ruins | William Hope Hodgson's The Night Land | J.D. Beresford's Goslings | E.V. Odle's The Clockwork Man | Cicely Hamilton's Theodore Savage | Muriel Jaeger's The Man With Six Senses | Jack London's "The Red One" | Philip Francis Nowlan's Armageddon 2419 A.D. | Homer Eon Flint's The Devolutionist | W.E.B. DuBois's "The Comet" | Edgar Rice Burroughs's The Moon Men | Charlotte Perkins Gilman's Herland | Sax Rohmer's "The Zayat Kiss" | Eimar O'Duffy's King Goshawk and the Birds | Frances Hodgson Burnett's The Lost Prince | Morley Roberts's The Fugitives | Helen MacInnes's The Unconquerable | Geoffrey Household's Watcher in the Shadows | William Haggard's The High Wire | Hammond Innes's Air Bridge | James Branch Cabell's Jurgen | John Buchan's "No Man's Land" | John Russell's "The Fourth Man" | E.M. Forster's "The Machine Stops" | John Buchan's Huntingtower | Arthur Conan Doyle's When the World Screamed | Victor Bridges' A Rogue By Compulsion | Jack London's The Iron Heel | H. De Vere Stacpoole's The Man Who Lost Himself | P.G. Wodehouse's Leave It to Psmith | Richard Connell's "The Most Dangerous Game" | Houdini and Lovecraft's "Imprisoned with the Pharaohs" | Arthur Conan Doyle's "The Sussex Vampire" | Francis Stevens's "Friend Island" | George C. Wallis's "The Last Days of Earth" | Frank L. Pollock's "Finis" | A. Merritt's The Moon Pool | E. Nesbit's "The Third Drug" | George Allan England's "The Thing from — 'Outside'" | Booth Tarkington's "The Veiled Feminists of Atlantis" | H.G. Wells's "The Land Ironclads" | J.D. Beresford's The Hampdenshire Wonder | Valery Bryusov's "The Republic of the Southern Cross" | Algernon Blackwood's "A Victim of Higher Space" | A. Merritt's "The People of the Pit" | Max Brand's The Untamed | Julian Huxley's "The Tissue-Culture King" | Clare Winger Harris's "A Runaway World" | Francis Stevens's "Thomas Dunbar" | George Gurdjieff's "Beelzebub's Tales" | Robert W. Chambers's "The Harbor-Master" | Mary E. Wilkins Freeman's "The Hall Bedroom" | Clare Winger Harris's "The Fifth Dimension" | Francis Stevens's "Behind the Curtain" | more to come.