THE THING FROM — 'OUTSIDE' (5)
By: George Allan England
November 16, 2021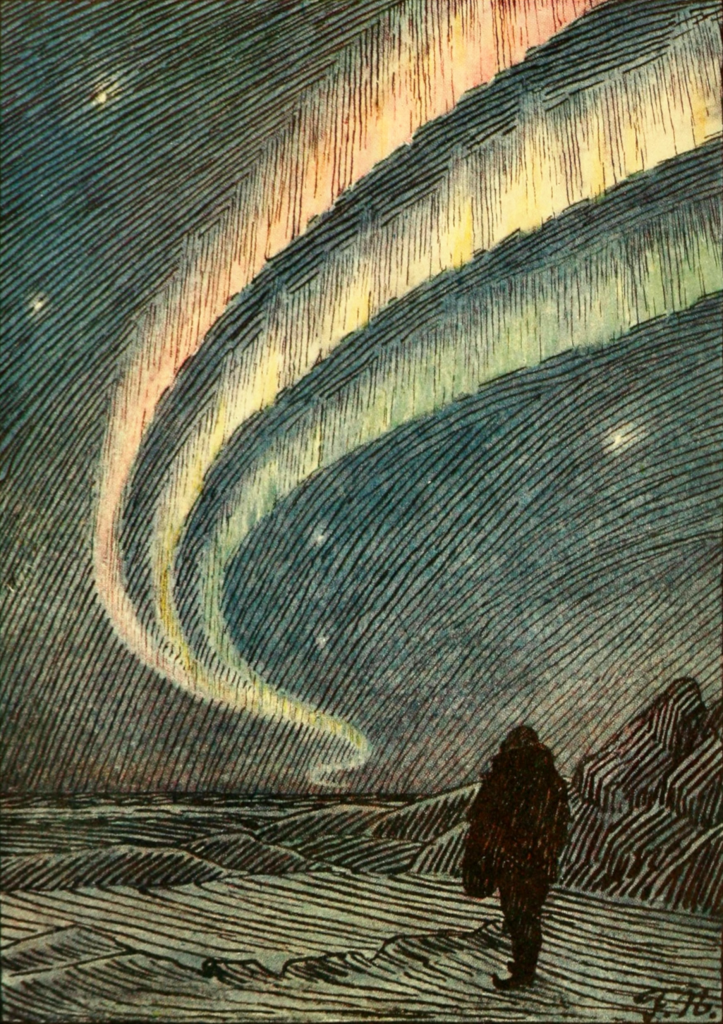 HiLoBooks is pleased to serialize George Allan England's 1923 proto-sf story "The Thing from — 'Outside'" for HILOBROW's readers. The story first appeared in Hugo Gernsback's magazine Science and Invention.
ALL INSTALLMENTS: 1 | 2 | 3 | 4 | 5 | 6 | 7 | 8.
***
Next day — or it may have been two days later, for none of them could be quite sure about the passage of time — they came to a deserted lumber-camp. Even more than two days might have passed; because now their bacon was all gone, and only coffee, tobacco, beef-cubes and pilot-bread remained. The lack of fish and game had cut alarmingly into the duffle-bag. That day — whatever day it may have been — all four of them suffered terribly from headache of an odd, ring-shaped kind, as if something circular were being pressed down about their heads. The Professor said it was the sun that made his head ache. Vivian laid it to the wind and the gleam of the swift water, while Marr claimed it was the heat. Jandron wondered at all this, inasmuch as he plainly saw that the river had almost stopped flowing, and the day had become still and overcast.
They dragged their canoes upon a rotting stage of fir-poles and explored the lumber-camp; a mournful place set back in an old "slash," now partly overgrown with scrub poplar, maple and birch. The log buildings, covered with tar-paper partly torn from the pole roofs, were of the usual North Country type. Obviously the place had not been used for years. Even the landing-stage where once logs had been rolled into the stream had sagged to decay.
"I don't quite get the idea of this," Marr exclaimed. "Where did the logs go to? Downstream, of course. But that would take 'em to Hudson Bay, and there's no market for spruce timber or pulpwood at Hudson Bay." He pointed down the current.
"You're entirely mistaken," put in the Professor. "Any fool could see this river runs the other way. A log thrown in here would go down toward the St. Lawrence!"
"But then," asked the girl, "why can't we drift back to civilization?" The Professor retorted:
"Just what we have been doing, all along! Extraordinary, that I have to explain the obvious!' He walked away in a huff.
"I don't know but he's right, at that," half admitted the journalist. "I've been thinking almost the same thing, myself, the past day or two — that is, ever since the sun shifted."
"What do you mean, shifted?" from Jandron.
"You haven't noticed it?"
"But there's been no sun at all, for at least two days!"
"Hanged if I'll waste time arguing with a lunatic!" Marr growled. He vouchsafed no explanation of what he meant by the sun's having "shifted," but wandered off, grumbling.
"What are we going to do?" the girl appealed to Jandron. The sight of her solemn, frightened eyes, of her palm-outward hands and (at last) her very feminine fear, constricted Jandron's heart.
"We're going through, you and I," he answered simply. "We've got to save them from themselves, you and I have."
Their hands met again, and for a moment held. Despite the dead calm, a fir-tip at the edge of the clearing suddenly flicked aside, shrivelled as if frozen. But neither of them saw it.
The fugitives, badly spent, established themselves in the "bar-room" or sleeping-shack of the camp. They wanted to feel a roof over them again, if only a broken one. The traces of men comforted them: a couple of broken peavies, a pair of snowshoes with the thongs all gnawed off, a cracked bit of mirror, a yellowed almanac dated 1899.
Jandron called the Professor's attention to this almanac, but the Professor thrust it aside.
"What do I want of a Canadian census-report?" he demanded, and fell to counting the bunks, over and over again. His big bulge of his forehead, that housed the massive brain of him, was oozing sweat. Marr cursed what he claimed was sunshine through the holes in the roof, though Jandron could see none; claimed the sunshine made his head ache.
"But it's not a bad place," he added. "We can make a blaze in that fireplace and be comfy. I don't like that window, though."
"What window?" asked Jandron. "Where?"
Marr laughed, and ignored him. Jandron turned to Vivian, who had sunk down on the "deacon-seat" and was staring at the stove.
"Is there a window here?" he demanded.
"Don't ask me," she whispered. "I — I don't know."
With a very thriving fear in his heart, Jandron peered at her a moment. He fell to muttering:
"I'm Wallace Jandron. Wallace Jandron, 37 Ware Street, Cambridge, Massachusetts. I'm quite sane. And I'm going to stay so. I'm going to save her! I know perfectly well what I'm doing. And I'm sane. Quite, quite sane!"
After a time of confused and purposeless wrangling, they got a fire going and made coffee. This, and cube bouillon with hardtack, helped considerably. The camp helped, too. A house, even a poor and broken one, is a wonderful barrier against a Thing from — Outside.
***
RADIUM AGE PROTO-SF: "Radium Age" is Josh Glenn's name for the nascent sf genre's c. 1900–1935 era, a period which saw the discovery of radioactivity, i.e., the revelation that matter itself is constantly in movement — a fitting metaphor for the first decades of the 20th century, during which old scientific, religious, political, and social certainties were shattered. More info here.
SERIALIZED BY HILOBOOKS: Jack London's The Scarlet Plague | Rudyard Kipling's With the Night Mail (and "As Easy as A.B.C.") | Arthur Conan Doyle's The Poison Belt | H. Rider Haggard's When the World Shook | Edward Shanks' The People of the Ruins | William Hope Hodgson's The Night Land | J.D. Beresford's Goslings | E.V. Odle's The Clockwork Man | Cicely Hamilton's Theodore Savage | Muriel Jaeger's The Man With Six Senses | Jack London's "The Red One" | Philip Francis Nowlan's Armageddon 2419 A.D. | Homer Eon Flint's The Devolutionist | W.E.B. DuBois's "The Comet" | Edgar Rice Burroughs's The Moon Men | Charlotte Perkins Gilman's Herland | Sax Rohmer's "The Zayat Kiss" | Eimar O'Duffy's King Goshawk and the Birds | Frances Hodgson Burnett's The Lost Prince | Morley Roberts's The Fugitives | Helen MacInnes's The Unconquerable | Geoffrey Household's Watcher in the Shadows | William Haggard's The High Wire | Hammond Innes's Air Bridge | James Branch Cabell's Jurgen | John Buchan's "No Man's Land" | John Russell's "The Fourth Man" | E.M. Forster's "The Machine Stops" | John Buchan's Huntingtower | Arthur Conan Doyle's When the World Screamed | Victor Bridges' A Rogue By Compulsion | Jack London's The Iron Heel | H. De Vere Stacpoole's The Man Who Lost Himself | P.G. Wodehouse's Leave It to Psmith | Richard Connell's "The Most Dangerous Game" | Houdini and Lovecraft's "Imprisoned with the Pharaohs" | Arthur Conan Doyle's "The Sussex Vampire" | Francis Stevens's "Friend Island" | George C. Wallis's "The Last Days of Earth" | Frank L. Pollock's "Finis" | A. Merritt's The Moon Pool | E. Nesbit's "The Third Drug" | George Allan England's "The Thing from — 'Outside'" | Booth Tarkington's "The Veiled Feminists of Atlantis" | H.G. Wells's "The Land Ironclads".