PARAMAX (2)
By: Max Glenn
September 26, 2021
We are pleased to present PARAMAX, a three-part series in which talented musician and HILOBROW friend Max Glenn guides our listening to his latest release, Maxtape II. Spotify users, scroll to bottom of each post for a track link.
MAXTAPE II TRACKS: I | II | III.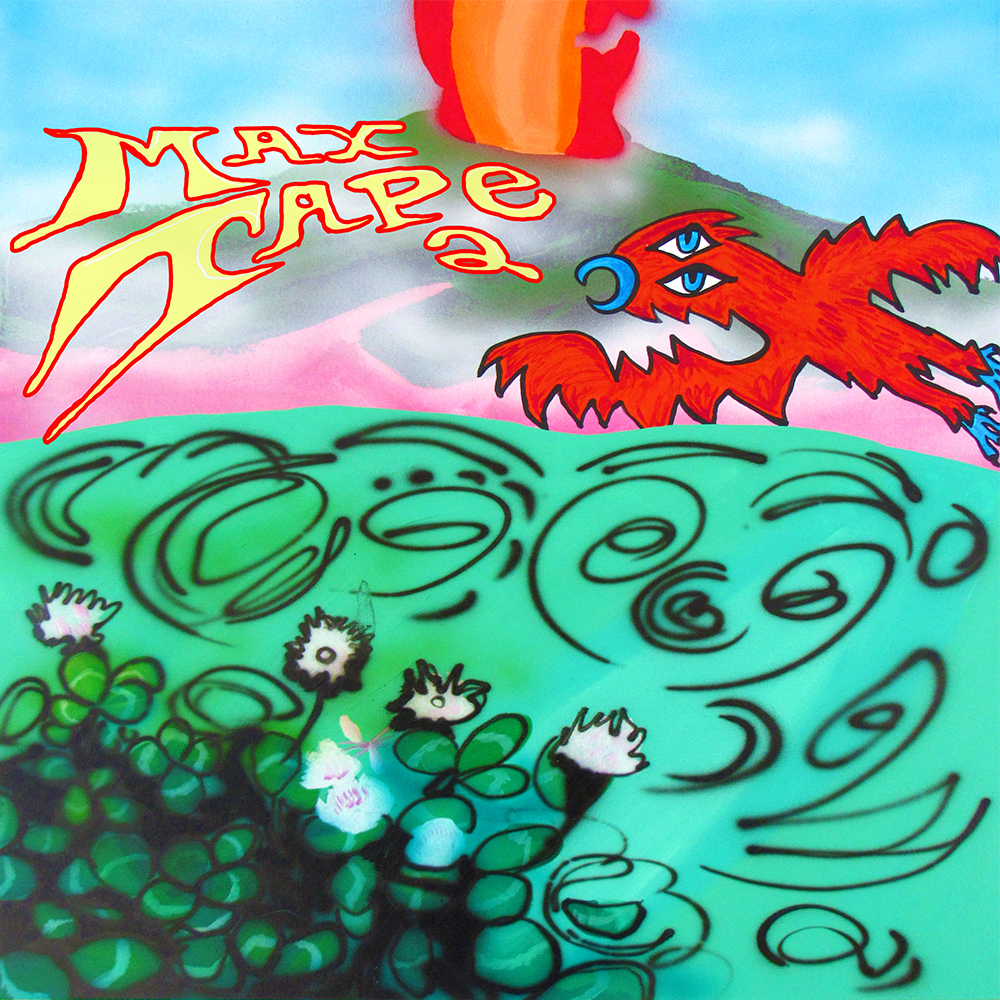 II
The first section of the track "II" is my version of a sound collage beat; pure destruction. All melodic elements were put through iZotope Trash, which spat them out with a layer of grit and grime on top. Beneath the beat is this preacher I recorded on 32nd street who was delivering a sermon amongst the traffic and crowds. To me, these two layers of sound are paralleled, and weaving them together made me work with distortion — which I almost never do. At the end of the beat is a guitarist I recorded during one of my walks in the West Village last December. These cold walks were fun because all the restaurants had their heat lamps set up on the sidewalk, so I would plan my route from one outdoor dining space to another.
The next section of "II" is another experiment with repetition and space. I made a recording walking down the street a while back, and when I listened closely I realized that there was a very subtle rhythm playing in the background. Maybe it was someone's shopping cart jingling on beat, maybe it was someone playing the tambourine. I looped the rhythm and used it as the foundation of the track. As the subtle rhythm loops, the rest of the street ambience — which isn't "on beat" — becomes part of the groove. This track also features my friends Nate and Mena on guitar, recording three months apart, plus my piano from almost a year ago, and a street collage from I don't even know when. I love tracks like this, which take a long time to fully steep. I believe that taking my time comes through in the sound, and it has this fun time traveling element whenever I listen.
The final part of "II" is a long voice memo I recorded on my phone while standing in an instrument shop in the West Village. There were wild-looking instruments covering every surface, and in one corner an elderly woman was playing a sideways guitar. I recorded her teaching me to play, and then her playing it. It's kind of like a mindfulness moment for me. Listening to this long-form voice memo is presence, it's just listening and breathing and enjoying my own company. The moment felt like a dream, so I added reverb with a long delay time to create an ephemeral/ethereal tint to the track.
***
CURATED SERIES at HILOBROW: LINOCUT 2022 by Lawry Hutcheson | PULP WAVE by Charles Leech | DRAWING TABLE WORLD by Theo Ellsworth | DISTENDED ANIMATION by Erik Davis | PARAMAX by Max Glenn | YUKO ODA by Yuko Oda | GOOD WORK JOE by Joe Alterio | LI'L REUSCH by Mister Reusch | LINOCUT 2020 by Lawry Hutcheson | CHALK.PRESS by Adam Netburn | PLAGUE YEAR by Rick Pinchera | NOOSFERA by Charles Glaubitz | CENTER OF THE UNIVERSE by Douglas Wolk | A SILENT HALLUCINATION by Alex Gerasev | BUNNY CITY by Gary Panter | HOP UP by Luc Sante | UNBORED CANON by Josh Glenn | CARPE PHALLUM by Patrick Cates | MS. K by Heather Kasunick | HERE BE MONSTERS by Mister Reusch | DOWNTOWNE by Bradley Peterson | #FX by Michael Lewy | PINNED PANELS by Zack Smith | TANK UP by Tony Leone | OUTBOUND TO MONTEVIDEO by Mimi Lipson | TAKING LIBERTIES by Douglas Wolk | STERANKOISMS by Douglas Wolk | MARVEL vs. MUSEUM by Douglas Wolk | NEVER BEGIN TO SING by Damon Krukowski | WTC WTF by Douglas Wolk | COOLING OFF THE COMMOTION by Chenjerai Kumanyika | THAT'S GREAT MARVEL by Douglas Wolk | LAWS OF THE UNIVERSE by Chris Spurgeon | IMAGINARY FRIENDS by Alexandra Molotkow | UNFLOWN by Jacob Covey | ADEQUATED by Franklin Bruno | QUALITY JOE by Joe Alterio | CHICKEN LIT by Lisa Jane Persky | PINAKOTHEK by Luc Sante | ALL MY STARS by Joanne McNeil | BIGFOOT ISLAND by Michael Lewy | NOT OF THIS EARTH by Michael Lewy | ANIMAL MAGNETISM by Colin Dickey | KEEPERS by Steph Burt | AMERICA OBSCURA by Andrew Hultkrans | HEATHCLIFF, FOR WHY? by Brandi Brown | DAILY DRUMPF by Rick Pinchera | BEDROOM AIRPORT by "Parson Edwards" | INTO THE VOID by Charlie Jane Anders | WE REABSORB & ENLIVEN by Matthew Battles | BRAINIAC by Joshua Glenn | COMICALLY VINTAGE by Comically Vintage | BLDGBLOG by Geoff Manaugh | WINDS OF MAGIC by James Parker | MUSEUM OF FEMORIBILIA by Lynn Peril | ROBOTS + MONSTERS by Joe Alterio | MONSTOBER by Rick Pinchera | POP WITH A SHOTGUN by Devin McKinney | FEEDBACK by Joshua Glenn | 4CP FTW by John Hilgart | ANNOTATED GIF by Kerry Callen | FANCHILD by Adam McGovern | BOOKFUTURISM by James Bridle | NOMADBROW by Erik Davis | SCREEN TIME by Jacob Mikanowski | FALSE MACHINE by Patrick Stuart | SIGNIFICANT OBJECTS (cross-posted from Significant Objects website) | UNBORED MANIFESTO by Joshua Glenn and Elizabeth Foy Larsen | H IS FOR HOBO by Joshua Glenn | 4CP FRIDAY by guest curators