PARAMAX (1)
By: Max Glenn
September 25, 2021
We are pleased to present PARAMAX, a three-part series in which talented musician and HILOBROW friend Max Glenn guides our listening to his latest release, Maxtape II. Spotify users, scroll to bottom of each post for a track link.
MAXTAPE II TRACKS: I | II | III.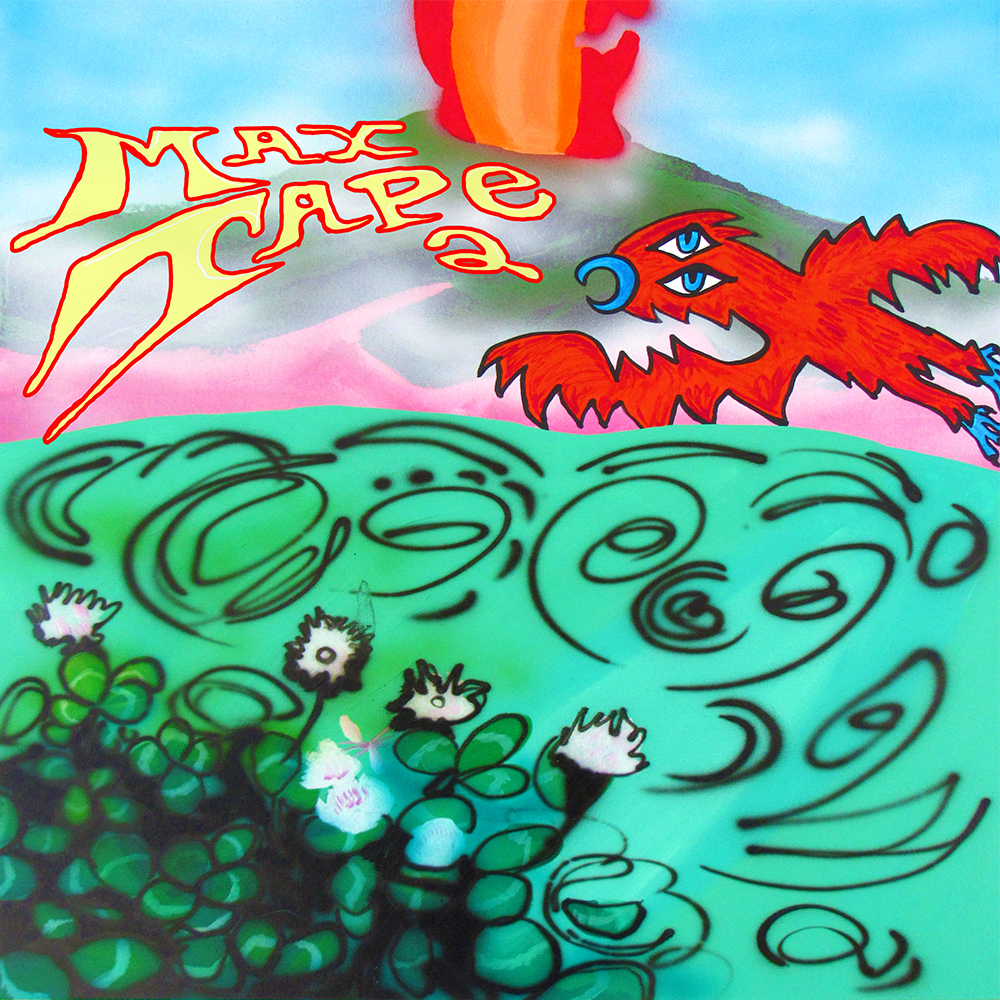 I
The first track ("I") is made up of three sections, which I start and end with soundscapes.
The first section is bookended by a collection of field recordings I made at thrift shops in February 2021. I like how the wire clothes hangers sound when they're pushed together by crowds of people. I paired these recordings with a chord progression programmed on a Logic synth plugin that made clanking noises associated with whatever notes I put in. This piece progresses in a mechanical way, and is one of the more "focused" moments amongst the album's collages. I asked my friend Mena Lemos to record on this track as well, and her playing adds a leading melodic layer, a sonic guide, to the track.
This blends into the section of "I" dedicated to Penn Station. I spent a lot of time waiting and exploring Penn Station during the 2021–2021 school year. One day, I made a nearly hour-long recording while I walked from one end of the station to another — passing people clapping, shouting to one another, (badly) playing a recorder, rushing to catch their train on time. This section is my version of a sound-collaged club track, using just one sample (pitched up and double timed, among other manipulations) and my Volca Beats machine. Throughout the album I tested out different ways of producing, both inside and outside the realms of genre. I made this one to dance to, but these weird Penn Station noises keep coming through, disrupting an otherwise clean mix. The outro is found sound from a band playing in Prospect Park by the lake, and I must've been spinning around when I recorded them with my stereo mic because the sound bounces from left to right in a disorienting, into-the-rabbit hole kind of way.
In the last section of "I", I experimented with looping found sounds. I created a climax not only with a drum buildup — and my friend Jack Lewitt's gorgeous guitar solo — but with crowd sounds repeating and rolling into one another. In the last few months I've recorded a lot of crowds, in part because I encounter so few people in the Covid world. I've lived in cities all my life, and I think the urban sound of overlapping voices creates a really gorgeous texture, highlighting the timbre of the human voice without focusing on what any particular person is saying. I missed hearing these voices, so I made sure to record them whenever I could.
The end of "I" is a recording from a living room jam session I did with my friend Nate and his roommate Willy a while back. There were many such sessions this winter, just creating to create, recording only when I wanted to capture a moment. That's what the found-sound element of this project means to me: moments that I wanted to remember and memorialize.
***
CURATED SERIES at HILOBROW: LINOCUT 2022 by Lawry Hutcheson | PULP WAVE by Charles Leech | DRAWING TABLE WORLD by Theo Ellsworth | DISTENDED ANIMATION by Erik Davis | PARAMAX by Max Glenn | YUKO ODA by Yuko Oda | GOOD WORK JOE by Joe Alterio | LI'L REUSCH by Mister Reusch | LINOCUT 2020 by Lawry Hutcheson | CHALK.PRESS by Adam Netburn | PLAGUE YEAR by Rick Pinchera | NOOSFERA by Charles Glaubitz | CENTER OF THE UNIVERSE by Douglas Wolk | A SILENT HALLUCINATION by Alex Gerasev | BUNNY CITY by Gary Panter | HOP UP by Luc Sante | UNBORED CANON by Josh Glenn | CARPE PHALLUM by Patrick Cates | MS. K by Heather Kasunick | HERE BE MONSTERS by Mister Reusch | DOWNTOWNE by Bradley Peterson | #FX by Michael Lewy | PINNED PANELS by Zack Smith | TANK UP by Tony Leone | OUTBOUND TO MONTEVIDEO by Mimi Lipson | TAKING LIBERTIES by Douglas Wolk | STERANKOISMS by Douglas Wolk | MARVEL vs. MUSEUM by Douglas Wolk | NEVER BEGIN TO SING by Damon Krukowski | WTC WTF by Douglas Wolk | COOLING OFF THE COMMOTION by Chenjerai Kumanyika | THAT'S GREAT MARVEL by Douglas Wolk | LAWS OF THE UNIVERSE by Chris Spurgeon | IMAGINARY FRIENDS by Alexandra Molotkow | UNFLOWN by Jacob Covey | ADEQUATED by Franklin Bruno | QUALITY JOE by Joe Alterio | CHICKEN LIT by Lisa Jane Persky | PINAKOTHEK by Luc Sante | ALL MY STARS by Joanne McNeil | BIGFOOT ISLAND by Michael Lewy | NOT OF THIS EARTH by Michael Lewy | ANIMAL MAGNETISM by Colin Dickey | KEEPERS by Steph Burt | AMERICA OBSCURA by Andrew Hultkrans | HEATHCLIFF, FOR WHY? by Brandi Brown | DAILY DRUMPF by Rick Pinchera | BEDROOM AIRPORT by "Parson Edwards" | INTO THE VOID by Charlie Jane Anders | WE REABSORB & ENLIVEN by Matthew Battles | BRAINIAC by Joshua Glenn | COMICALLY VINTAGE by Comically Vintage | BLDGBLOG by Geoff Manaugh | WINDS OF MAGIC by James Parker | MUSEUM OF FEMORIBILIA by Lynn Peril | ROBOTS + MONSTERS by Joe Alterio | MONSTOBER by Rick Pinchera | POP WITH A SHOTGUN by Devin McKinney | FEEDBACK by Joshua Glenn | 4CP FTW by John Hilgart | ANNOTATED GIF by Kerry Callen | FANCHILD by Adam McGovern | BOOKFUTURISM by James Bridle | NOMADBROW by Erik Davis | SCREEN TIME by Jacob Mikanowski | FALSE MACHINE by Patrick Stuart | SIGNIFICANT OBJECTS (cross-posted from Significant Objects website) | UNBORED MANIFESTO by Joshua Glenn and Elizabeth Foy Larsen | H IS FOR HOBO by Joshua Glenn | 4CP FRIDAY by guest curators