Simulacra (12)
By: Peggy Nelson
March 23, 2021
In 1974, the Grateful Dead premiered their Wall of Sound, an apartment-building sized stack of speakers, all carefully calibrated not only to present all the jams, space, and drums the Dead could produce (free of all distortion except that which they deemed part of the music), but also to allow for accurate monitor feedback for the band while in the midst of such high-volume harmonic swirl. Designed by Owsley Stanley, known for his audio engineering prowess (as well as a number of other high-profile activities), it was the loudest concert sound system to date. And the largest.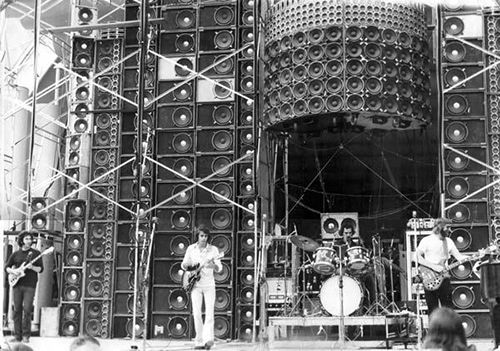 It is now the 21st century and The Dead (now known as Dead & Company) are still going strong. The Wall of Sound has long since been retired. But the question obviously arises: what if we make a mini?
And not just any mini.
Anthony Coscia, Petite Mur De Son online, has set himself the task of making a Mini Wall of Sound. And not just the speakers, the scaffolding as well. And not just a scale model of impressive accuracy; one that actually works.
In these days of circumscribed living, a mini Wall with a big Sound seems just about right. We can't wait for the mini Tour!
Feast your ears on a little China Cat Sunflower:
Meet "Keith", the Mini keys:
Some shots of the work in progress:
And we'll finish up with a little Dark Star:
***
Mini Wall of Sound: Instagram, Facebook, Coscia Guitars
Interview: KBOO radio