Simulacra (11)
By: Peggy Nelson
February 23, 2021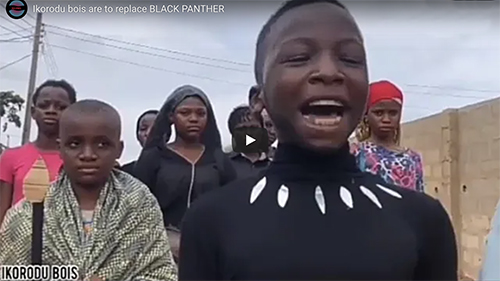 The Ikorodu Bois, a group of friends in Ikorodu, Nigeria, are film fans, so much so that they decided to make scene-by-scene reenactments of their favorite trailers and videos. The only problem: achieving the high-tech and CGI-enhanced special effects and glossy looks of blockbuster scenes and movie stars.
Wait, did we say problem? No problem! The Bois decided to improvise with whatever they had available, cardboard, sharpies, string, their mothers' wardrobes, their old toys, and other kids around the neighborhood.
The result? Pure DIY genius. Their utter commitment to timing, acting, camera angles, and lip syncing, in addition to the aforementioned high concept/low cost production values, plus a killer sense of humor, combines to raise their work out of the ranks of reenactment hobbyists and up to the level of art, which as we know is reenactments all the way down. Particularly effective also is their technique of showing the reenactment side-by-side with the original, which has the effect of making their lo-tech efforts all the more amazing.
Feast your eyes on some of their recent work:
Extraction:
Black Panther:
Bad Boys:
Michael Jackson's They Don't Care About Us:
Money Heist 4:
Simulacra is reminded of another intrepid group of kids, Chris Strompolos, Eric Zala and Jayson Lamb, who in the 1980s made a scene-by-scene reenactment of all of Spielberg's Raiders of the Lost Ark. Their efforts became the cult favorite Raiders of the Lost Ark: the Adaptation. They started aged 12; it took them 7 years.
Raiders! (documentary trailer):
Currently, the Ikorodu Bois are up for a Nickolodeon Kids Choice Award in the Favorite African Social Media Star category, as well they should be. Best of luck guys! And keep up the great work, can't wait to see what you do next.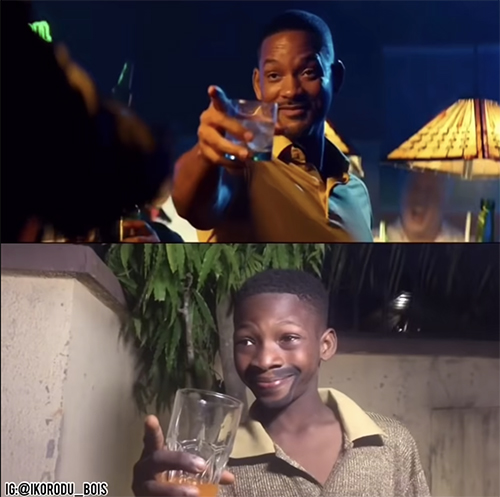 ***
Follow the Ikorodu Bois: Twitter, YouTube, Instagram
Raiders of the Lost Ark: the Adaptation
Chris Strompolos: website, Instagram, interview about fan film in Craig Baldwin's OtherZine