Best 1989 Adventures (4)
By: Joshua Glenn
April 18, 2020
One in a series of 10 posts identifying Josh Glenn's favorite 1989 adventure novels.
*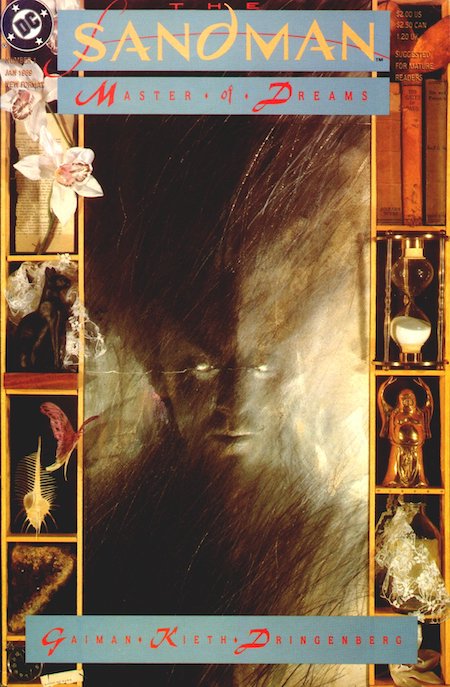 Neil Gaiman's occult fantasy comic The Sandman (1989–1996).
In 1988, Neil Gaiman — a British comics writer who'd recently begun working for DC — proposed to reboot Joe Simon and Jack Kirby's 1974–1976 series The Sandman. Instead, DC editor Karen Berger challenged him to "keep the name, but the rest is up to you." Working within these Oulipian restraints, Gaimain wrote a 75-issue series that became a cult success, particularly among a younger, mostly female readership who (up to that point, anyway) didn't read comics. Inspired in part by James Branch Cabell's 1919 meta-mythical adventure Jurgen, Gaiman recounted the tale of Dream/Morpheus/Sandman, the haughty, cruel, and ancient anthropomorphic personification of dreams… who escapes after 70 years in captivity and sets about restoring his kingdom, the Dreamworld. As he searches for his lost objects of power, Morpheus genre-hops — from myth to pulp fiction, and everywhere in-between. Also, Gaiman inserts pop culture and literary references and jokes into nearly every panel. It's a dazzling display of high-lowbrow literary fandom… one leaving even the most well-read fan wishing for extensive, Chester Brown-esque footnotes… which, thankfully, are now available via annotated editions. Sam Kieth, Mike Dringenberg, Jill Thompson, and others contributed appropriately eerie and amusing art, with lettering by Todd Klein and covers by Dave McKean.
Fun facts: Comics historian Les Daniels has called the series "a mixture of fantasy, horror, and ironic humor such as comic books had never seen before." Along with Maus, Watchmen and The Dark Knight Returns, The Sandman was one of the first graphic novels ever to be on the New York Times Best Seller list. A Netflix adaptation is underway.
***
JOSH GLENN'S *BEST ADVENTURES* LISTS: BEST 250 ADVENTURES OF THE 20TH CENTURY | 100 BEST OUGHTS ADVENTURES | 100 BEST RADIUM AGE (PROTO-)SCI-FI ADVENTURES | 100 BEST TEENS ADVENTURES | 100 BEST TWENTIES ADVENTURES | 100 BEST THIRTIES ADVENTURES | 75 BEST GOLDEN AGE SCI-FI ADVENTURES | 100 BEST FORTIES ADVENTURES | 100 BEST FIFTIES ADVENTURES | 100 BEST SIXTIES ADVENTURES | 75 BEST NEW WAVE SCI FI ADVENTURES | 100 BEST SEVENTIES ADVENTURES | 100 BEST EIGHTIES ADVENTURES | 75 BEST DIAMOND AGE SCI-FI ADVENTURES | 100 BEST NINETIES ADVENTURES (in progress) | 1994 | 1995 | 1996 | 1997 | 1998 | 1999 | 2000 | 2001 | 2002 | 2003 | NOTES ON 21st-CENTURY ADVENTURES.