THIS: 'Tis of Thee
By: Adam McGovern
August 21, 2017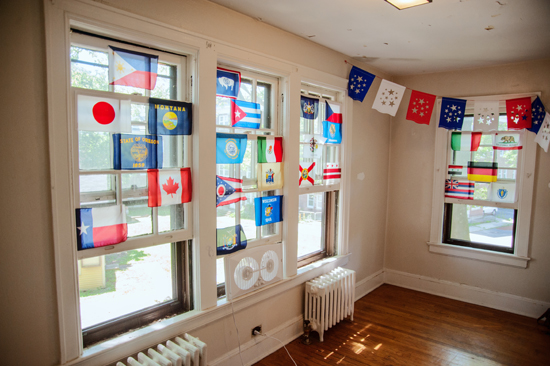 The travelers who became America often left their trails on the surface of seas. Many of those courses crossed in the harbors of New York, so it seemed a fitting home for Safe Distances, a poetry installation I put up for nine days of summer, 2017. Once a site of both protecting American shores and ensuring safety to any at sea, Governors Island evolved from a Coast Guard base to a public park around the turn of the new century; arts organizations are invited to present plays and dance, hang exhibitions, assemble sculpture and perform music and collaborate creatively with passersby in the abandoned houses and on the welcoming greens. My space was in a century-old house's second-floor back rooms, from June 17 through 25. I'd filled that same space the previous year, and while that earlier installation was an altar to loss, this year's opened further out into the shared life of civic purpose. From the "safe spaces" of our respective political viewpoints, we have drifted apart as a people. I wanted to symbolically close that gap while granting the distance for some perspective.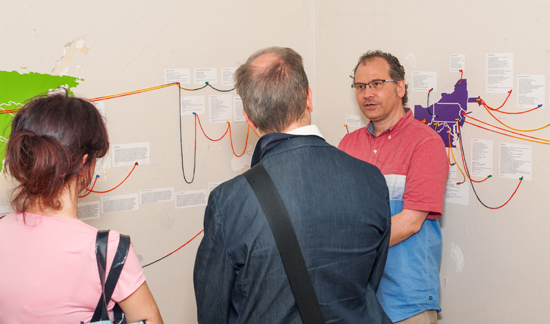 Tenuous ties connect us all, from the delicate state of democracy to the fragile bloodvessels within our bodies. On the walls of this decaying but still standing home, I fragmented the shapes of the United States and the world's other countries, with multicolored strands of yarn arcing from tacks in the scattered map to poems I have written about each place. I wanted visitors who were from, or had been to, states and nations not yet on the wall (for I had either not been there or not reflected on it) to add places and poems of their own, gradually reassembling a wounded world.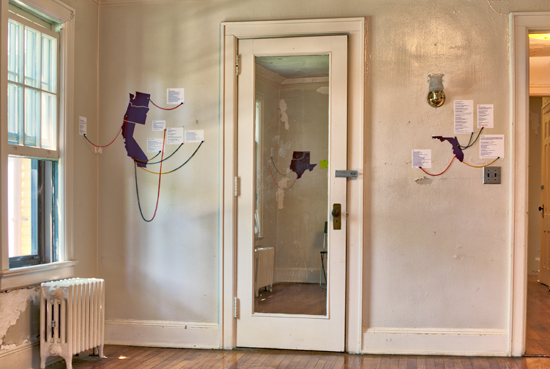 The space itself suggested what shape this sight should take. Happy chance crossed with simple practicalities (like not obscuring one state's poem with another's strand of yarn) to produce vibrant arcs and interesting intersections that only fate can take credit for. Places with fewer associated poems (or so many that they needed to be set off more by themselves) suggested strands that could span a corner, or go around a wall. When I needed to zoom in on the areas about which I've written the most — my usual home bases of New Jersey and New York — I switched from decaled geographical shapes to roadmaps cut in scrapbook-like angles.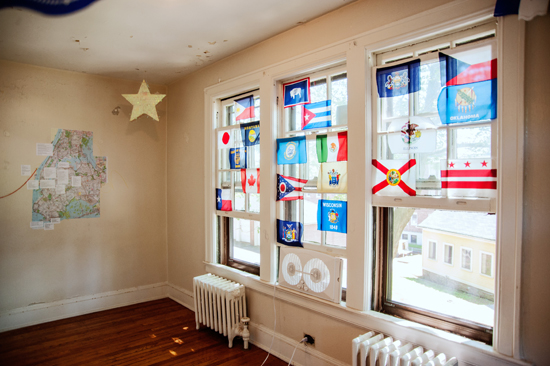 The smaller room, further back from the main space, had last year been a site of shadowed contemplation, its many windows darkened by black banners with enlarged poem-quotations that the sun shone through, while a recording of my verses read by me and several talented actors cycled. This year I put the sun to more use, hanging up a patchwork of flags for the light to give life to, and also stringing patriotic July 4th-holiday artifacts that nonetheless had the feel of cultures continually flowing into this promising continent (a star-shaped piñata; a string of small red-white-and-blue banners that sparked memories of Tibetan prayer or Dia de los Muertos festivities).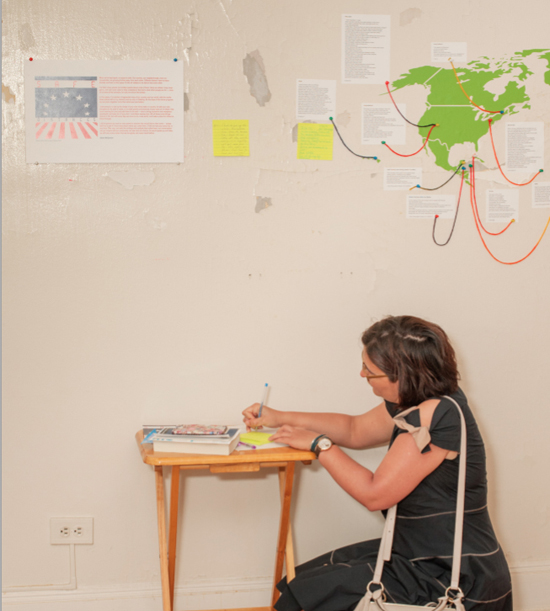 Sometimes the empty spaces spoke most eloquently. A visitor originally from Minnesota left a post-it poem in its missing place, which worked better than filling in the decal. Post-its had become the collective messages-in-bottles of the nearby city, as in the recently famous subway walls-full of colorful paper squares bearing peoples' worries about the incoming national regime. So they served as a simple medium for anyone who wished to collaborate with this space. These could go in any direction; the Minnesota visitor elaborated on a poem about climate-change being signaled by the early arrival of my chosen spirit-insect, the firefly, which used to only appear around my birthday, by posting her own poem about her birthday, which happened to fall on the date she was at the show.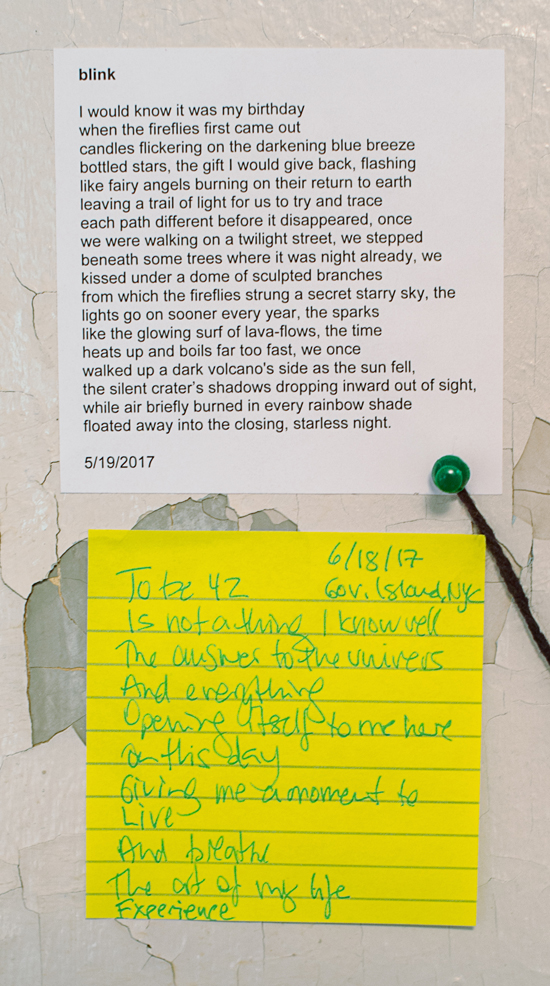 What wasn't there could call to people; I had kept decals of the whole Southern Hemisphere waiting off the walls, embarrassed at having been to none of its continents; this would get more embarrassing as I was asked by several visitors where the Africa, South America and Australia was at — especially since I had put up the whole Northern Hemisphere because I'd been to or written about few enough countries there (Canada, Italy, the Czech Republic, Japan) that to just put up those would look too isolated. So, on one of the blanknesses of that canvas, a French woman born and raised in Peru placed a post-it on Russia, exhorting me to go there and understand its people in these tense times; the message left for me is that, in all our cases, my country is your business, and the other way round.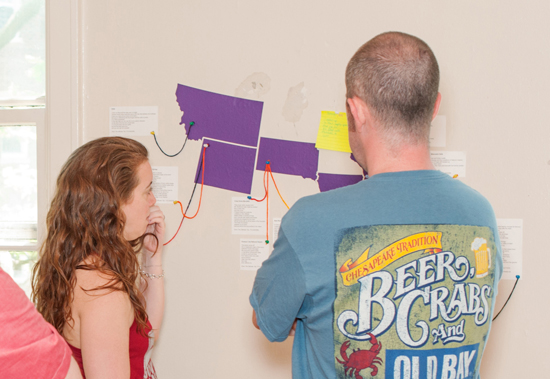 The dialogue was direct, bypassing paper, in many moments. Some people would circle the space, reading my poems aloud to each other. Many asked me to recite poems from their own places of origin, which I was fortunate to do for visitors from Italy, Mexico, Florida; one person who'd never been to Pittsburgh but always wanted to, asked me to read a poem from that place. I was asked where I myself wanted to go next, and read a string of poems about my home state of New Jersey to a couple from somewhere else who wanted to hear that view. One of that same pair asked if I ever write poems about places I just have dreamed of being; I read her a fantasia on West Virginia folk musicians which brought a tear to her eye because she happens to be a musician herself.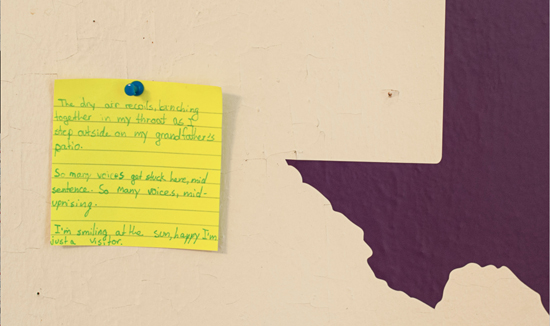 Some of the poetry was left just inscribed on my mind. An electrician who survived the 9/11 attacks told me of how he was drafted to wire up the makeshift clinic on a pier of Manhattan when he was midway through fleeing uptown. One visitor from Ireland said, "We're each a book, with the story of our life, and we don't know what we can learn from each other until we open that first page." Of such sharing, a thoughtful youth (who also left a poem of their own on the wall, my favorite) said, "It can save lives," telling of the power of poetry and how they've navigated their identity with poems' and other expressive arts' help.

Others who stopped by simply had fun competing with their spouses or kids to identify the flags, or adding to our mutual collection of memories about places we'd both been. Burdens both borne and lifted are the promise of those who carried their cultures to a new home where we stand…and sharing both the weight and the lightness will send up a pledge to the future that peaceful, equal places will in time not be uncommon ground.
Please click here for a selection of poems from the show.
First post-it poem: Kateri Jochum; second post-it poem: Seth Jochum
Photos by John Barclay-Morton; last four from Adam's sad, failing phone.
Show sponsor: Dysfunctional Theatre Company
***
MORE POSTS by ADAM McGOVERN: OFF-TOPIC (2019–2022 monthly) | textshow (2018 quarterly) | PANEL ZERO (comics-related Q&As, 2018 monthly) | THIS: (2016–2017 weekly) | PEOPLE YOU MEET IN HELL, a 5-part series about characters in McGovern's and Paolo Leandri's comic Nightworld | Two IDORU JONES comics by McGovern and Paolo Leandri | BOWIEOLOGY: Celebrating 50 years of Bowie | ODD ABSURDUM: How Felix invented the 21st century self | CROM YOUR ENTHUSIASM: C.L. Moore's JIREL OF JOIRY stories | KERN YOUR ENTHUSIASM: Data 70 | HERC YOUR ENTHUSIASM: "Freedom" | KIRK YOUR ENTHUSIASM: Captain Camelot | KIRB YOUR ENTHUSIASM: Full Fathom Five | A 5-part series on Jack Kirby's Fourth World mythos | Reviews of Annie Nocenti's comics Katana, Catwoman, Klarion, and Green Arrow | The curated series FANCHILD | To see all of Adam's posts, including HiLo Hero items on Lilli Carré, Judy Garland, Wally Wood, and others: CLICK HERE