THIS: LifeLines
By: Adam McGovern
January 2, 2017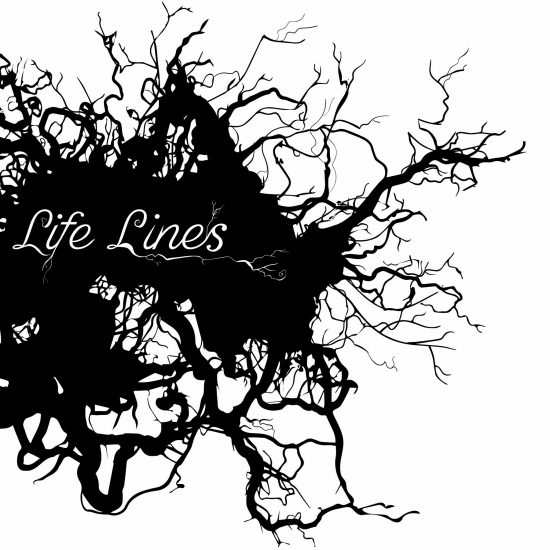 Nine months. That was the time it took for the love of my life to be delivered into the infinite. I came to see that life as a circle that cannot end, just expand. So a term like "LifeLines" is a poetic license; I don't believe anything is really behind us, but there are strands that form between us and everything. Where is a blood vessel going? The roots of a tree descend so that something else may rise, and they are never unconnected. These are ties to the definable, but inherently they leave us in spaces too. I tried to frame that space (filling it is folly, for we need to stay in motion) in summer of 2016, a year that left widening voids around almost everyone. My wife had died almost exactly a year before, and many lines had grown across my screen as I tried to keep her outline, weave a web to bind me to what life was left. A scripture to set down who she was and confirm that we have no end, just passage.
LifeLines inhabited two rooms of an abandoned house in the last week and two weekends of July. Arts organizations were invited into these empty spaces after the location, Governors Island, New York City, was left behind by the military community that used to exist there. One such collective, Dysfunctional Theatre Company, hosted my project.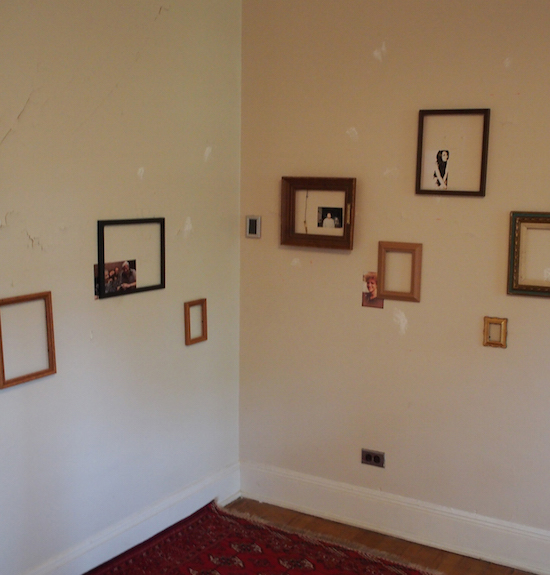 I wanted to offer a serene ritual of renewal, inviting others to share their losses or hope. I covered the larger room with a scattering of centering spaces, empty picture-frames no two alike, that I'd collected from discarded personal-effects stores in underused urban basements and Catholic-school gym sales and hipster outlands. Visitors were encouraged to put photos of their own lost loved ones within the frames, and I started this off with pictures of my wife, my mother (who had died two months later), my cat (lost a few months before the show), and my younger sister (then dead 20 years).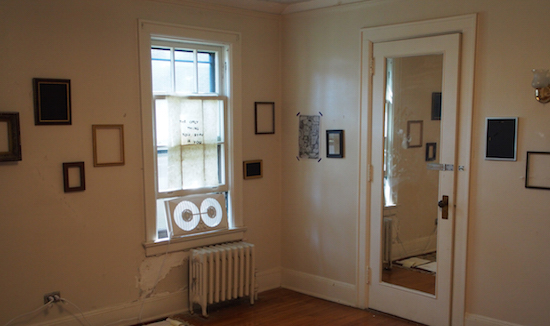 I would give readings to anyone who stopped by this larger, lighter space, while voices they could be alone with greeted them in the second room. This was a slender sun-porch I converted to a quiet resting place, a peaceful womb, by hanging banners of black with excerpted lines from my poems letting the sunlight shine through them, while a half-hour sound-file of the full verses (some selections below), mostly read by gifted fellow poets and actors I know, cycled as the visitor's only companion in the dark.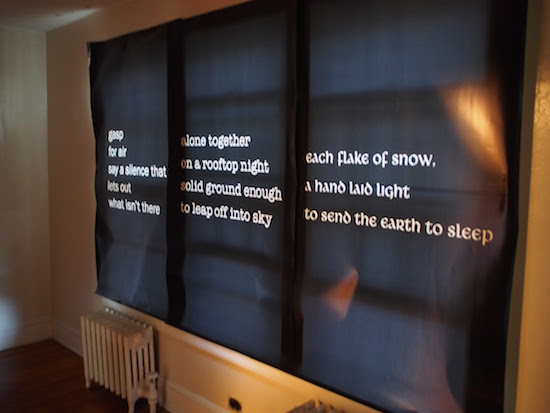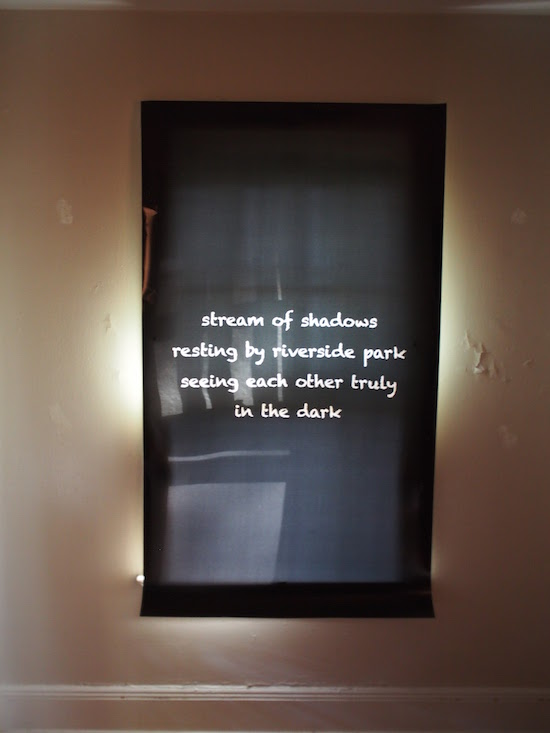 Some left photos of their own, and one woman, who hadn't even known the theme of the open frames, intuited their purpose and composed a poem of her own in the "gallery" and left it in a frame. In this global-warmed July I sometimes found myself giving readings on the century-old house's outdoor porch; I hurriedly rearranged my "setlists" for large groups of kids on summer-camp trips (luckily not all my reveries are melancholy, and some are about my own childhood; the most popular with listeners that age proved to be one about viewing the first men to walk on the moon, a surprising subject to see connect in this era of everyday tech magic and earthbound ambitions).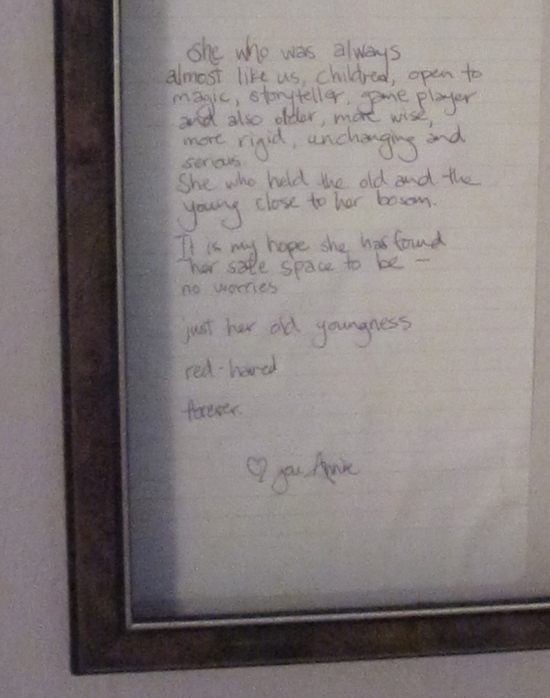 Many lines crossed in that upstairs, almost-attic of creative sharing; friends from college and highschool who had tracked me down, aspiring rappers, groups of young gay men more confidently out than I thought I would live to see myself, interracial families and those of choice, like the one with the older white woman in a sari, who lived in India, and her adopted son in tee-shirt and shorts, from India, who with his family now lived in Brooklyn. It would have been worth it just for one of the tiny gradeschool girls from each group who'd come up to me at the end and say she wanted to be a poet.
This brought me back to beginnings. Lynn, my wife, had long taught kids to bring out their creativity, and sparked many adults to stay that way too. I go on alone, with a body to take me not as far as she has flown. But I need it to set this story down, to send my senses to the outer orbits I feel we still see each other across. This body, this work, that builds and changes to give shape to our thoughts until they're ready to exist on their own; the open book's cover, the flesh made from words.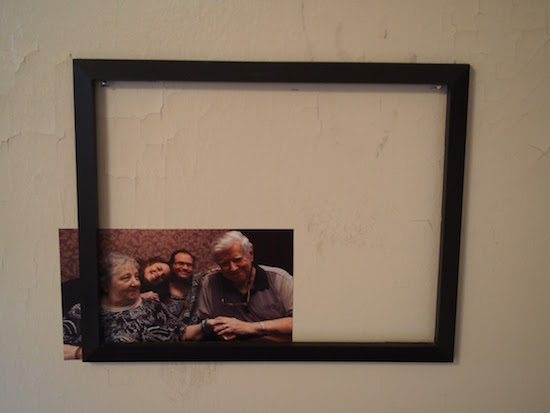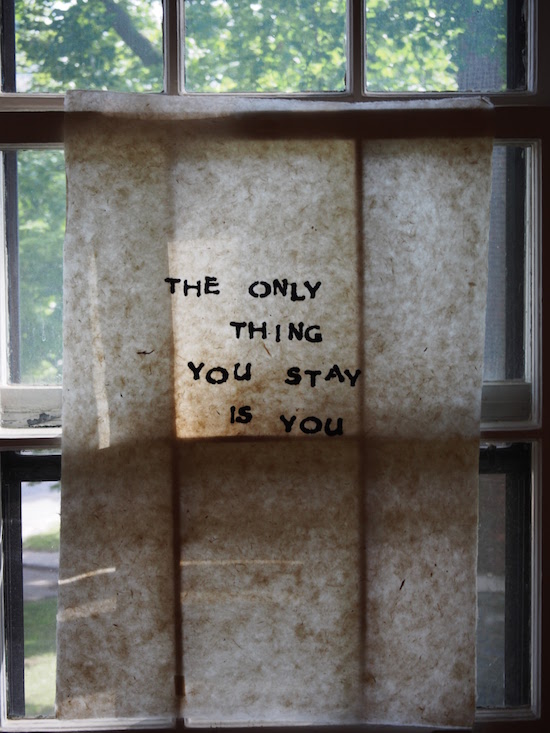 "strew" read by Jennifer Harder
"The Strip (Suburban Disney)" read by Bob Laine
"till" read by Amy Overman
Logo design: Diana Leto; banner creation: Mark Magner; photos: Adam (grainy) and Matt Trobaugh (clear); handwritten poem: Caley Vickerman (of Guerilla Haiku Movement); posted poetic comics written by Adam and illustrated by Ellen Stedfeld and Paolo Leandri, respectively; design consultation: Steve Price
***
MORE POSTS by ADAM McGOVERN: OFF-TOPIC (2019–2022 monthly) | textshow (2018 quarterly) | PANEL ZERO (comics-related Q&As, 2018 monthly) | THIS: (2016–2017 weekly) | PEOPLE YOU MEET IN HELL, a 5-part series about characters in McGovern's and Paolo Leandri's comic Nightworld | Two IDORU JONES comics by McGovern and Paolo Leandri | BOWIEOLOGY: Celebrating 50 years of Bowie | ODD ABSURDUM: How Felix invented the 21st century self | CROM YOUR ENTHUSIASM: C.L. Moore's JIREL OF JOIRY stories | KERN YOUR ENTHUSIASM: Data 70 | HERC YOUR ENTHUSIASM: "Freedom" | KIRK YOUR ENTHUSIASM: Captain Camelot | KIRB YOUR ENTHUSIASM: Full Fathom Five | A 5-part series on Jack Kirby's Fourth World mythos | Reviews of Annie Nocenti's comics Katana, Catwoman, Klarion, and Green Arrow | The curated series FANCHILD | To see all of Adam's posts, including HiLo Hero items on Lilli Carré, Judy Garland, Wally Wood, and others: CLICK HERE