THIS: The Great Loop
By: Adam McGovern
May 8, 2017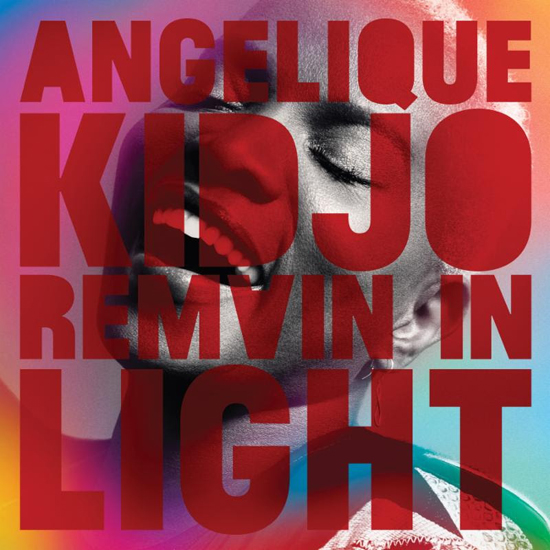 I think maybe my childhood hipness had to die so that Angélique Kidjo might listen. In that era of the British Invasion and the soul insurgency from within, I was falling behind my peers' preparation for a bolder, noisier world as my folks spun an unbroken setlist of symphonies and folk-dances, show-tunes and sea-shanties, and hurried us past Jimi Hendrix posters and clicked the channel quickly at the inkling of any "hard rock" (by age two, my kid sister was conditioned enough to bust into tears at the sight of Tiny Tim — a revolutionary by virtue of his pre-Weird Al long curls and evident sarcasm I guess; certainly not his ukulele and trilling voice). On the opposite hemisphere, Jimi's albums were being diverted to Angélique Kidjo's childhood home in Benin, along with Mr. Brown and other prophets getting more honor in their originating continent than their own country.
I felt like I was experiencing what concert-goers to some of those embodiments of music history must have witnessed, at Carnegie Hall last night, long before Kidjo, from the stage, recalled how her mother would tell her to stop all the manic dancing and "look like a girl," to which Kid-Kidjo replied, "I wanna be James Brown when I grow up, so I guess I'm a boy!" Tonight she was fulfilling a different youthful prophecy, bouncing the signal that beamed into her brain when she first heard Talking Heads' Remain in Light album at school, as an exile in Paris from then-totalitarian Benin. It was like a letter sent halfway in history from her birthplace and her eventual home in America. She brought it on home in a concert re-composition of the album, and for me, it was like those waylaid rock records from my own upbringing had been finally delivered. Africa called, and gave me my groove back.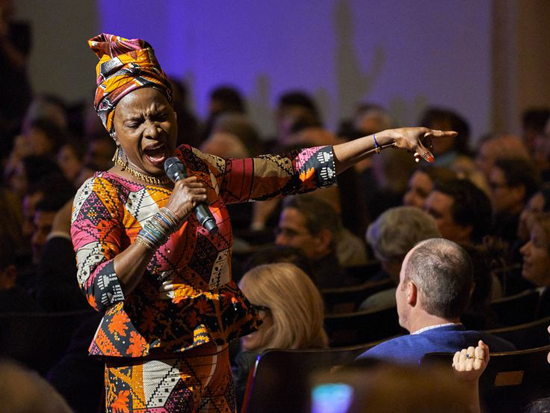 Kidjo and her phenomenal collaborators created a cinematic, saga-like setting for all the songs on that disk plus several of Kidjo's signature originals and African standards; for my heretical tastes, Remain in Light was always a rough sketch whose academic schema benefited mightily from the flesh put on it by actual funk players on the Heads' subsequent tours, and the way Kidjo would start with choral melodies, percussive overtures and entrancing chants and then ease the Heads' songs into them, rather than just give the rock "classics" a polyrhythmic workover, was true to both the purpose and potential of this music.
I guess all those sea-shanties and sabre-dances did prep me for my all-time fav performer in a way; Kidjo packs a similar epicurean omnivorousness (and my mom and dad did end up going to the occasional pop concert with us). That's now for good, but on the way it could be for ill; in my mid-youth I would tend toward artists who curated, rather than inhabited, what they took from other musics, and even what came from within themselves; the rigor of the original Remain was generally stifling, and the rhythm of its borrowings from the Global South tended to be cut off at the hips. Kidjo plunges into whatever cultural atmosphere she finds herself. And the winds of sound converge around her. An otherworldly folkloric diffusion of "The Overload"'s apocalyptic requiem; drum-symphonies to drive "The Heat Goes On"; immortal guitar runs slicing and shining through "Crosseyed and Painless" from some 1970s Nigerian bar at the edge of time; "The Great Curve" belted out with rock and soul and its celestial subject incarnate at center-stage. When you are deep at the heart, outer borders are indiscernible. Pull the horizon toward you.
***
MORE POSTS by ADAM McGOVERN: OFF-TOPIC (2019–2022 monthly) | textshow (2018 quarterly) | PANEL ZERO (comics-related Q&As, 2018 monthly) | THIS: (2016–2017 weekly) | PEOPLE YOU MEET IN HELL, a 5-part series about characters in McGovern's and Paolo Leandri's comic Nightworld | Two IDORU JONES comics by McGovern and Paolo Leandri | BOWIEOLOGY: Celebrating 50 years of Bowie | ODD ABSURDUM: How Felix invented the 21st century self | CROM YOUR ENTHUSIASM: C.L. Moore's JIREL OF JOIRY stories | KERN YOUR ENTHUSIASM: Data 70 | HERC YOUR ENTHUSIASM: "Freedom" | KIRK YOUR ENTHUSIASM: Captain Camelot | KIRB YOUR ENTHUSIASM: Full Fathom Five | A 5-part series on Jack Kirby's Fourth World mythos | Reviews of Annie Nocenti's comics Katana, Catwoman, Klarion, and Green Arrow | The curated series FANCHILD | To see all of Adam's posts, including HiLo Hero items on Lilli Carré, Judy Garland, Wally Wood, and others: CLICK HERE