The Age of Aquaria!
By: HILOBROW
July 24, 2016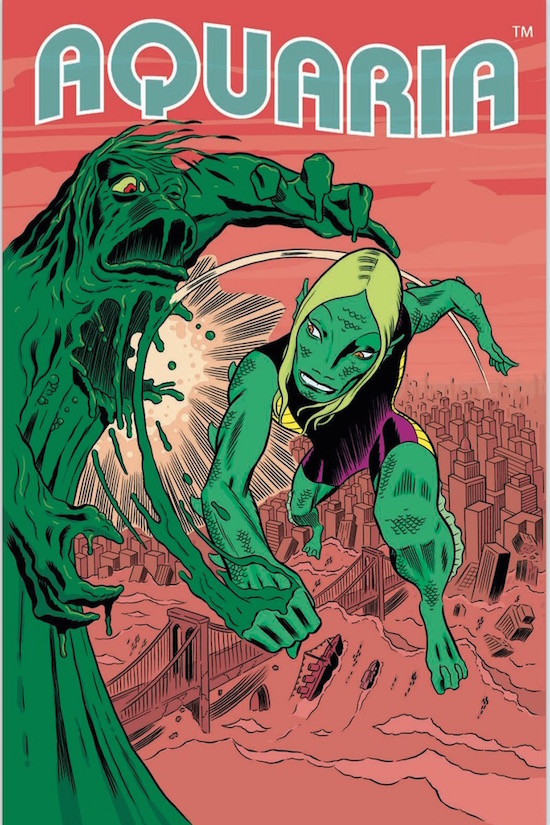 What if the Marvel Universe were born not in Manhattan in 1961… but rather in Brooklyn — one that has broken off from the rest of New York in a politico-environmento-tectonic anomaly — in 2016?
This is the premise of the "New Brooklyn" Superhero Universe, a cheeky but committed project published by the digital comic service LINE Webtoon. The NBSU is the brainchild of cartoonist Dean Haspiel — who contributed a great story to SIGNIFICANT OBJECTS, a project co-curated by HILOBROW's Josh Glenn — along with fellow Brooklyn comic-book writers and artists. So far, so good!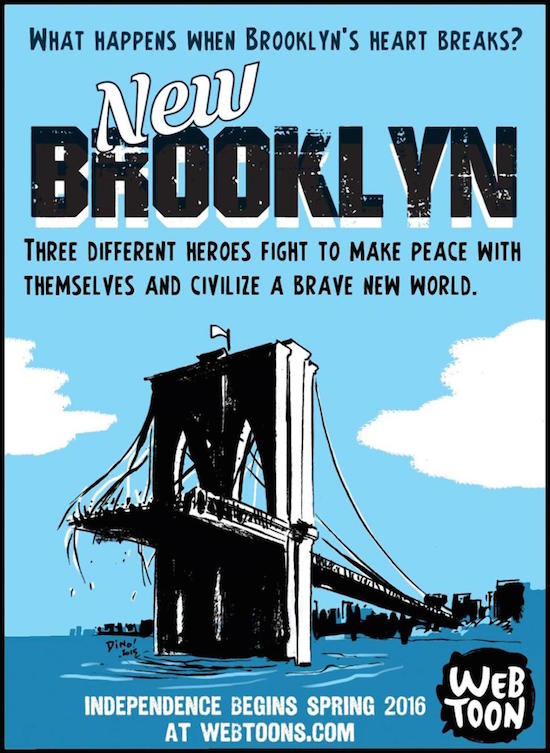 We've been following Haspiel's NBSU comic, The Red Hook, since April. The title character is a master thief who is forced, against his will, to become a good-guy when he comes into possession of the Omni-Fist of Altruism. (This happens in Chapter 6.) Now, he can't walk past a person in need without his very mortality being compromised.

Haspiel's Brooklyn studio-mates Vito Delsante, Ricardo Venâncio, the late Seth Kushner, and Shamus Beyale also contribute to the series. In The Brooklynite, by Kushner & Beyale, a cartoonist chronicles his own adventures after he's accidentally irradiated with superpowers. And in Delsante, Haspiel, and Venâncio's The Purple Heart, which launches the 27th, a war vet becomes New Brooklyn's cosmic guardian. The underwater flashback/dream sequences in The Purple Heart are particularly gorgeous and captivating.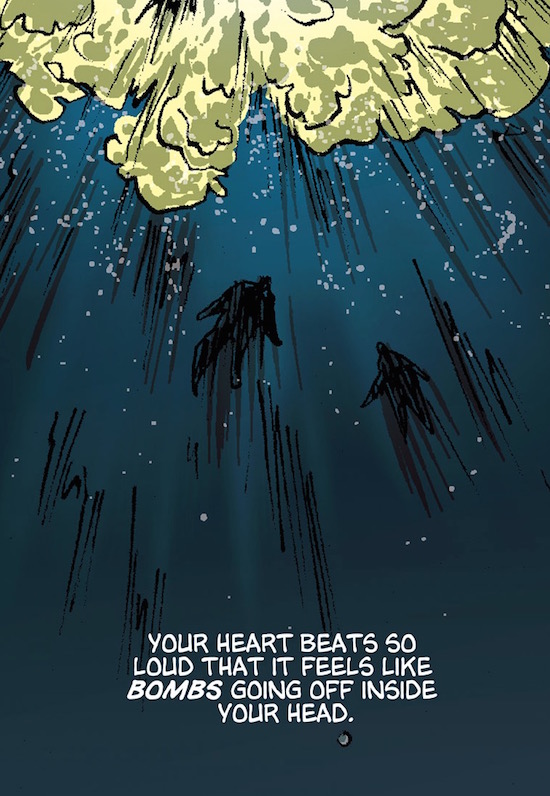 ALSO! On the 27th, go to your local comic book store and pick up the latest issue of Erik Larsen's Image title Savage Dragon. In it, you'll find the first story in the AQUARIA series, which was created by HiLobrow friends and contributors Adam McGovern and Paolo Leandri. (Dean Haspiel was in on the action, as well.) Aquaria is the alter ego of Mirta Del Mar, an oceanographer born and raised in Brooklyn; she falls into the toxic Gowanus Canal and emerges as a mutated green mermaid-hero. The AQUARIA stories take place, for now, in a parallel-universe version of the "New Brooklyn" Superhero Universe; it is to be hoped that LINE Webtoon will pick up AQUARIA as an official line within the NBSU soon.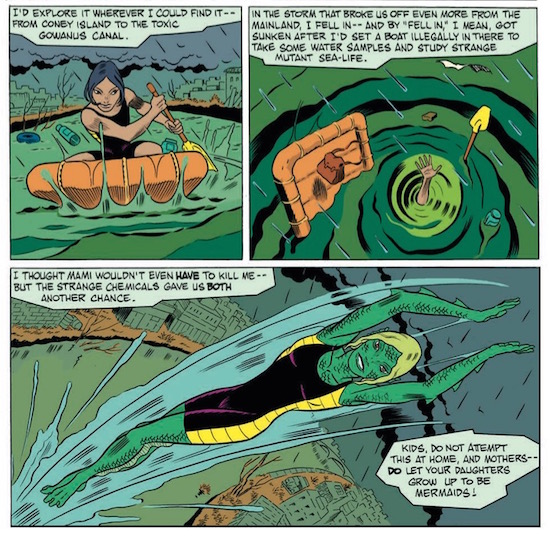 As with everything we've seen by McGovern and Leandri, the AQUARIA stories are smart, witty, exciting… and beautifully executed in a way that pays homage to Kirby while pointing boldly forward to the future.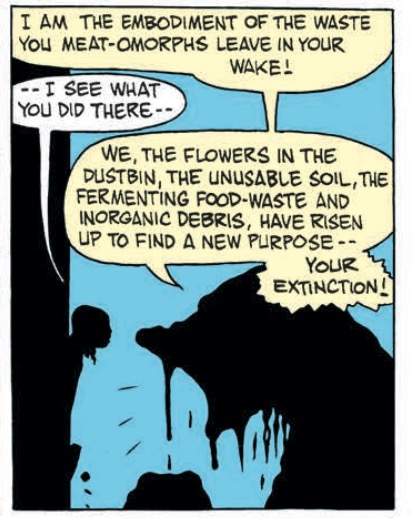 Remember, you heard it here first.
***
ADAM McGOVERN on HILOBROW: Adam's weekly THIS: column | PEOPLE YOU MEET IN HELL, a 5-part series about characters in McGovern's and Paolo Leandri's comic Nightworld | Two IDORU JONES comics by McGovern and Paolo Leandri | BOWIEOLOGY: Celebrating 50 years of Bowie | ODD ABSURDUM: How Felix invented the 21st century self | CROM YOUR ENTHUSIASM: C.L. Moore's JIREL OF JOIRY stories | KERN YOUR ENTHUSIASM: Data 70 | HERC YOUR ENTHUSIASM: "Freedom" | KIRK YOUR ENTHUSIASM: Captain Camelot | KIRB YOUR ENTHUSIASM: Full Fathom Five | A 5-part series on Jack Kirby's Fourth World mythos | Reviews of Annie Nocenti's comics Katana, Catwoman, Klarion, and Green Arrow | The curated series FANCHILD | To see all of Adam's posts, including HiLo Hero items on Lilli Carré, Judy Garland, Wally Wood, and others: CLICK HERE