THIS: Break the New
By: Adam McGovern
June 20, 2016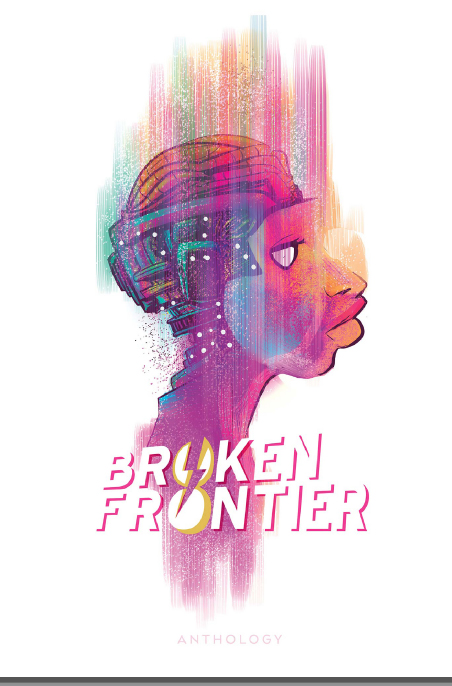 All comics started as a collection of voices — before they were compiled into books, readers were used to seeing a plural polyglot of styles on the newspaper "funny pages," and for decades commercial comicbooks were anthologies of short stories. The compendium could be thought of as the natural form for the comic page's limitless possibilities.
Even more is possible now, as means of production and sources of support proliferate in a publishing world with no empire and many individual states. The Broken Frontier Anthology is one such warning and prophecy to the purveyors of mass imagination — "big names" are hungry to do something discreet and personal, and new players can put together (and put forth) fiction as compelling as any that ancient griots and fairytale-spinning Black Forest moms used to.
Sometimes pushing the frontier brings us around to the point from which all things can most freely start. Tyler and Wendy Chin-Tanner's A Wave Blue World imprint has been breaking boundaries and rules for a decade, attracting major comics talents already established, and identifying significant creators of the newest future (not least, the uncommon ideas and alternative worldview Tyler brings to his own scripts). He edited the anthology along with Frederik Hautain, originator of the respected comics-analysis blog of same name, and I got to speak with Chin-Tanner on a small but visible East Coast tour of store signings, panels and comic-con appearances.
That conversation appears below, but first I should tell you a bit more about the Broken Frontier Anthology's brisk 300+ pages of vision and word…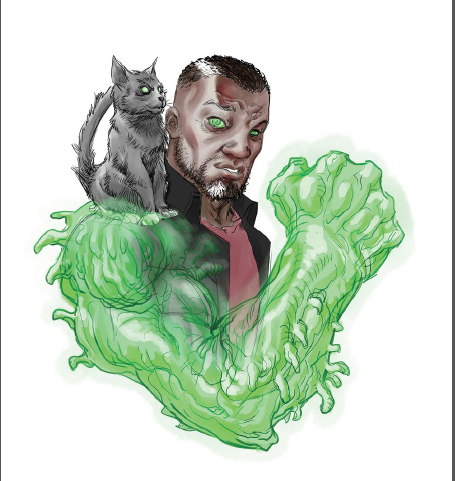 Some stories, like Greg Pak & Tom Raney's promising "Phantom Limb Ghostpuncher" (though it has no competition for title of the year), and Chin-Tanner's own thrilling "The Wall," with post-apocalyptic blacklite-poster art by Toby Cypress, work perfectly well as opening chapters but don't have the feeling of being part of a mosaic of myth (which stretches out both ahead of and behind any single story we're seeing). Others, like Marguerite Bennett and Varga Tomi's "In the Night, Mountains Grew" have a sense of grand, ancient menace being stirred, along with the possibility of redeeming ordeal for this story's disillusioned local-law-enforcer heroine, in a brooding, beautiful mix of environmental parable and end-times kaiju pulp.
Similar feelings are conveyed by Fred Van Lente and Alison Sampson's "The Beard" (a current-day hipster creation-myth about a heroine who doesn't recognize the butterfly she's turning into — and neither may the society she's helping save — told with a vivid mind's eye for bad-dream detail and ear for modern-manners tone); and A. David Lewis and Noel Tuazon's "The Fiction of Free Will," a fascinating, moody wartime pop legend about obscure 1940s (now public-domain) hero Kismet, Man of Fate told with a perfect equilibrium of action-adventure classicism and indy roughness, giving us a satisfying glimpse of a tapestry well worth filling in further.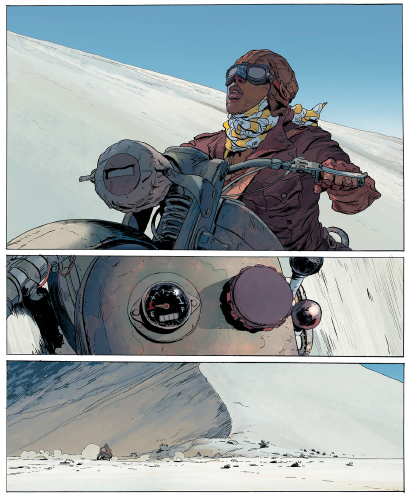 "Plunder" is a Melvillian myth of human failing that feels carved right into a Viking ship's doomed prow by artist Daniel Warren Johnson, while the always inspired Phil Hester provides a narrative with the timeless truth and topical insight that keeps all the best cautionary fables sadly, faithfully current. Robert Sammelin's gorgeously austere, eloquently wordless "The Wave" is as epic in its ambiguity as "Plunder" is grand in its moral clarity.
It's typical for characters in such stories to exceed boundaries into perils or grandeur that we ourselves understand well from decades or centuries of Hell myths and intergalactic fantasies; it's much rarer that a storyteller ventures beyond the vocabulary of his or her own comprehension, to expand both their and our sense of the scope and textures of existence. Writers Adam Egypt Mortimer and Steve Orlando do this with uncanny regularity, and again in their stories here.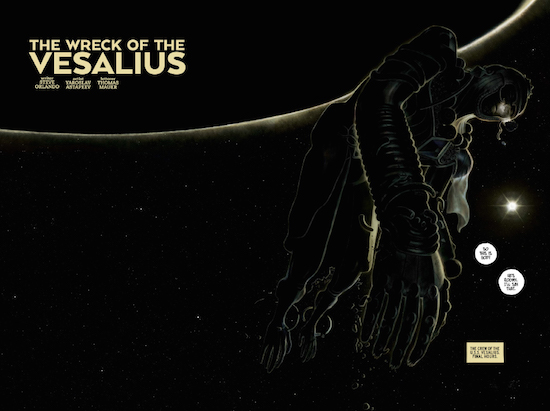 Mortimer's "Death Signal" (with artist Jeff McComsey) is a tale of a kind of afterlife astronaut, and views the circle of a lifetime from an orbit beyond it, the moments out of sequence and arrayed in all their recombinant meanings. It's a profoundly poignant vision of unfathomable isolation and inexhaustible human warmth. Where that story expands the universe into a kind of spatial mass consciousness, Orlando's "The Wreck of the Vesalius" (with artist Yaroslav Astapeev) encloses it as a kind of giant cosmic metabolism, with matter — and mind — disintegrated and remade endlessly. Landing on a dead giant floating in space somewhere at the event-horizon between the scientific and divine, a small band of travelers attempt a kind of cosmic autopsy which converts to attendance at their own lonely funeral — in a twist on everything from marooned-submarine melodramas to EC Comics morality tales, which conveys the substance of nothingness like no storyteller who hasn't died would be expected to express.
Some quests find what you don't want, and the range of tastes in this collection is so ambitious that, inevitably and even reassuringly, there are some offerings I thought fell short.
Sean Wang's "Here There Be Monsters" is a well-drawn, cleverly structured parable of the conquest of Native America, though the almost-wordless story ends up as a literal one-liner (Pak's run on Turok did a much better job with strangely similar themes). "Rabid" is the kind of art-brut superhero guignol that projects like Joe Casey's Catalyst Comix and Captain Victory have already far surpassed stylistically, and Gail Simone's Megalopolis series have outdone thematically. Hautain's own "It's About Time" is a shockingly derivative and simplistic what-might-have-been thriller that seems unironic in its clichés.
There are a few more that anyone else may feel are just fine, and many more that we can all probably agree are phenomenal.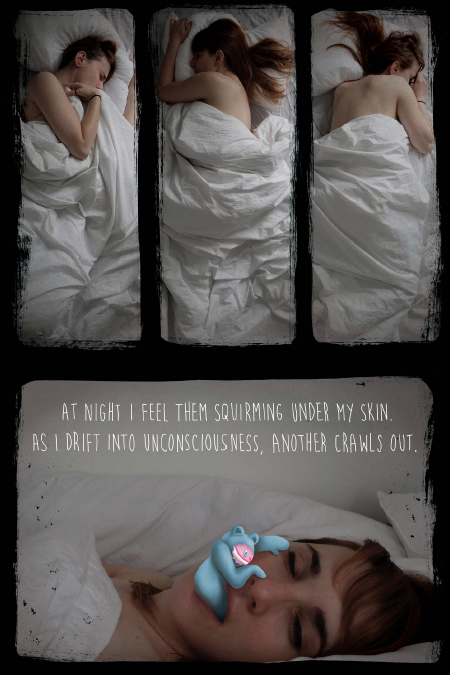 The unnerving, absurdist, hypnotic noire "Quin Returns" by David Hine and Mark Stafford feels like what would happen if Josef Kafka did a comic with Ren & Stimpy's John K (hmm), with a nod to Paul Auster in the protagonist's name and the tendency for fictional and possibly-existent versions of him to run into each other.
Karrie Franzman's "Inside Out," a photo-essay of the fantastic mixing selfies with monster emoticons of the id in a psycho-comedy-drama, is like nothing else; the spiraling narrative and underwater pace of Carla Berrocal's "Purgatory" is state-of-the-art surrealist fable, with an eerie/charming cut-paper sci-fi Pierrot aesthetic.
Cullen Bunn & Nathan Fox come up with an appealing variant on lion-witch-and-wardrobe (or in this case, -woodshed) fiction in "Dark Dark World," while Noah Van Sciver takes us on an eruditely cheesy, hilariously unredemptive dismantling of the familiar it-was-all-a-dream, not-in-Kansas-anymore narrative, literally "Down in a Hole."
Salgood Sam's contribution, "Key," is one stave from his own ongoing personal epic, A Bastard's Tale, and is supreme visual poetry on the nonetheless humble, almost devotional theme of the artist's initial creative spark (albeit in immense metaphysical context). The cosmos are drawn down to one individual in that father-and-son story; in I.N.J. Culbard's "Last Dance at Omega Point" the sky is reached for in a desperation to connect with a lost, intimate family bond; both stories touch the single intersection point between the endless world and ourselves, or the endless worlds in each other.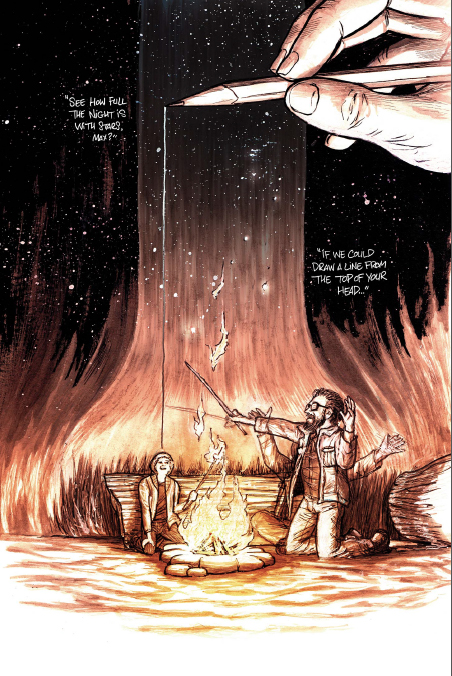 And the book's reach exceeds even the many chapters described above. I asked Chin-Tanner for some insights from one step outside this crowd-conceived universe.
HILOBROW: True to the its title, the anthology breaks expressive ground and aspires to occupy spaces that are new to us (or wider than ever in memory) — independent publishing, creator ownership, hybrids of genre. Did that help direct the recurring theme in the stories of testing extremes and taking first steps on heroes' journeys?
CHIN-TANNER: As editors of this project, Frederik and I wanted to have a unifying theme, that of breaking boundaries and exploring the great unknown, but we didn't want to push creators in any specific direction. We wanted to leave the theme open to interpretation. They could do stories about space exploration, superheroes, monsters, or even breaking down mental barriers.
Once the stories started coming in, it was interesting to see which ones were launching new heroes and storylines and which ones were standalone stories. We didn't [state] a preference, it was all up to the creators. But it did become a concern at one point. I remember Steve Bryant reached out to us. He was concerned because he saw all these stories going into the anthology that were introducing new characters and thought he should change his to fit. We told him "no," we liked that he was doing a "one-and-done" story. And I'm glad he left it in because "Sole Survivor" turned out to be a beautiful story, some of his best work and I couldn't be happier to have it in the anthology.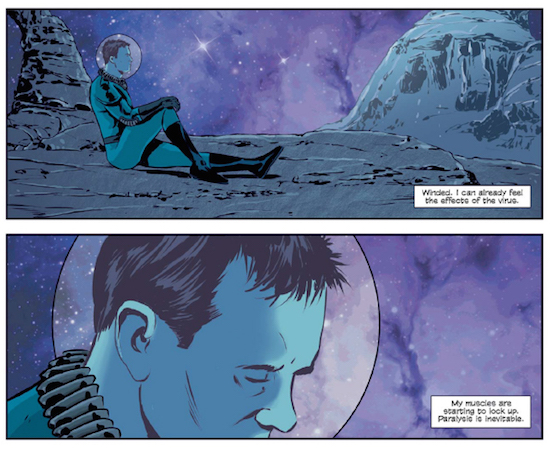 HILOBROW: Even more than going in new directions, many of these stories are like pop creation-myths. Is this a time, socially not just artistically, where you and the other contributors sense a need, maybe an epoch, of new beginnings?
CHIN-TANNER: Well, I don't need me to tell you the entertainment industry is full of reboots and supposed "fresh takes" on the same characters. We've also settled into formulaic storytelling where companies are just looking for something that fits this mold because it's how they know how to sell to their audience. And their audience has been trained to want that. It's an efficient system and the marketplace has been built around that structure so it's tough to do anything that goes against that grain. That's why anthologies like this are so important. They give creators a chance to try out new ideas that wouldn't necessarily check the right boxes on a company pitch, even if it were to a company publishing creator-owned content.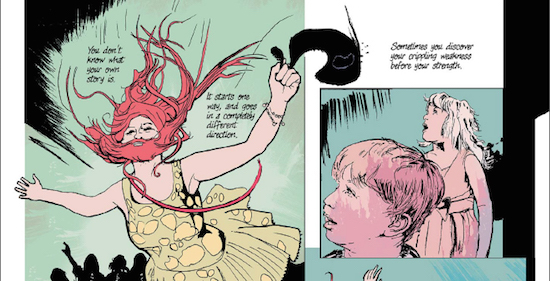 HILOBROW: Most of the material in the anthology seems to me to share a dimension with Paul Pope's Battling Boy, Adam Rapp and Mike Cavallaro's Decelerate Blue and several other recent works from both the indie and commercial comics worlds, in which the two aesthetics seem to be converging. Does pulp need redeeming? Does art-house need opening up? Or is the very distinction a frontier you wish to help fall?
CHIN-TANNER: It's exactly that last point. We don't think these stories need to fall into any of those categories. A lot of times those are just marketing ploys and it forces creators to work inside a box or stick to certain elements of the formula. Not everything is going to succeed when creators are pushing into uncharted territory. Or maybe it will succeed in its intention but still fail to reach an audience who still aren't sure what to make of it. In an anthology like this, that's perfectly legitimate. I don't think any one reader should like all of the stories in here. Hopefully, they thought it was worth the read, but also are happy to move on to the next story and leave that one behind.
And for creators, this gives them a chance to gauge the reaction. Maybe they just wanted to try something new, not necessarily to continue along those lines, but to stretch themselves or shake things up so they can arrive at another destination entirely. Or maybe it worked out perfectly and we'll see some of these stories launch into their own series. Time will tell, but there are some very interesting things happening.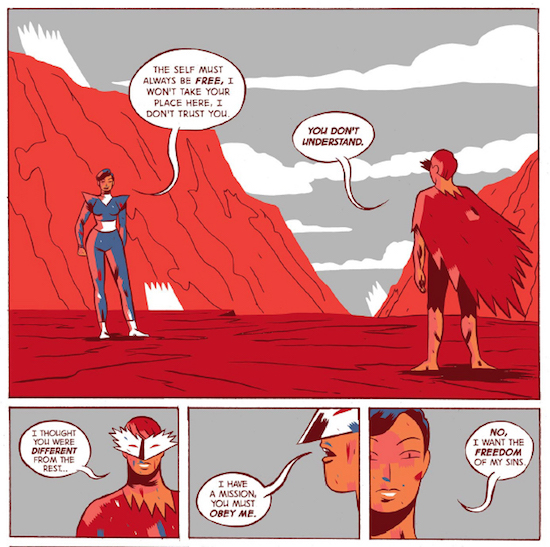 HILOBROW: Themes link up in interesting ways across the entirety of the collection — borderlines of outer space and interior perception, circular dreamtimes. Was there any editorial guidance in this, or just serendipitous creative kinship and artful curation?
CHIN-TANNER: As I mentioned, we made it a point to give absolutely no guidance other than to follow their interpretation of the theme. We did send out page templates to make sure everything would fit together physically, but as far as the feel of the stories linking up so well, that was just serendipitous. I was amazed as we put together the story order just how well everything fit together. It's not as if it ever felt like two creators were writing the same story. Nothing conflicted. It all blended together seamlessly, and honestly it looks like we had a more active hand in the storytelling than we did.
I will admit one thing though. Once I determined that I would put my story, "Stranger Than Fiction," after "Phantom Limb Ghostpuncher" (Greg Pak, Tom Raney), I went and contacted the artist Ayesgul Sinav, and told her to put a black cat walking down the street in our opening scene. The Ghostpuncher story ended with a black cat talking to the main character, and it's not meant to be the same cat, but the visual cue is there.
The anthology is available through the publisher's website.
Art, from top to bottom: Cover image by Robbi Rodriguez; images from "Ghostpuncher", "The Wave", "Vesalius", "Inside Outside", "Key", "Sole Survivor", "The Beard", and "Purgatory" (artists identified in article).
***
MORE POSTS by ADAM McGOVERN: OFF-TOPIC (2019–2020 monthly) | textshow (2018 quarterly) | PANEL ZERO (comics-related Q&As, 2018 monthly) | THIS: (2016–2017 weekly) | PEOPLE YOU MEET IN HELL, a 5-part series about characters in McGovern's and Paolo Leandri's comic Nightworld | Two IDORU JONES comics by McGovern and Paolo Leandri | BOWIEOLOGY: Celebrating 50 years of Bowie | ODD ABSURDUM: How Felix invented the 21st century self | CROM YOUR ENTHUSIASM: C.L. Moore's JIREL OF JOIRY stories | KERN YOUR ENTHUSIASM: Data 70 | HERC YOUR ENTHUSIASM: "Freedom" | KIRK YOUR ENTHUSIASM: Captain Camelot | KIRB YOUR ENTHUSIASM: Full Fathom Five | A 5-part series on Jack Kirby's Fourth World mythos | Reviews of Annie Nocenti's comics Katana, Catwoman, Klarion, and Green Arrow | The curated series FANCHILD | To see all of Adam's posts, including HiLo Hero items on Lilli Carré, Judy Garland, Wally Wood, and others: CLICK HERE