Older Kids' Lit 1966 (4)
By: Joshua Glenn
January 13, 2016
One in a series of 10 posts surfacing Josh Glenn's favorite 1966 adventures for intermediate readers. Happy 50th anniversary!
*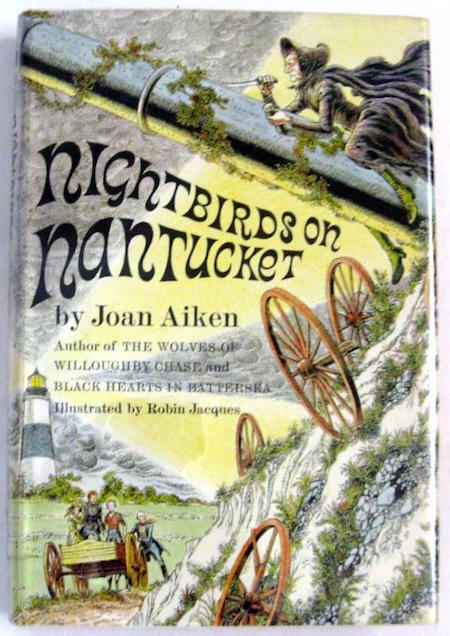 Joan Aiken's parallel-history adventure Nightbirds on Nantucket.
Having gone down with the ship at the end of the previous installment in Aiken's terrific Wolves Chronicles, Cockney ne'er-do-well Dido Twite wakes up in the middle of the Arctic sea, aboard a whaler out of Nantucket. While an Ahab-like Captain Casket pursues a magnificent pink whale, his motherless young daughter, Dutiful Penitence, refuses to venture out of her cabin. Dido befriends Penny, then accompanies her to her Aunt Tribulation's home on Nantucket. The girls soon uncover a Hanoverian plot involving a giant cannon — designed by a Wernher von Braun-type German scientist — that will be fired from Nantucket, and which will destroy England's Buckingham Palace. Meanwhile, Aunt Tribulation may not be what she seems. As ever, Dido's use of dialect — "havey-cavey," "tipple-topped," "in the nitch" — is awesome.
Fun fact: Some Dido Twite fans suggest reading Nightbirds on Nantucket first, then (as prequels) The Whispering Mountain (1968), The Wolves of Willoughby Chase (1962), and Black Hearts in Battersea (1964), before reading the rest of the series in the order of their publication. That's not how I did it, but I do like the idea.
***
OLDER KIDS' LIT on HILOBROW: Best of 1963 | Best of 1964 | Best of 1965 | Best of 1966 | Frances Hodgson Burnett's The Lost Prince (serialized) | YA Sci-Fi | ALSO SEE: Best 1966 Adventures (for Grownups).
JOSH GLENN'S *BEST ADVENTURES* LISTS: BEST 250 ADVENTURES OF THE 20TH CENTURY | 100 BEST OUGHTS ADVENTURES | 100 BEST RADIUM AGE (PROTO-)SCI-FI ADVENTURES | 100 BEST TEENS ADVENTURES | 100 BEST TWENTIES ADVENTURES | 100 BEST THIRTIES ADVENTURES | 75 BEST GOLDEN AGE SCI-FI ADVENTURES | 100 BEST FORTIES ADVENTURES | 100 BEST FIFTIES ADVENTURES | 100 BEST SIXTIES ADVENTURES | 75 BEST NEW WAVE SCI FI ADVENTURES | 100 BEST SEVENTIES ADVENTURES | 100 BEST EIGHTIES ADVENTURES | 75 BEST DIAMOND AGE SCI-FI ADVENTURES | 100 BEST NINETIES ADVENTURES (in progress) | 1994 | 1995 | 1996 | 1997 | 1998 | 1999 | 2000 | 2001 | 2002 | 2003 | NOTES ON 21st-CENTURY ADVENTURES.