Pop with a Shotgun (6)
By: Devin McKinney
July 10, 2015
[Between October 2005 and June 2009, HiLobrow contributor Devin McKinney worked with intermittent perseverance and passion to record his reactions to music and music-related stimuli at a blog called Pop with a Shotgun. He has selected some of his favorite posts for this reprint series. This installment, originally posted January 14, 2008, is the sixth of ten.]
*
Open graves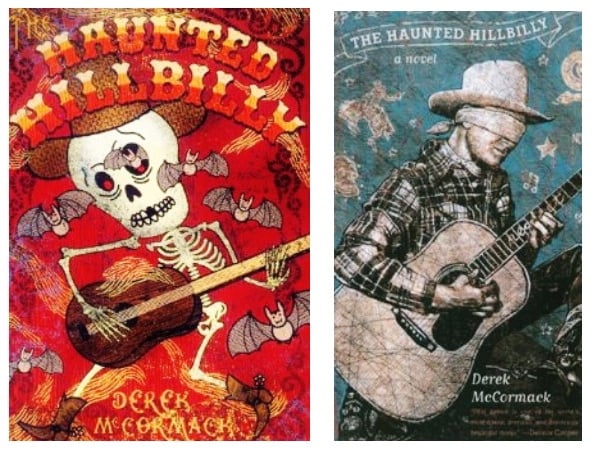 DEREK McCORMACK, The Haunted Hillbilly
This was found yesterday, near the back of an overstacked shelf in a hole-in-the-wall used bookstore on Broadway. It had a guitar-playing skeleton on the front and said this on the back:
STEP RIGHT UP!
A year ago he was the Star of the
GRAND OLE OPRY.
King of Country & Western.
And now? He can't play. He can't sing.
Hear his pitiful pleas!
Quiver to his Yellow Yodels!
What's he so scared of?
What reduced him to this sorrowful state?
A VAMPIRE!
A blood-drinking, soul-sucking fiend.
VAMPIRES LIVE!
See what they do to mortal men!
Step right up and feast your eyes on
THE WRECK WE CALL
THE HAUNTED
HILLBILLY!
All that come-on, plus an encomium inside from queer shock novelist Dennis Cooper, and Canadian critic Bert Archer saying "McCormack's an evil little blessing." It was autographed by the author. And there it was hidden in a dusty hole, peeking out at me, asking only five bucks.
Could you resist this thing? Me neither.
It's a novella that takes only as long to read as it takes to dream a bad dream; I read it in the dusk hour between sundown and blinding dark. The setting is Nashville, you're not certain when, but you'd guess late Forties, early Fifties. The hero — no, the victim — is a gifted young country singer named Hank. Hank is married to a woman named Audrey, who sews his first suit and sends him looking for a shirt worthy of her stitchery. The narrator — all-seeing, all-consuming, all-perverse — is Mr. Nudie, a Nashville haberdasher catering to the Grand Ole Opry elite, who makes flamboyant stage suits replete with spangles, glasswork, rhinestones, sequins, and stylized depictions of country-associated objects (cacti, trains, guitars). The haberdasher spots the singer, and begins not only dressing him but owning him: taking pieces of his flesh and soul, and destroying those around him. You see, Nudie is a vampire, in fact a gay vampire, and possession is his game.
The book's style, suitable to its content, is stripped not just to the bone, but to the marrow. ("Hank steps out. A gasp goes up. His suit's starry. Spotlights bend off his blazer. He sings his song. The one on his suit. About being blue.") And if those character names sound familiar… yes, there was a real country singer named Hank. His last name was Williams, and his first wife was named Audrey, and he was brilliant, a once-in-a-century changer and shaper of his form. Hank Williams died from too many pills at the age of 29, looking pale and skeletal in the dark rear seat of a limo on his way to a show. They say his corpse looked almost as if it had been emptied of blood. But he looked that way alive, too.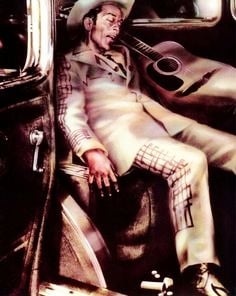 And yes, there is a real Mr. Nudie. Or was: he died April of last year. Nudie Cohn, born in Kiev, Russia, made suits for everyone from Roy Rogers to Buck Owens, Jon Voight (Midnight Cowboy) to Robert Redford (The Electric Horseman), the Sons of the Pioneers to the Flying Burrito Brothers. He made Elvis's gold lamé suit — the one worn by the King on Elvis's Golden Records, Vol. 2, as if precisely to substantiate the record's timeless headline: 50,000,000 Elvis Fans Can't Be Wrong!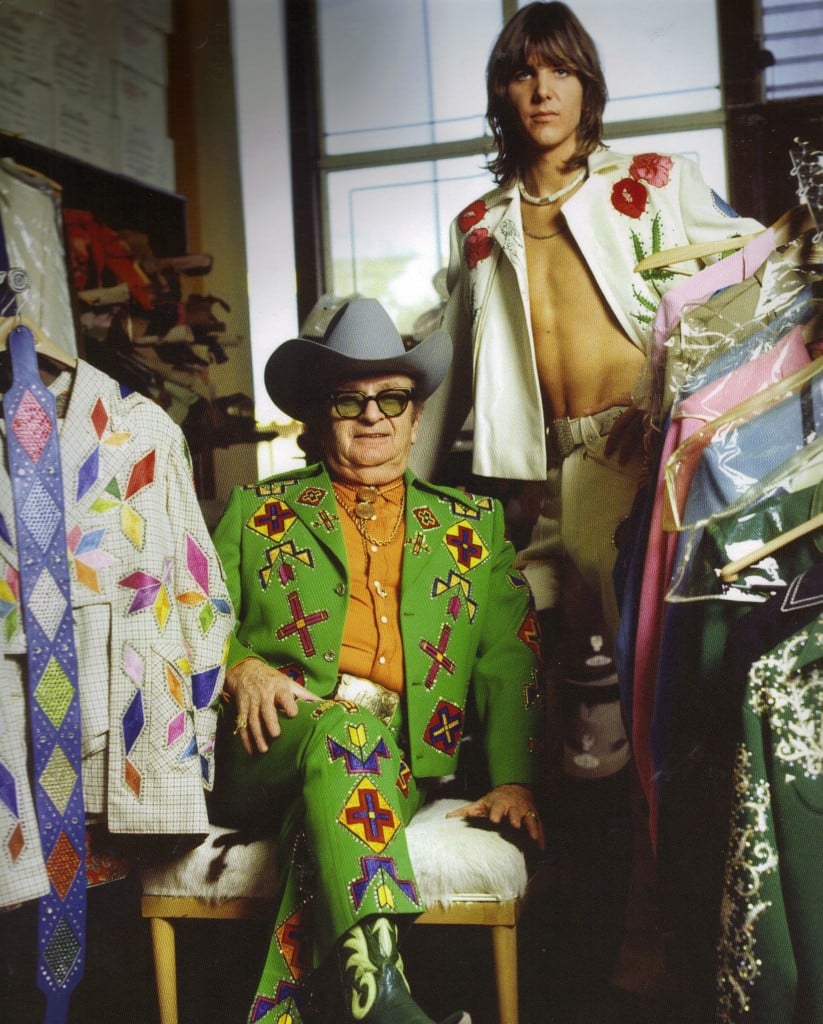 The Haunted Hillbilly is a conflation of fact and fiction. Just enough of the facts are misplaced, or displaced, to prevent exact correlation with the principals' received biographies, and so to leave holes, or open graves, in the spaces between known realities. For instance, Nudie had a wife named Bobbie; there is a woman named Bobbie in The Haunted Hillbilly, but she is Hank's girl. Hank Williams died in Oak Hill, West Virginia; the book's Hank never escapes Nashville.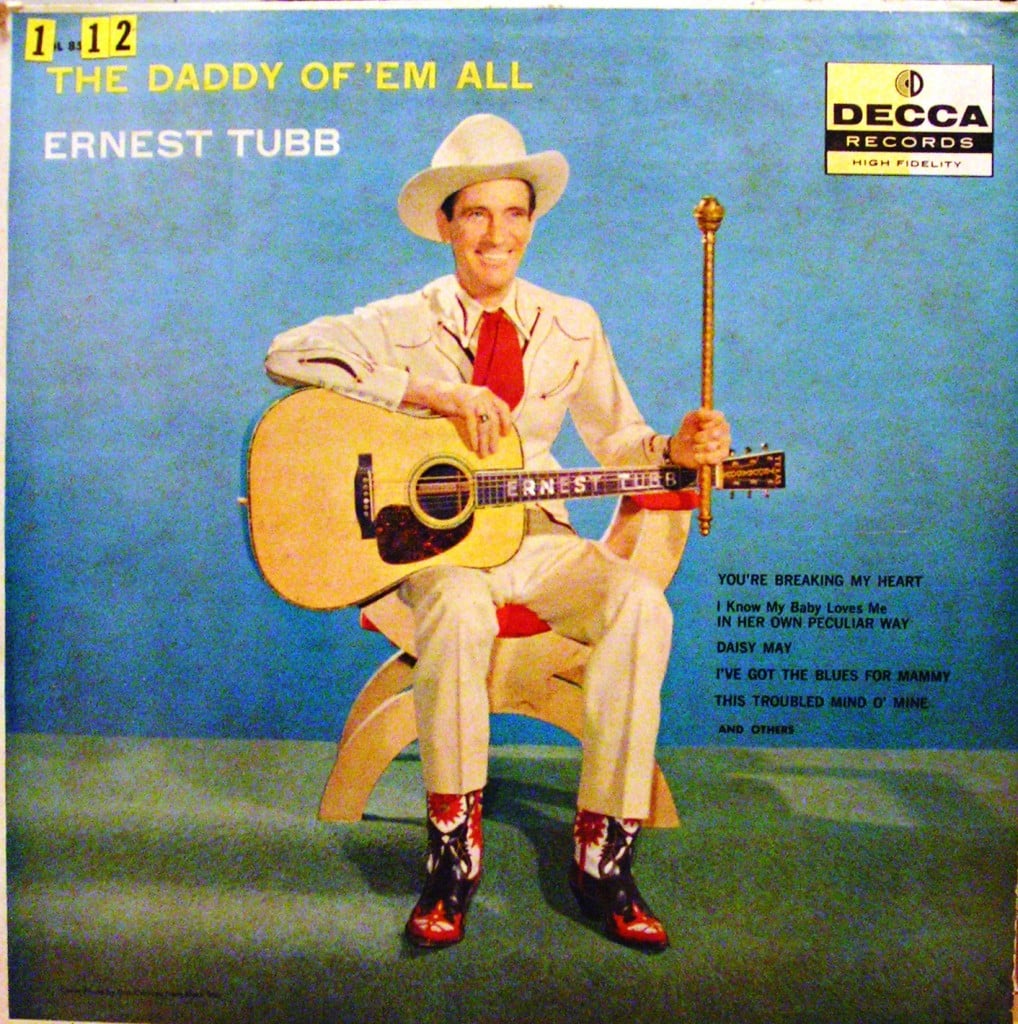 Hank's nemesis throughout the story is Ernest Tubb, the "Texas Troubadour," a real person, an Opry favorite — but not, so far as I know, the insanely treacherous figure depicted here. The book ends with Nudie, still on the prowl, finding and fixing on a new boy, a new idol, a new tailor's dummy (or "judy") for his rhinestone designs: a boy who says his name is Johnny Horton. Johnny Horton who had a number of hits, became a country superstar, and married Hank Williams's first wife Audrey before meeting a premature death in 1960.
The book's spookiness is in its conflations. Its Nashville is a graveyard, done up in All Souls' colors, in which ghouls and live ones, clean facts and gross fantasies copulate. Hank Williams's depleted corpse, Nudie's outrageous clothes (made partly, McCormack reckons, from such materiel as human bone fragments), and even Robert Johnson's satanic bargain (the pop myth of the sold soul) are part of the grim procession. Nudie's evil accomplice is named "Dr. Wertham," and that can be nothing but a reference to the once-famed Dr. Fredric Wertham, innovative social psychologist and author of the notorious anti-comics jeremiad Seduction of the Innocent (1954).
Not least of the shades haunting the story is that of Spade Cooley, Hollywood cowboy, grinning bandleader, and purveyor of watered-down, radio-friendly Western swing who, beset by paranoid delusions, in 1961 tortured and beat his wife to death as his daughter watched. Judging from his crimes and his photos, Cooley had a lot more vampire in him than either Hank Williams or Nudie Cohn. (For that whole story, see the relevant chapter in Nick Tosches's Country. Note further that Cooley was pardoned by California Governor Ronald Reagan only a few years into his sentence, presumably for sentimental reasons — one old Hollywood hand taking pity on another.)
What you have here — and it is worth picking up if found peeking from a high shelf, asking only five dollars and an hour's attention — is some kind of demon fetus pickled in a jar of Southern moonshine, the malformed spawn of Rosemary's Baby and King Death.
***
ALL POSTS IN THIS SERIES
CURATED SERIES at HILOBROW:
PINAKOTHEK
by Luc Sante |
ALL MY STARS
by Joanne McNeil |
INTO THE VOID
by Charlie Jane Anders |
WE REABSORB & ENLIVEN
by Matthew Battles |
BRAINIAC
by Joshua Glenn |
COMICALLY VINTAGE
by Comically Vintage |
BLDGBLOG
by Geoff Manaugh |
WINDS OF MAGIC
by James Parker |
MUSEUM OF FEMORIBILIA
by Lynn Peril |
ROBOTS + MONSTERS
by Joe Alterio |
MONSTOBER
by Rick Pinchera |
POP WITH A SHOTGUN
by Devin McKinney |
FEEDBACK
by Joshua Glenn |
4CP FTW
by John Hilgart |
ANNOTATED GIF
by Kerry Callen |
FANCHILD
by Adam McGovern |
BOOKFUTURISM
by James Bridle |
NOMADBROW
by Erik Davis |
SCREEN TIME
by Jacob Mikanowski |
FALSE MACHINE
by Patrick Stuart |
12 DAYS OF SIGNIFICANCE
|
12 MORE DAYS OF SIGNIFICANCE
|
12 DAYS OF SIGNIFICANCE (AGAIN)
|
ANOTHER 12 DAYS OF SIGNIFICANCE
|
UNBORED MANIFESTO
by Joshua Glenn and Elizabeth Foy Larsen |
H IS FOR HOBO
by Joshua Glenn |
4CP FRIDAY
by guest curators