Pop with a Shotgun (5)
By: Devin McKinney
July 7, 2015
[Between October 2005 and June 2009, HiLobrow contributor Devin McKinney worked with intermittent perseverance and passion to record his reactions to music and music-related stimuli at a blog called Pop with a Shotgun. He has selected some of his favorite posts for this reprint series. This installment, originally posted May 7, 2006, is the fifth of ten.]
*
Yes-crying love punk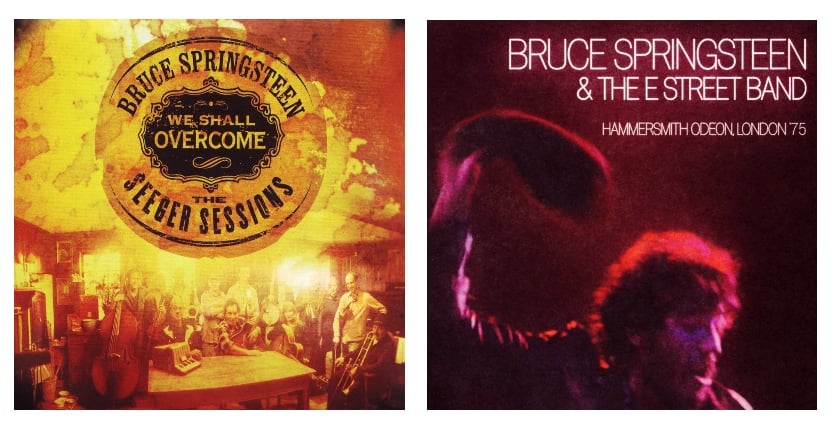 BRUCE SPRINGSTEEN
We Shall Overcome: The Seeger Sessions
BRUCE SPRINGSTEEN & THE E STREET BAND
Hammersmith Odeon, London '75
Easy to forget the underdog Springsteen was at first: what a scraggly, skinny scrounger he looked and sounded, how his very image stank of beer and butts. His poetry came off a starvation high, and his rock and roll was in that long noble foolish tradition of rock-like-there's-no-tomorrow: One day we'll make our compromises with job and law, but for these few years we'll live the myth.
His moment came around and he tore it open. From that opening poured no money, only delirium; no idolatry, only excitement; no responsibilities, only explosion. In that moment he was both the feted superstar and the anonymous club rat, living the myth and deferring the compromises. Behind him was a group that stomped on an angel cloud of ringing piano and sleigh bells. Hammersmith Odeon, London '75 is a straight and glorious route back to that moment.
Today he is the solid-bodied, soul-patched, gravel-pitched man of substance who places himself in obstinate and customarily dull opposition to whatever stream is main in the pop world. No longer the underdog, he sings in the underdog's stead. Against the momentness of before, he is centered and obliged. Means what he says, says what he means. Hand me down my walkin' stick. We Shall Overcome: The Seeger Sessions is the latest expression of Springsteen's accruing gravity, the thickening of callow youth into solid citizenship.
Guess which image still flames? Which music still flies?
Recorded in three days on his New Jersey farm with New York musicians (all manner of folk instrumentation plus strings, horns, and chorus), We Shall Overcome consists of songs Springsteen learned from Pete Seeger versions. Most are given boisterous handling, are roughed around and banged on by a likably rowdy ensemble. A couple of ballads ("Shenandoah" and "Mrs. McGrath") are not un-moving. It all sounds right. And yet there is nothing remotely surprising to it. Nothing there that shouldn't be there, no element or attitude we couldn't have imagined fitting until the right visionary stuck it in sideways.
We Shall Overcome is better than Devils + Dust, but mainly because it is louder, not deeper or farther or higher. Springsteen, unlike Elvis Costello, has simply not made the punk's maturity interesting — let alone thrilling or magical. His own songwriting has not evolved with the years, and to these populist standards he brings little but conviction. That's a lot more than nothing, and a lot less than enough. Additionally, it's gotten harder to ignore how false Springsteen's "folk" voice sounds — how forced and external, as if he'd inserted a fishhook in his tongue and were tugging it this way for a drawl, that way for a sneer. Nebraska caught him working his way into a country accent, an attempt at plains-states flatness, and it fit with his characters' ways of working themselves into their stories, as if they were unused to having attention paid to them. But on We Shall Overcome, his stuffing of Okie nasalities into the dirt farmer's lament is nearly as blatant, and just as predictable, as Melissa Etheridge slathering phony passion over a stalker-in-love lyric. Where he always ranged loose as a rocker and could send it sailing as a popper, Springsteen is in chains as a folkie. He's reduced to second-hand phrasing, a cupped-in-the-tongue mumble trading with a dry-gulch growl.
Springsteen is all the proof we need that it's not enough for an artist's heart to be in the right place. More important is that the sound be in the right place — or in the wrong place at the right moment. Springsteen will dry up and blow away altogether if he tries to follow Dylan down the sexagenarian-folkie road. He eats roots and shits boredom. What kind of future is that for him? Or for us? This solid music, drawn from dust and addressed to the ages, will, I'm certain, be forgotten next month.
But 1975 will live on. The marathon London concert, November of that fateful year, Born to Run making its move on pop history, places him before a polite English crowd that waits until a song is safely finished before applauding, that will not blight a dramatic pause by shouting Mum, you naughty girl! or I'm from Stepney! Though the E Street Band's piano-rich and rhythm-hard sound often conjures the specter of Dylan-Hawks '66, and many in the audience already know the Born to Run songs, you can believe this crowd has never quite met this spectacle before: this American runaway Chevrolet highway jukebox dream. There's an inch-thick charge of anticipation running through this performance that can make you need to urinate almost instantly. The night was clear and the moon was yellow and the leaves came tumbling down, Bruce sings to invoke the spirit in the night, and Max Weinberg rolls the drums like a ghost wind shivering the trees. It's only the beginning.
This yes-crying love punk does new songs like oldies, lays into Mitch Ryder and Gary "U.S." Bonds as if he'd written their songs himself. He does Bo Diddley justice on "She's the One." Though Springsteen is heroic in remembering all those lyrics, his music kicks New Dylan claptrap to the curb: this is all pre-Beatles romance, Spector sonority, Dirt City grindhouse.
A second-generation rocker, Springsteen was among the first to be able to live out the styles he'd been given by Elvis and the Beatles and James Brown and Ronnie Spector — but he was bold and loving and gifted enough to inhabit the rock and roll body itself, not just wear its clothes. He lived the myths he'd been given, and in the process made his own.
Myth lives and flies in this London concert, as it does in the other shows one can hear from Springsteen's early, legendary days (The Bottom Line in New York, The Main Point in Bryn Mawr, The Tower in Philadelphia). Bruce was so absolutely myth-besotted then. The rock and roll myths, that is, which ordinarily call for howls, or at least whoops. But Springsteen's vocal arsenal of the time, you realize listening to this, is equally rife with whispers and gasps, as if he were creeping up on those sleeping myths — the phantom Chevy, the shredded graduation dress, the road leading out of town — terrified to find that the myths he was once given are alive, they do exist. Terrified to realize they might rip him apart if he wakes them.
What choice is there? He is a rock and roll hero. He wakes those myths up. And he rips them apart.
1975 will live on.
***
ALL POSTS IN THIS SERIES
CURATED SERIES at HILOBROW:
PINAKOTHEK
by Luc Sante |
ALL MY STARS
by Joanne McNeil |
INTO THE VOID
by Charlie Jane Anders |
WE REABSORB & ENLIVEN
by Matthew Battles |
BRAINIAC
by Joshua Glenn |
COMICALLY VINTAGE
by Comically Vintage |
BLDGBLOG
by Geoff Manaugh |
WINDS OF MAGIC
by James Parker |
MUSEUM OF FEMORIBILIA
by Lynn Peril |
ROBOTS + MONSTERS
by Joe Alterio |
MONSTOBER
by Rick Pinchera |
POP WITH A SHOTGUN
by Devin McKinney |
FEEDBACK
by Joshua Glenn |
4CP FTW
by John Hilgart |
ANNOTATED GIF
by Kerry Callen |
FANCHILD
by Adam McGovern |
BOOKFUTURISM
by James Bridle |
NOMADBROW
by Erik Davis |
SCREEN TIME
by Jacob Mikanowski |
FALSE MACHINE
by Patrick Stuart |
12 DAYS OF SIGNIFICANCE
|
12 MORE DAYS OF SIGNIFICANCE
|
12 DAYS OF SIGNIFICANCE (AGAIN)
|
ANOTHER 12 DAYS OF SIGNIFICANCE
|
UNBORED MANIFESTO
by Joshua Glenn and Elizabeth Foy Larsen |
H IS FOR HOBO
by Joshua Glenn |
4CP FRIDAY
by guest curators