Ethel Lina White
By: Devin McKinney
April 26, 2015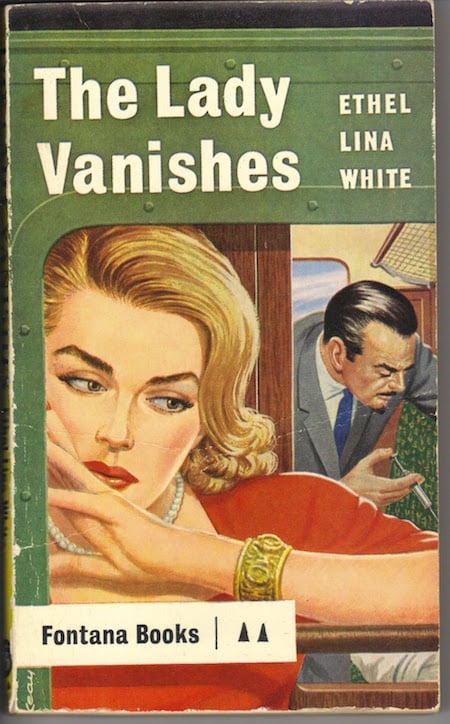 The thrillers of ETHEL LINA WHITE (1876–1944) usually occur in a mannered, ritualistic England full of natural beauty, malignant undercurrents, and lethal instability. Her titles are remarkably consistent in telegraphing her obsessions: Put Out the Light; Fear Stalks the Village; Step in the Dark; She Faded into Air; Midnight House; The Man Who Was Not There. Though technically a variety of whodunit, a White novel is concerned less with detection (the mechanics of which are dispatched functionally, without flair) than with the corrosive effects of fear and paranoia on a closed social system in a remote location — sinister mansion, hushed hamlet, inescapable train car. In her classic setup, a killer is on the loose, characters are dying or disappearing one by one, and the narrative noose tightens around a heroine who is gutsy and competent but also high-strung and neurotically vulnerable. To a great degree, White is that heroine, infusing clever banter and keen social commentary with a compulsive, near-mystical sense of forces and presences — shadows that come alive, trees that move like men, the ever-present feeling of being watched.
It's odd that the movies never made more of her. Robert Siodmak based the routinely hysterical The Spiral Staircase (1946) on the superbly controlled Some Must Watch (1933), while Alfred Hitchcock based The Lady Vanishes (1938) on The Wheel Spins (1936), which is far subtler in creating a heroine constantly being revealed as more than she appears — more resourceful, prejudiced, nihilistic, conflicted. But then for White the shadows of the night or of an unlit corridor only symbolize the nocturnal fantasies and hidden corners of the human mind — and as one of her characters says, simply and incontestably, "Hidden things are so thrilling."
***
On his or her birthday, HiLobrow irregularly pays tribute to one of our high-, low-, no-, or hilobrow heroes. Also born this date: Marcus Aurelius, Ludwig Wittgenstein, Anita Loos.
READ MORE about members of the Psychonaut Generation (1874–1883).