People You Meet in Hell (5)
By: Adam McGovern
September 5, 2014
Fifth in a weeklong series of five posts surveying some of the main characters in the meta-monster Image Comics series Nightworld by HiLobrow regular Adam McGovern and artist/creator Paolo Leandri.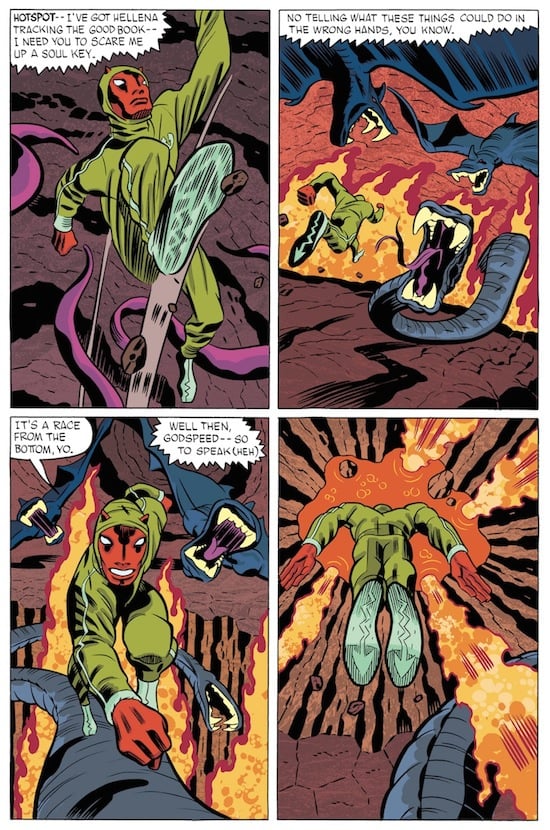 Hotspot crashed into the narrative of Nightworld unexpectedly, but no matter how our cursed characters might improve their fate, his entry feels predestined. This mischief-maker had no part in the prototypical Nightworld pages, but darted into Paolo's mind like Mercury, the messenger god, when we were preparing the American, "matured" version of the book.
The comparison is suitable (even if Hotspot's tracksuit is no longer fashionable), since he is one in a long line of marathon spirits — known for speed and agility and breathless information. I gave him his name, interestingly several years before "hotspot" became a term associated with communications.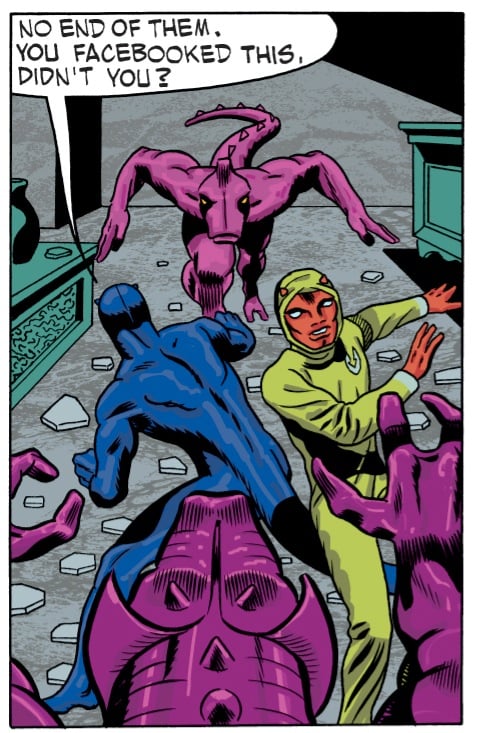 Every drama needs a jester, and Hotspot knows how to match archetypes — shadow and light, Thor and Loki. He's a foil for the somber Plenilunio, and though he may be revealed to have a tragedy that he jokes to cover up, it's the one thing he won't wear on his sleeve. Still, he's allowed to switch roles and reflect a little bit if he can get his counterpart to lighten up, as we see in a few fragments from Issue #3, above and below — closing with a serendipitously mirroring portrait. Because the great interdependent character types can never die.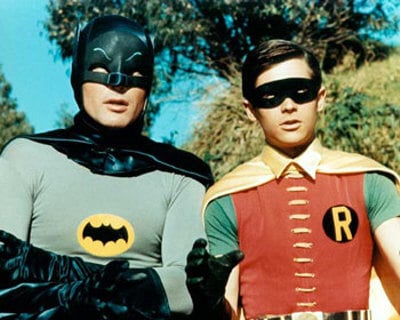 Look for Nightworld's first life to play out in Issues #1—4 in stores worldwide!
***
COMICS WRITTEN by ADAM McGOVERN & FIRST PUBLISHED by HILOBROW: The Idoru Jones comic "the–urban_legend_of_idoru_jones" (drawn by Paolo Leandri, 2011) | The Idoru Jones comic "boulevard–of–broken–code" (drawn by Paolo Leandri, 2012) | "Face Reality" (drawn by Frank Reynoso, 2011)
MORE ADAM McGOVERN POSTS at HILOBROW: PEOPLE YOU MEET IN HELL, a 5-part series about characters in Adam McGovern and Paolo Leandri's comic Nightworld | Two IDORU JONES comics by Adam McGovern and Paolo Leandri | BOWIEOLOGY: Celebrating 50 years of Bowie | ODD ABSURDUM: How Felix invented the 21st century self | CROM YOUR ENTHUSIASM: C.L. Moore's JIREL OF JOIRY stories | KERN YOUR ENTHUSIASM: Data 70 | HERC YOUR ENTHUSIASM: "Freedom" | KIRK YOUR ENTHUSIASM: Captain Camelot | KIRB YOUR ENTHUSIASM: "Full Fathom Five," an analysis of a panel from Jack Kirby's New Gods | A 5-part series on Jack Kirby's Fourth World mythos | Reviews of Annie Nocenti's comics Katana, Catwoman, Klarion, and Green Arrow | The 10-part review series FANCHILD | To see all of Adam McGovern's posts, including HiLo Hero items on Lilli Carré, Judy Garland, Laurie Anderson, George Takei, Meshell Ndegeocello, Wally Wood, Gilbert Hernandez, Cindy Sherman, David Bowie, Adam West, and others: CLICK HERE