People You Meet in Hell (2)
By: Adam McGovern
September 2, 2014
Second in a weeklong series of five posts surveying some of the main characters in the meta-monster Image Comics series Nightworld by HiLobrow regular Adam McGovern and artist/creator Paolo Leandri.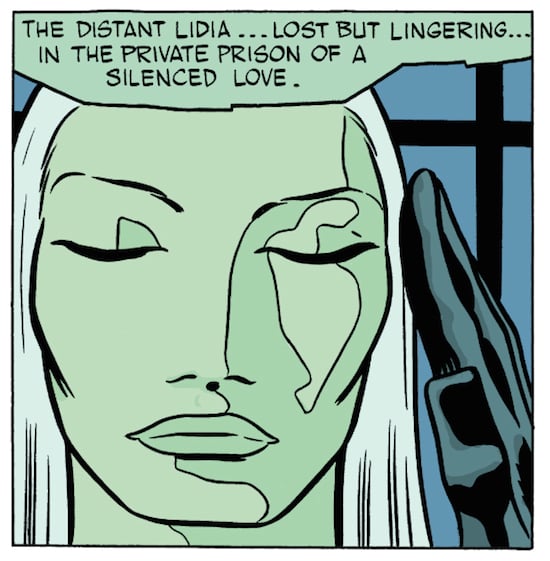 Lidia is the conscience of Nightworld — and sadly, that conscience is sleeping. This idea of the persisting but unreachable afterimage of a happy and pure person was one of the aspects that first haunted me in artist Paolo Leandri's conception of this series.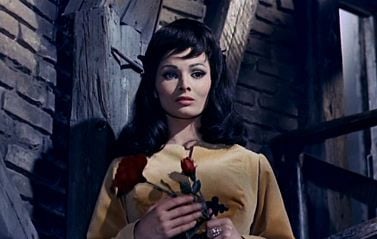 Paolo came up with her name, but wondered if it should be changed to "Scilla" in an homage to an actress in his native Italy long-remembered for her role in some signature horror films (we see her, Scilla Gabel, here in Mill of the Stone Women, 1960). I felt that his first thought was, as usual, his best, and that "Lidia" might connect more with American readers and echo certain Poe standards (Ligeia, Lenore, etc.).
Gabel was a self-possessed figure, while Lidia is possessed by other forces as well, so I can't help but wondering if Paolo had as much in mind figures like this lost soul from F.W. Murnau's Faust.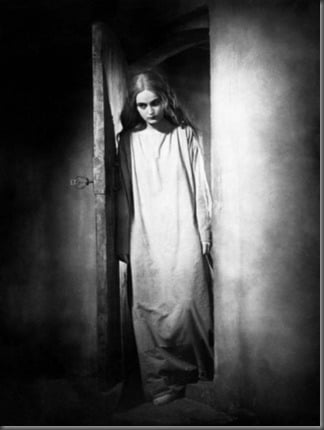 To avoid giving too much away, Lidia's soul is the quest at the heart of Nightworld, which means we can't expect not to get at least closer to her words, her mind, before our first four-issue miniseries is concluded. For me, the gender-politics subtext of her husband Plenilunio's yes, Faustian bargain with otherworldly forces to try and wake her is that Lidia may have not as far a distance to cross to make it back from what has happened to her as Plenilunio has to come back from what he has turned himself into.
In this regard, no Faust is worth the name without a Mephistopheles, whom we'll meet tomorrow!
***
COMICS WRITTEN by ADAM McGOVERN & FIRST PUBLISHED by HILOBROW: The Idoru Jones comic "the–urban_legend_of_idoru_jones" (drawn by Paolo Leandri, 2011) | The Idoru Jones comic "boulevard–of–broken–code" (drawn by Paolo Leandri, 2012) | "Face Reality" (drawn by Frank Reynoso, 2011)
MORE ADAM McGOVERN POSTS at HILOBROW: PEOPLE YOU MEET IN HELL, a 5-part series about characters in Adam McGovern and Paolo Leandri's comic Nightworld | Two IDORU JONES comics by Adam McGovern and Paolo Leandri | BOWIEOLOGY: Celebrating 50 years of Bowie | ODD ABSURDUM: How Felix invented the 21st century self | CROM YOUR ENTHUSIASM: C.L. Moore's JIREL OF JOIRY stories | KERN YOUR ENTHUSIASM: Data 70 | HERC YOUR ENTHUSIASM: "Freedom" | KIRK YOUR ENTHUSIASM: Captain Camelot | KIRB YOUR ENTHUSIASM: "Full Fathom Five," an analysis of a panel from Jack Kirby's New Gods | A 5-part series on Jack Kirby's Fourth World mythos | Reviews of Annie Nocenti's comics Katana, Catwoman, Klarion, and Green Arrow | The 10-part review series FANCHILD | To see all of Adam McGovern's posts, including HiLo Hero items on Lilli Carré, Judy Garland, Laurie Anderson, George Takei, Meshell Ndegeocello, Wally Wood, Gilbert Hernandez, Cindy Sherman, David Bowie, Adam West, and others: CLICK HERE