Cocktail Recipe: White Star
By: Peggy Nelson
April 15, 2014
What better way to commemorate the sinking of the Titanic (102 years ago today) than with a celebratory cocktail? Fear not, we at HiLobrow are here to serve. Both the Hi and Lo versions of the White Star are unsinkable, party-wise.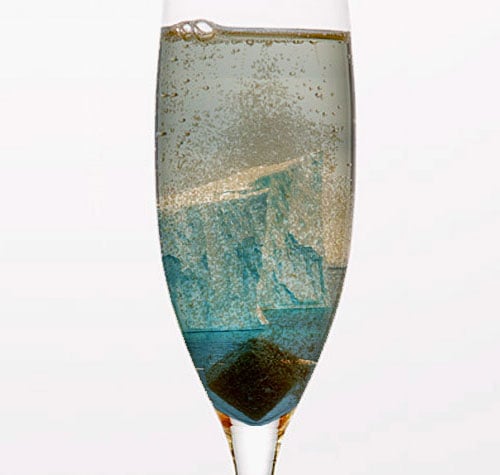 Ingredients:
Sugar cube
Edible gold leaf flakes
2-3 dashes bitters
1/2 oz. cognac
Several ozs. fine champagne
Instructions (first class ticket):
Dust glass with edible gold flakes. Place sugar cube in glass. Drop bitters on cube, and add the cognac. Finally, fill the glass with your finest vintage champagne. Toast to YOLO while the band plays on.
Best served over a single jagged block of ice.
Instructions (third class ticket):
Champagne taste on a steerage budget? Substitute malt liquor in a red solo cup. Bottoms up!
***
Other HiLobrow cocktail recipes.
More posts by Peggy Nelson.