Regression Toward the Zine (13)
By: Joshua Glenn
December 11, 2013
PREVIOUSLY: The zine Pagan's Head from the Joshua Glenn Zine Collection, and the DIY scene in Allston, MA circa 1991.
*
In this installment: Rollerderby and Scram.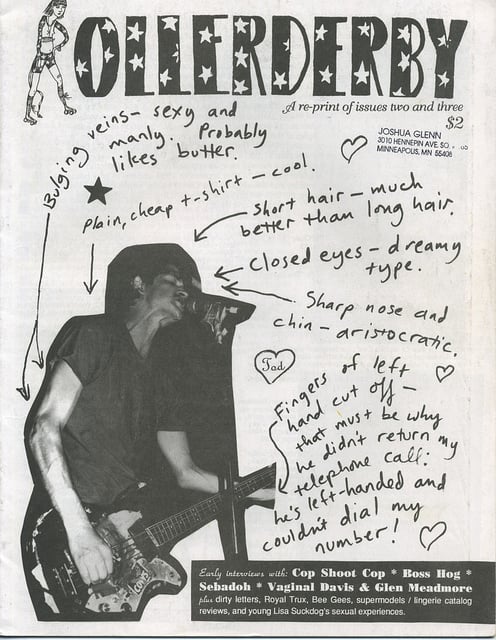 Rollerderby, edited by Lisa Carver of Dover, N.H., might be the most famous '90s zine of them all. I swapped zines with Lisa, attended her performances when she came through Boston, and persuaded her to write a few times for my zine Hermenaut. We became friends!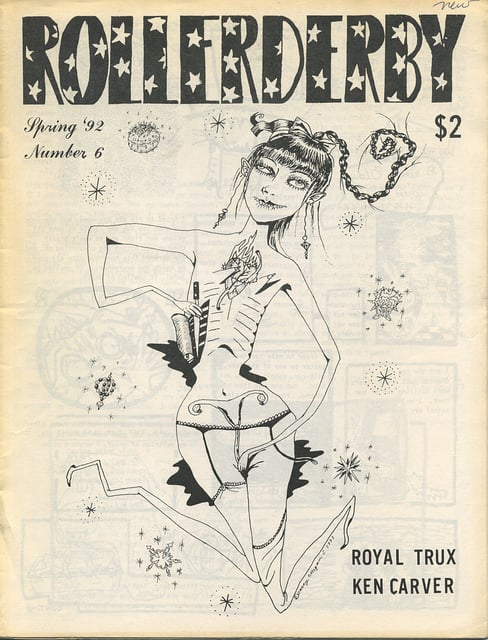 Through Lisa, I met the cartoonist Dame Darcy. Darcy and I also became friends, and she did some illustrations and comics for Hermenaut.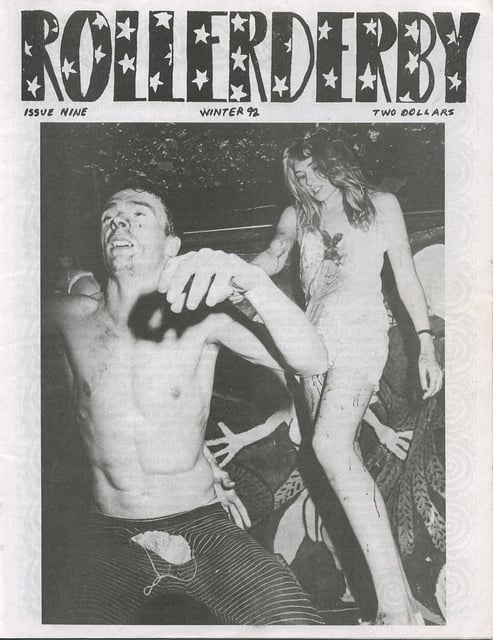 In 1995, when I was working at the magazine Utne Reader, the editors asked me to contribute a profile to an issue on "Visionaries Who Could Change Your Life." Their list was heavily weighted towards middle-aged men; could I suggest a visionary young woman? they asked.
Yes, I could. Here's the item we published.
*
"Generation L versus Generation X isn't even gonna be a fair fight," insists 26-year-old Lisa Carver, who named Generation L after herself. "How can we not win against people who do nothing but brag about their indecisiveness?"
Although she I arguably the best-known noncelebrity her age (try spitting into a poetry slam without hitting someone who hasn't read her or been punched out by her), Carver is admired precisely because she always does exactly the opposite of what slackers are expected to do.
Slackers are supposed to be suburban rebels-with-a-trust-fund, but Carver, the child of a pot-smuggling McDonald's employee, grew up in the wilds of poor-white rural New Hampshire. One day she spontaneously took over the stage during a slow moment in a punk show: she slapped audience members and "sang." Four years and three record albums later, Carver had made a name for herself as Lisa Suckdog, impresario of performance troupe famous for shocking and disgusting even the most jaded hipsters, who begged her to smack them out of their middle-class stupors. While seemingly everyone else her age was complaining about how few jobs were waiting for them after college, Carver and company peed, shat, humped, fought, and caterwauled their way across the United States and Europe. This was more than punk; this was Dionysian revolution.
Today Carver neither apologizes for nor boasts about her years with Suckdog. "I wanted to test the limits of chaos, and I did," she says. "I'm still Lisa Suckdog, only now I don't need to smear shit on myself." But Carver wasn't done pushing the envelope of acceptability. In 1990, after a brief experiment with prostitution (something else she never apologizes for), she moved back to New Hampshire, got a job at Friendly's, and started a "personal-zine" called Rollerderby, which quickly developed into a forum where young women could freely explore taboo subjects such as rape fantasies and suppressed pony fetishes. Rollerderby (with a paid circulation of 5,000) features the work of teenage hookers, transsexuals and queens, the homeless, the very old, and the very young — everyone, in other words, who is usually robbed of a voice.
Recently Carver stepped forward as the spokesperson for everyone her age who is not an unkempt, directionless loser. ("I'm cuter than Kurt Cobain," she explains.) Generation L-ers don't mumble, they comb their hair, and they're polite to their elders. Carver's current near-obsessive "normalness" (she wants guys to have big muscles and fix things, and girls to wear tight sweaters) is a form of camp that simultaneously embraces and mocks societal stereotypes.
In October, Carver broke the biggest Generation X no-no of all: She had a baby. Just as she once pushed the envelope of chaos, Carver will now undoubtedly explore the furthest corners of what it means to be a responsible parent and adult. Only this time it will be little Wolfgang smearing the shit.
*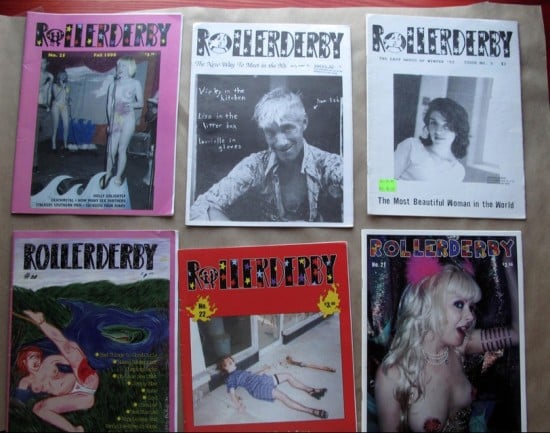 Lisa is a fascinating person and a talented writer. There's an anthology of material published in Rollerderby, but you should also read Lisa's collection of essays Dancing Queen, her "post-punk memoir" Drugs Are Nice, The Lisa Diaries (a chronicle of her sex life, written for Nerve.com), and her 2012 manifesto in defense of paradox and freedom, Reaching Out with No Hands: Reconsidering Yoko Ono.
***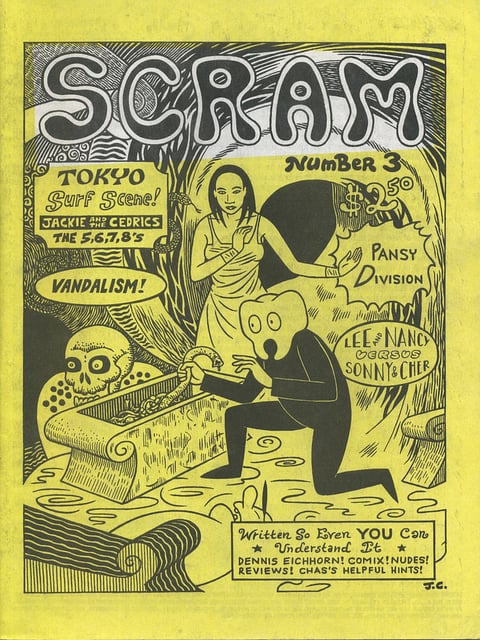 During the '90s there were plenty of zines celebrating obscure pop culture. But if you had to spend all eternity living in a pop culture conjured up by just one of those periodicals, I'd pick Scram's.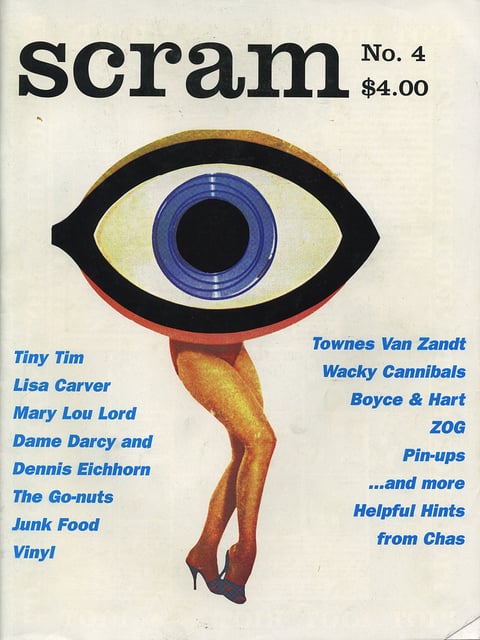 Los Angeles's Kim Cooper founded Scram in 1992. She and contributor David Smay would go on to write two terrific — I mean, amazingly terrific — pop culture books, Bubblegum Music is the Naked Truth and Lost in the Grooves: Scram's Capricious Guide to the Music You Missed.
Kim and I have remained friends all these years — though we've never met in person! These days she runs Esotouric, which offers esoteric bus tours of the L.A. you never knew; she created the 1947 Project; and her oral history of Neutral Milk Hotel's album In the Aeroplane Over the Sea remains one of the most popular titles in the 33 1/3 series. Also: Check out Kim's new novel, The Kept Girl.
HiLobrow readers will have already recognized David Smay's name — he's one of this website's most prolific and valued contributors!
Here is Scram's website.
BONUS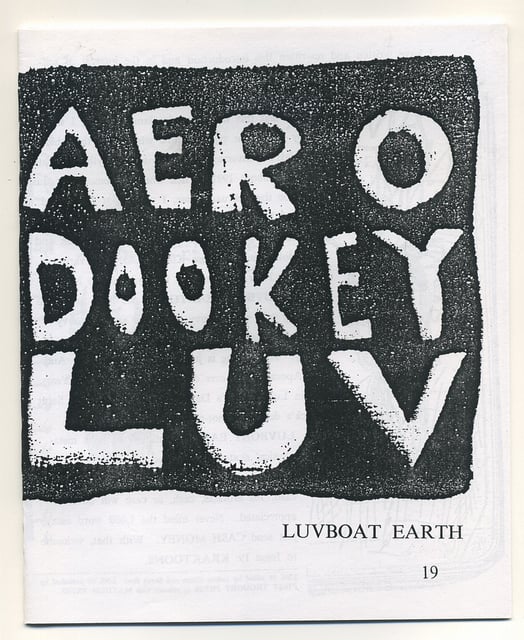 Above is the 19th issue of Luvboat Earth. Published in March 1992, near the end of my first year of graduate school at Boston University, it is almost entirely devoted to reprinting the ZENMAN comics that I'd drawn in the margins of my school notebooks. It also includes poems by Rob Agredo, a travelogue by my brother Patrick, and an essay I wrote about hungover epistemology in the poetry of William Corbett.
The issue's introduction mentions that my fiancée Susan and I had just moved into an apartment building in Jamaica Plain (Boston) with a "groovy landlord"; Mimi Lipson would turn out to be a lifelong friend.
*
NEXT: The zines 8-Track Mind, ANSWER Me!, Bananafish, Boiled Angel, Chip's Closet Cleaner, Crank, Ersatz, FAT!SO?, and Flatter! from the Joshua Glenn Zine Collection.

This is a 25-part series in which HiLobrow editor Joshua Glenn, who from 1990–93 published the zine Luvboat Earth and from 1992–2001 published the zine/journal Hermenaut, bids a fond farewell to his noteworthy collection of zines, which he recently donated to the University of Iowa Library's zine and amateur press collection. CLICK HERE to view the online finding aid for this collection.