Remedios Varo
By: William Nericcio
December 16, 2012
Imagine Miguel de Cervantes or Jorge Luis Borges in prison, forbidden to speak or write, permitted only to paint; what's more, this prisoner is a Spanish woman self-exiled in Mexico and possessed of a curandera-surrealist vision. Now you're prepared for the magnificent, wickedly witty paintings of REMEDIOS VARO (María de los Remedios Alicia Rodriga Varo y Uranga, 1908-63), such as Bordando el Manto Terrestre (Embroidering Earth's Mantle, 1961), Presencia Inquietante (Disturbing Presence, 1959), and my favorite, Visita al cirujano plástico (Visit to the Plastic Surgeon, 1960), in which a women — the artist herself, with a tumescent probiscus — is tempted to enter the plastic surgeon's office by a window display fusing the trappings of a Mexican Catholic Church, Amsterdam's red light district, and science fiction. Bordando el Manto Terrestre became a footnote to postmodernist literary history when it was described in The Crying of Lot 49 ("Oedipa, perverse, had stood in front of the painting and cried"), published a year after Pynchon saw the painting in Mexico City. Varo's work, like Pynchon's, is ludicrous and ludic; it is uncanny, sensual, playfully transgressive. To study her art is to be confronted not only by Varo's raucous, righteous laughter, but by the irreal conundrum of painting — i.e., that a medium so filled with artifice, fakery, allegory, and simulacra should have ever trafficked in the domain of the real comes to seem a mistake of grand proportion.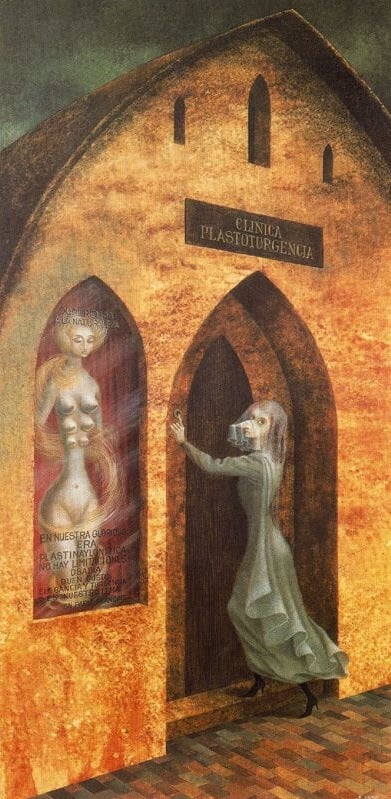 ***
On his or her birthday, HiLobrow irregularly pays tribute to one of our high-, low-, no-, or hilobrow heroes. Also born this date: Philip K. Dick, Bill Hicks, Margaret Mead.
READ MORE about members of the Partisan (1904-13) generation.