Let there be Light
By: Peggy Nelson
December 5, 2012
The beauty of code is often in its function. And in the elegance of its construction, in its targeting of unnecessary redundancies and pursuit of formal elegance. In other words, its truth. But there's nothing to prevent it from the pursuit of beauty in more traditional, visual terms: colors, forms, shape . . . and light.
Enter Light, by Moore'sCloud.
Invented by Mark Pesce (co-creator of VRML, and author of The Playful World: How Technology is Transforming Our Imagination; The Next Billion Seconds, and others), Light is a beautiful object. And a smart one. Not only sensitive to input data, and willing to beam a gravity's rainbow of colors and effects, it is completely open-source from its software to its hardware, and contains an embedded Linux computer, a LAMP stack, an accelerometer, and a REST interface. As such, the possibilities are open, and up to you. Some early entries into the field include a touchscreen colorwheel, UV and air pollution level indices, countdown/warning lights, animations, and, of course, digital fire.
[Flame app, for Light]
On the threshold of the internet of things, Light is an entry, but also a beacon. What distinguishes our urns from those of ancient Greece is a new take on negative capability, a dynamic capability, a willingness to change form and function in response to the environment, your programming, our whim. No longer is beauty limited to a static, slender outline; now, it can glow.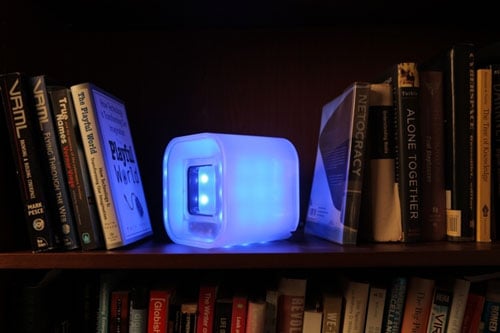 Corresponding to its open-source philosophy, and as befits a device that is inherently open to interpretation, there is a Kickstarter. If you like what you see, and you'd like to see what you like, consider helping this smart, lovely object into existence.
Deadline for contributions is December 21, 2012.
***
Read more:
Light, by Moore'sCloud
Moore'sCloud blog
Mark Pesce
The Next Billion Seconds