Dan Savage
By: Jerrold Freitag
October 7, 2012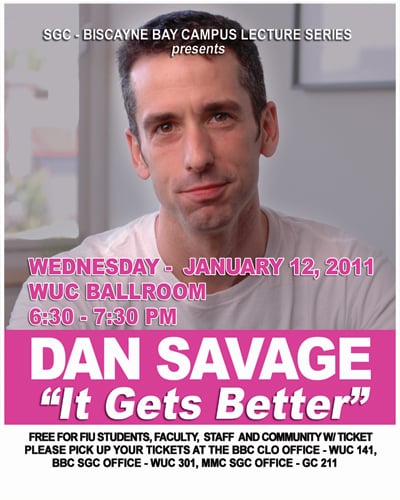 Sex writer, pundit, and bullshit-radar installer DAN SAVAGE (born 1964) is a model for all other columnists not least because he displays intimate interest in something other than himself. Though hip and funny, ultimately he's a moralist who drags behind him a Christian shadow-show (in chains of irony); bleep his lexicon a little and we hear that we should love, respect, and accept one another. He takes on status quo institutions and pathologies that haven't been unknotted. Famously, in 2003, when Rick Santorum compared homosexuality to bestiality and pedophilia, Savage launched a meme transforming Santorum's name into a slang term for a frothy mixture of lube and feces; Savage's SpreadingSantorum.com website soon eclipsed Santorum's official website in Google search results for the senator's name. This moment was the fulfillment of every bullied child's prayer ("I am rubber, you are glue"). That highschools full of young assholes starting out their closed-minded careers now have safe zones and escape routes for their prey, thanks in large part to Savage's It Gets Better project, is another wish come true. Citizen Savage is proof, Jedis, that good wins in the end… and that if a bully starts a fight, it's OK to finish it.
***
On his or her birthday, HiLobrow irregularly pays tribute to one of our high-, low-, no-, or hilobrow heroes. Also born this date: Joe Hill.
READ MORE about men and women born on the cusp between the Original Generation X (1954–1963) and Reconstructionist (1964–1973) Generation.