Para-, Para-, Paralympics
By: Peggy Nelson
September 7, 2012
In the annals of extreme sport, the Paralympics are a pinnacle.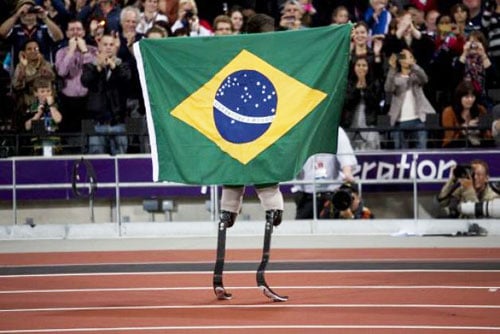 [Brazil's Alan Fonteles Cardoso Oliveira celebrates after winning the Men's 200m T44 final at the 2012 London Paralympics, Sunday, Sept. 2, 2012. (Emilio Morenatti / Associated Press) / SF]
The prefix para-, from the Greek, has a number of meanings in English, including but not limited to: beside, near, close to, resembling, apart from, and abnormal. We're familiar with it as a modifier in many different contexts, from paramilitary to paralegal, from parallel to paranoia, from paragraph to paraplegic. But perhaps the best sense in which it applies to these games is expressed in paradox: beyond.
The Paralympics originated with Dr. Ludwig Guttman, a German Jewish neurologist who had escaped Nazi Germany for England. Specializing in treating spinal injuries, he was a firm believer in sports as therapy — a way for the wounded not only to regain strength, but dignity. As it happened, post-war London was marshalling to host the Summer Olympics in 1948. On opening day, in a stroke of D.I.Y. brilliance, Guttman inaugurated The Stoke Mandeville Games, a set of "parallel games," as he called them, for his patients.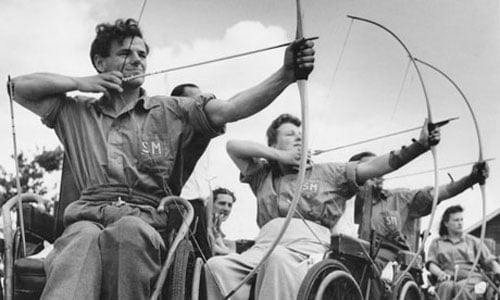 War vets ought not to be set apart from peacetime celebration, a peace they had made possible by bodily sacrifice. Guttman's insight was that competition has the conceptual edge over physical therapy. You need to do your 500 reps of whatever? Ohh-kayy: one hundred, two hundred, three… hundred… four… … … But if you need to compete and maybe win, maybe even be one of the best in the world — that moves muscles from mere function towards a finish line. Define yourself not by the past, but by the future; not by loss, but by action.
As the popularity of his parallel campaign grew, the first (retroactively named) international Paralympic Games were held in 1960, alongside the Summer Olympics in Rome. And since 1992 the Paralympics have run sequentially with the Olympics, using the same stadia, pools and fields. The biggest Paralympic Games in history are taking place in London right now.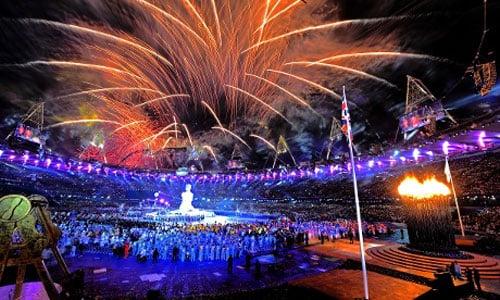 ***
We can rebuild him. We have the technology.
In a case of television imitating life, the 1970s brought us Lee Majors as Steve Austin, the Six Million Dollar, or "Bionic," Man. A test pilot and former astronaut, Austin is severely injured in an experimental plane and loses his legs, an arm, and an eye. But he is repaired using "bionics," sophisticated electronically-enhanced prosthetics that go well beyond fixing him up, and propel him into some kind of mechanical superman: "better…stronger…faster." He is, of course, promptly weaponized.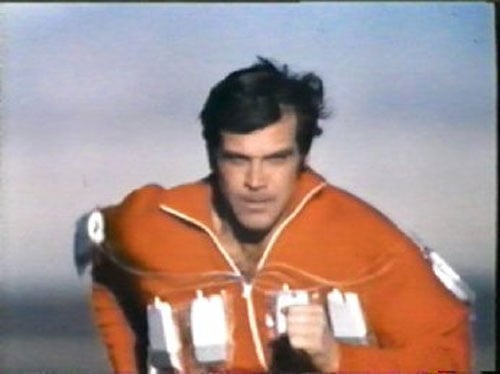 [Lee Majors in The Six Million Dollar Man, 1974]
The novel upon which the TV series was based, is entitled Cyborg.
The cyborg has been around for some time, and not only in the previous pages on HiLobrow, although we have certainly hosted them here. Introduced in 1960, the term extended the man-machine symbiosis beyond earthbound conceptions like Frankenstein, and tied it to infinity and beyond, by imagining how mammals might function in outer space. No: better than function; compete: becoming cyborg was how we might win the space race.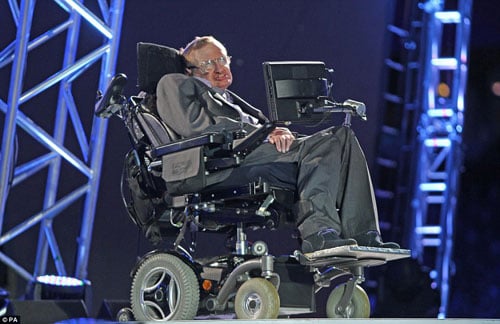 As above, so below. The physicist Stephen J. Hawking, emeritus occupier of the Lucasian Chair of Mathematics at Cambridge University, and continued occupier of the specialized wheelchair and software that helps him, not only to perambulate, but to speak, narrated the Paralympic opening ceremony on August 29, embodying the link between our various limitations and our determination to transcend limits.
Ever since the dawn of civilization, people have craved for an understanding of the underlying order of the world — why it is as it is, and why it exists at all. But even if we do find a complete theory of everything, it is just a set of rules and equations. What is it that breathes fire into the equations, and makes a universe for them to describe?
— Stephen J. Hawking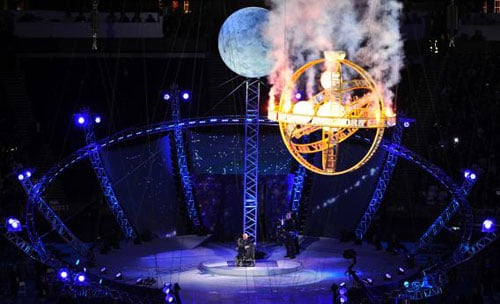 The athletes competing in London now are winning more than medals; they are encouraging us to consider a different measure of man: better, faster, stronger; even if, in some sense always, incomplete. The paradox of the cyborg is that it's not some kind of Terminator, metallic or nanotech, engineered past human into perfection. The cyborg is us, injured, yet inspired to think beyond the gap; and sometimes because of that gap, becoming stars.
[Oscar Pistorius, the "Blade Runner," competed in both the Olympic and the Paralympic Games this summer]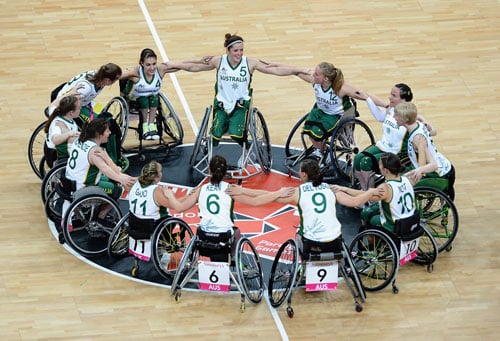 [The Australia women's wheelchair basketball team huddle together as they celebrate their victory during the Group A Preliminary Women's Wheelchair Basketball game between Australia and Brazil on day 1 of the London 2012 Paralympic Games at the basketball arena on Aug. 30. (Christopher Lee/Getty Images)]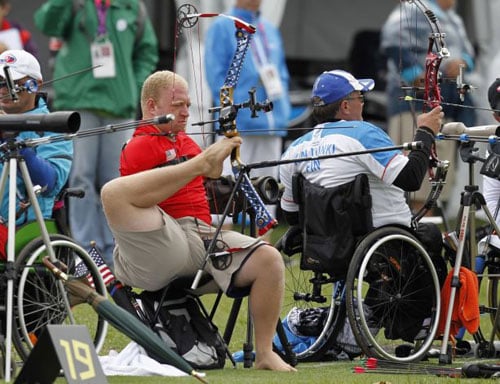 [US archer Matt Stutzman competes in the men's archery individual compound-open ranking round during the London 2012 Paralympic Games at the Royal Artillery Barracks in London on August 30, 2012. (IAN KINGTON / AFP/Getty Images) / SF]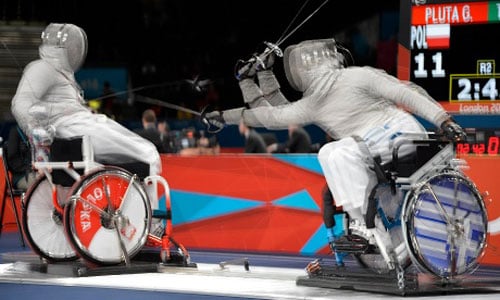 [Grzegorz Pluta of Poland goes up against Panagiotis Triantafyllou of Greece in the men's fencing sabre. Photograph: Leo Mason/Corbis]

[Brasil's Felipe Gomes (left) and his guide Leonardo Souza Lopes run to win the Men's 200-meter final T11 during the London 2012 Paralympic Games at the Olympic Stadium on Sept. 4. (Stefan Wermuth/Reuters)]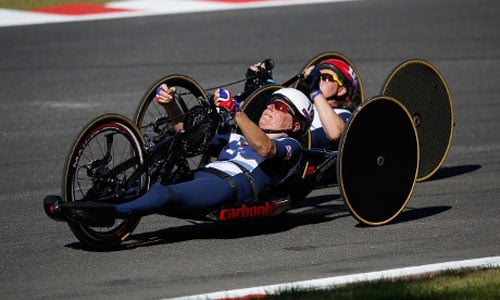 [Karen Darke and Rachel Morris of Great Britain ride during the Women's Individual H 1-3 Road Race. Photograph: Harry Engels/Getty Images]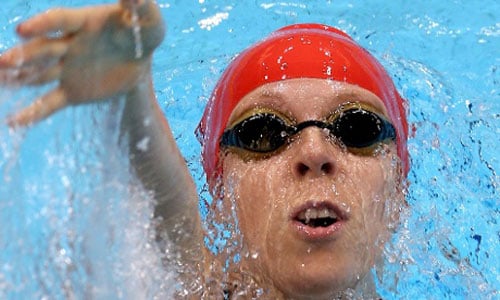 [Rhiannon Henry of Great Britain competes in the women's 200IM – SM13 heats at the aquatics centre. Photograph: Clive Rose/Getty Images]
[Silver medallist Cigdem Dede (left) of Turkey, gold medallist Ivory Nwokorie (center) of Nigeria and bronze medallist Lidiia Soloviova of Ukraine pose on the podium during the medal ceremony for the Women's 44kg Powerlifting competition on day 2 of the London 2012 Paralympic Games. (Matthew Lloyd/Getty Images)]
But pinnacles are not the path, and the path does not end with the Games, of course. There remains much to do in terms of creating a just and accessible society. But the starting gates are open.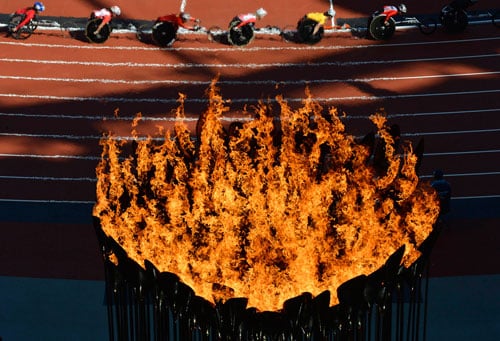 [Competitors are seen through the Paralympic flame as they race during the Women's 5000-meter T54 classification heats at the Olympic Stadium during the London 2012 Paralympic Games on Aug. 31. (Toby Melville/Reuters)]
***
Read more:
Sports on HiLobrow
Cyborgs on HiLobrow