Neneh Cherry
By: Devin McKinney
March 10, 2012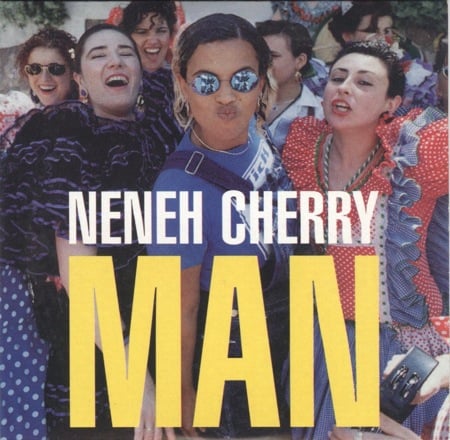 I like NENEH CHERRY (born 1964) for her first two records, Raw Like Sushi (1989) and Homebrew (1992), both bouncy, bossy, tuneful, imaginative, with the feel of small rooms and big streets. I like her for being an architect of Bristol trip-hop, hectoring Massive Attack into recording their foundational Blue Lines (1991). I like her for the work she currently does as a member of CirKus, which can be brilliant or boring or neither.
But I love her for Man (1996), her third and so far last solo record. So bluntly, cryptically titled, it is a concept album whose songs speak to each other in a shared atmosphere of hot fevers and cool contemplations. Trip-hop is mostly eschewed for the more conventional song forms of soul, rock, and confessional, but the forms are filled with humor, gravity, sex, and a general sense of being fully lived in. Highlights are "Woman," a critical response to James Brown's penis-gazing; "7 Seconds," about the first moments of infantile consciousness, when flesh is still innocent, unbound; "Trouble Man," the Marvin Gaye air, agitated and relaxed at once, as natural from a woman's mouth as it ever was from a man's. And especially the scorching hard-rock thriller "Kootchi," a woman's politically incorrect wet dream, mind-orgy of sweet sadisms and tender masochisms.
I love Cherry for making this rock 'n' soul record about gender duality, sexism and sex, feelings and fantasy, emotions as extensions of the body, and cock and pussy as playthings of the mind.
I love her for fucking me in the ear.
ALSO: Neneh Cherry's stepfather, Don Cherry, is a HiLo Hero.
***
On his or her birthday, HiLobrow irregularly pays tribute to one of our high-, low-, no-, or hilobrow heroes. Also born this date: Bix Beiderbecke, Boris Vian and Rick Rubin.
READ MORE about men and women born on the cusp between the Original Generation X (1954-63) and the Reconstructionist Generation (1964-73) Generations.