Murakami-Ego
By: Peggy Nelson
February 17, 2012
It has been awhile since HILOBROW has visited the Uncanny Valley. Seeking to remedy this the other day, we stopped by and immediately realized our good timing. A party was happening — a birthday party! How did we know this?
Two words: balloon animals.
Twenty-foot high balloon animals.
The question for Takashi Murakami has become, "how do you top over the top?"
After his controversial exhibition at Versailles in 2010, where the excesses of the Sun King were matched in decorative delirium by Murakami's high-keyed flowers, aliens, and other cartoon-inflected entities, one might have wondered where Murakami could go from there.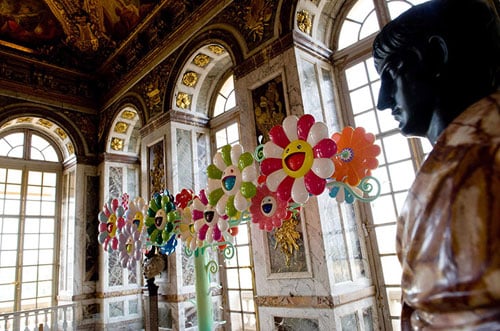 The answer is, Qatar, where Murakami was offered a blank check in the form of giant blank walls. This time, instead of responding to an environmental frame, Murakami brings it all himself, covering the walls with mural-sized homages to art history and pop culture, assembling entire colonies of sculpted entities, celebrating his wide-ranging inspirations and recasting them in his image. Fittingly titled Murakami – Ego, the installation reflects not only Murakami's internal world, but the virtualized external culture that we increasingly all internalize.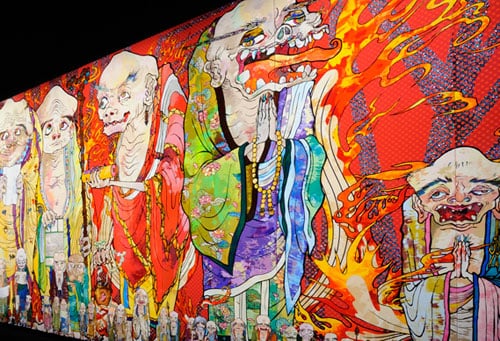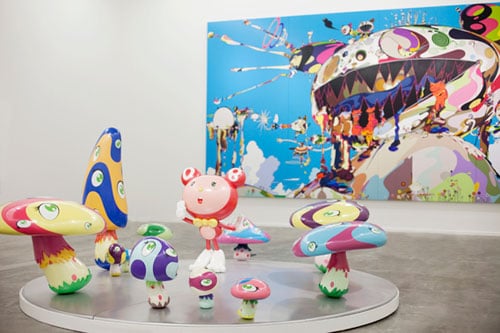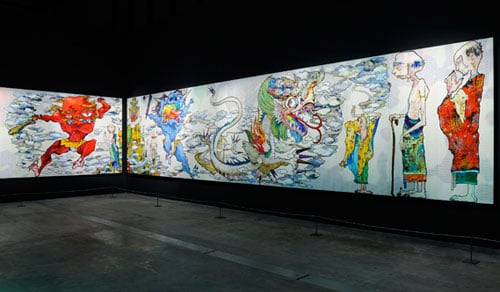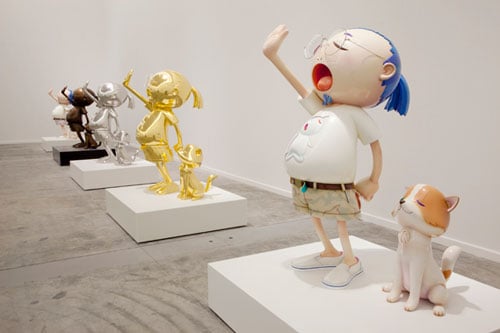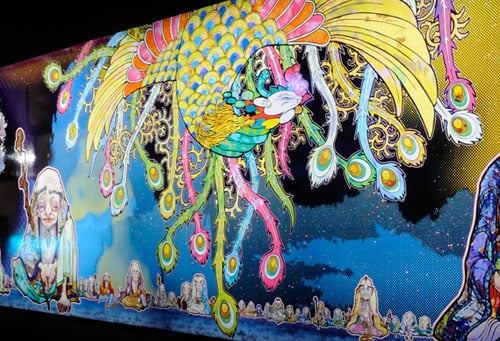 From the show announcement on the QMA website:
A portrait of the artist as a cartoon, Murakami – Ego will illuminate the role of the artist as a cipher and critic of pop phenomena, as well as a mirror of global networks of consumerism, interpretation, and exchange. The exhibition pays special attention to the diverse strands of contemporary culture and art history that inform and inspire Murakami's paintings and sculptures, while also highlighting both the joyful and obsessive qualities of his work. The provocative title is drawn from Murakami's desire to create an exhibition that is 'a dialogue with one's own ego,' reflecting the artist's struggle to create a private fictional universe in response to a growing information overload.
***
Murakami – Ego is on view at the Al-Riwaq Exhibition Hall, Museum of Islamic Art, Doha, Qatar, Feb 9 – June 24, 2012.
***
Linkage via @prosthetic_knowl.