Ultimate Ruin Porn
By: Peggy Nelson
December 17, 2010
Ruin porn needs a safe word. May I suggest wormwood, or its Ukrainian variant, чорнобиль? Chernobyl.
I saw a man who watched his house get buried. We buried houses, wells, trees. We buried the earth. We'd cut things down, roll them up into big plastic sheets. We buried the forest. We sawed the trees into 1.5m pieces and packed them in Cellophane and threw them into graves.

I couldn't sleep at night. I'd close my eyes and see something black moving, turning over — as if it were alive — live tracts of land, with insects, spiders, worms. I didn't know any of them, their names, just insects, spiders, ants. And they were small and big, yellow and black, all different colours.

One of the poets says somewhere that animals are a different people. I killed them by the ten, by the hundred, thousand, not even knowing what they were called. I destroyed their houses, their secrets. And buried them. Buried them.
I'm 12 years old and I'm an invalid. The mailman brings two pension cheques to our house — for me and my grandad.

When the girls in my class found out that I had cancer of the blood, they were afraid to sit next to me. They didn't want to touch me.

The doctors said that I got sick because my father worked at Chernobyl. And after that I was born. I love my father.
The latest in misguided package tours for the been-there, done-that crowd, the Ukraine has opened up the city of Pripyat and the radioactive area around the Chernobyl nuclear reactor site for tourism.
Unofficial tours have been available since the early 2000's, and presumably the government thought, why not make some official money on what's happening anyway? Tourists are not allowed into the containment facility itself, which has been sealed since the 1986 meltdown that released 400 times the radiation of the bomb at Hiroshima, and sent a radioactive plume over the surrounding area, and for thousands of miles across the Ukraine, almost half of Europe and as far away as Japan. The exploded reactor is contained in a cracked sarcophagus that is leaking radiation; a new one is hoped to be completed by 2015.
The area has seen a rejuvenation of fauna at least, as animals have moved in to what we have declared off-limits. Similar to the DMZ between North and South Korea, the Chernobyl area features dozens of rare and/or thriving species that persist against the tide of radioactive cellular damage, broken eggs, and deformed features. And yet, they do persist.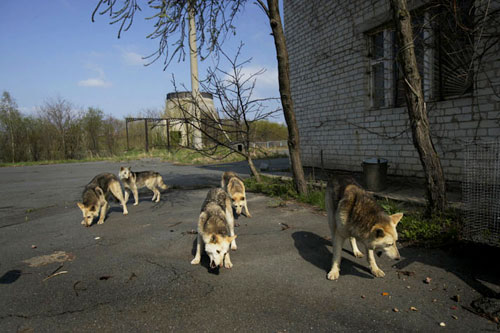 Working in the Red Forest area, James Morris, a USC biologist, has observed some trees with very strange twisted shapes. The radiation, he says, is confusing the hormone signal that the trees use to determine which direction to grow. "These trees are having a terrible time knowing which way is up," Morris said.
But that is not what the tourists come to see; at least, not most of them. They come for the abandoned buildings, for the open books, faded curtains, curled photos on the mantles, and other signs of relatively recent inhabitation. They come for the buildings that are carefully devoid of exactly that inhabitation. Ruin porn seeks the poignancy of abandonment, the presence and poetry of absence. It seeks the resonant sadness seeping from recent walls and lightly collapsed roofs, the unmet expectation of empty sidewalks broken through with weeds, the faint call of the wild in the whistle of tundra wind over thresholds and transoms.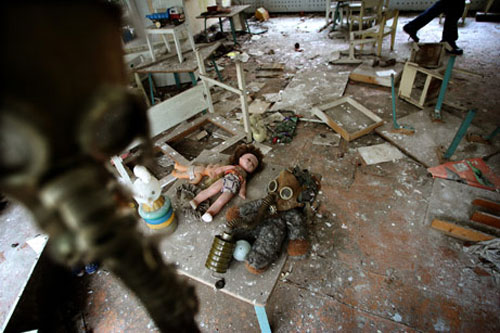 The tourists come for abandonment. They do not come for the abandoned. The tourists do not come to see the people. The residents of Chernobyl and environs, and of course its employees, did not just disappear. They were removed from their residences with much greater ease and precision than the radioactive damage could be removed from their bodies; which is to say, it could not. The tourism packages do not include a trip to the zoo hospitals to gawk sadly at the diseased, not do they involve home-stays with the blind, the maimed, the ones driven mad by disaster. People peeking out interfere with The Picturesque (except as estranged audience), and are to be kept out of sight of the tour buses and Flickr sets.
[Vika Chervinska holding a picture of her younger self]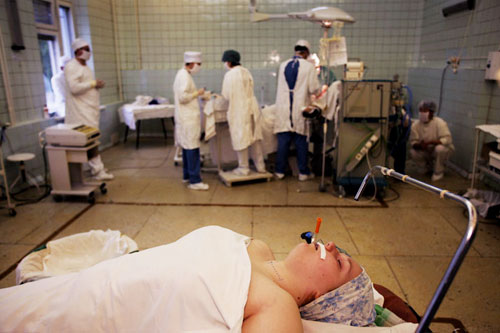 [Thyroid cancer patient prepped for surgery]
It is sad and thrilling to say, here we once were, and now we are not. It is sad and thrilling to invest an anthropomorphic memory into the walls and faded colors of our chosen containers. It is sad and thrilling to think that, sometime, somewhere, that may be the case for somewhere we have lived, for somewhere we have loved. But what if tourists start arriving before we have left? Or before we are allowed back, to resume our lives in our homes? What if we are still here when you come?
Well that's where the picturesque shades to pornographic. Not "porn," which in its brevity and meme-ness is coy and almost mainstream, but pornographic in its full polysyllabic ugliness, in the unredeemed, exploitative truth of the term. What exactly are you indulging in, by projecting the romance of absence into a space filled with other people's clear and present misery? What do you wish to see, as you revel in the memory of eyes? And suddenly you realize (one hopes) that your tourism does not belong here; not at all, not at all.
[Stalker, dir. Andrei Tarkovsky, 1979]
***