Merit Badge (1)
By: Peggy Nelson
August 27, 2010
As promised, we are pleased to announce the first HiLobrow merit badge, The Radium Age!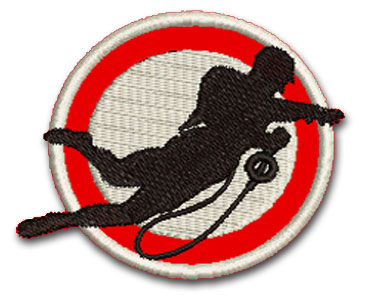 [Badge shown larger than life-size; actual size is approximately 2 inches in diameter]
Each badge will have different requirements. Some will be more difficult than others. Some will be easy. Some you may have already earned! Not all of the steps will be possible. But all badges are earnable. Creativity is encouraged. If you would like to submit independent achievements for consideration, then we will consider them.
In all cases, HiLobrow reserves the right of final decision, which will be arbitrary.
There are a very limited number of free badges — free in the sense that after you've contorted yourself to earn them, we won't then charge you money. These will be distributed on a first-come, first-earned basis. After the initial supply is distributed, there will be a $10 embroidery fee. We will let you know about that when we respond to your submission.
We encourage you to go for it — earn them all!
Good luck!
REQUIREMENTS (complete any 3):
1. What years of the 20th century comprise the Radium Age, according to HiLobrow co-editor Josh Glenn? Why?
2. Name four Radium Age science fiction authors. Describe what features of their narratives qualify them for inclusion in the "vertigo years."
3. Create an 3-5 minute audio or video of you reading a passage from a work of Radium Age science fiction, upload to YouTube or Vimeo, add the tag "hilobrow badges," and send us the link. Additional sound design optional but encouraged.
4. Examine the book-cover illustration style of Radium Age paperbacks (see this Flickr set for a sampling). Draw your own and submit a jpg of your work. Don't forget to include a convincing title and author, either one that exists or one that you invent "in the style."
SHORT ANSWERS (complete any 2):
1. How was the element of radium discovered? Define radioactivity. What does it mean to have a half-life? How is decay involved?
2. Who was Marie Curie? What was one of her scientific achievements? What was one of her linguistic achievements?
3. What is a theremin? Who created it? How does it work?
4. Relate two instances where the theremin has been used: one for highbrow, and one for lowbrow, purposes. Submit a URL of a song or musical passage or video clip featuring a theremin.
ESSAYS (complete 1 or more):
1. We were supposed to have hovercars by now. When do you think we will be getting those hovercars? Why or why not?
2. It is the 21st century. Are we living in the future yet? Discuss.
3. Compose an argument for one of the following:
a. How would current traffic rules need to be modified to take into account the z-axis? Use examples from The Jetsons, Blade Runner, The Phantom Menace or other narratives to support your recommendations.
b. Why is it important that the government keep out of your backpack? How is the jetpack the ultimate expression of individual freedom? Deliver a soapbox-style rant on the freedom to launch. Be persuasive.
4. What is the "Tragedy of the Commons?" What was its historical meaning? How does it function today? Give at least 2 examples from your own life, or from current events.
ACTIVITIES (complete 1 or more):
1. Locate a theremin. Try to play it.
2. Using materials you can easily find in the kitchen, create some science fiction sound effects. Send us a link to the video or sound file.
3. Using material you can easily find in your room, turn your backpack into a functioning jetpack.
4. Using a jetpack you have built or borrowed, perform one of the following feats:
a. Fly down the block.
b. Bounce on the car.
c. Hover over the lawn.
5. Customize a jumpsuit so that it looks like something you should wear to operate a jetpack. Submit a jpg of your design, or a photo of you wearing it. Include a list of your preferred materials.
***
Email your name, mailing address, answers, links and any attachments to hilobrow at gmail dot com, with the subject line Merit Badge 1/Radium Age. Please number your answers in order.
Important: by submitting material for this badge, you agree to allow HiLobrow to publish excerpts from your submissions at some future point (either linked to your name or anonymously, as you prefer).
***
One in a series of HiLobrow merit badges.
[All badges designed by Peggy Nelson, 2010]