Buck Owens
By: David Smay
August 12, 2010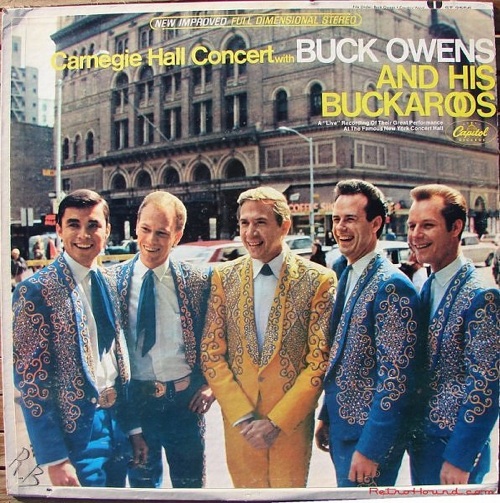 The city of Bakersfield is a middling speck on a dusty stretch of California's Highway 99, but the Bakersfield Sound is a vast kingdom — and its resplendent and genial king is BUCK OWENS (Avis Edgar Owens Jr., 1929-2006). The Owens many of us know best is the pickin' and grinnin' co-host of Hee Haw, a TV show that started as a cornpone Laugh-In and wound up lasting twenty years in syndication. But Hee Haw should not overshadow Owens' true legacy. Along with Bob Wills (Texas Swing) and Owen Bradley (the Nashville Sound), he was one of the architects of the country sound — and he's arguably had the most lasting influence. Starting as a session guitarist at Capitol, Owens fused the upbeat tempos of Texas shuffles with rockabilly and Mexican polka beats, and strung it together on the gorgeous stinging tones of the Fender Telecaster. I'm willing to hear arguments for Merle Haggard's Strangers and the Flying Burrito Brothers, but the evidence of their live albums indicates that Owens' Buckaroos — an all-star amalgam featuring Buck's right-hand man Don Rich on sparkletone Telecaster and harmony, Tom Brumley on steel, and Doyle Holly, a rhythmic master on bass with a rich baritone — were the shit-hot country band of the entire Sixties. Until 1974, that is, when Rich died in a motorcycle accident right there on Highway 99. Buck reeled off twenty-one No. 1 hits on the country charts, every one of them a marvel of craft and showing off a sense of humor that Haggard could never touch.
ALSO BORN THIS DATE: Erwin Schrödinger.
***
Each day, HILOBROW pays tribute to one of our favorite high-, low-, no-, or hilobrow heroes on that person's birthday.
READ MORE about members of the Postmodernist generation (1924-33).
READ MORE HiLo Hero shout-outs.
SUBSCRIBE to HiLo Hero updates via Facebook.
SHARE this post, by clicking on the toolbar below.