Diana Rigg
By: David Smay
July 20, 2010
Editor's note: This is one of the most popular posts, traffic-wise, ever published on HiLobrow. Click here to see a list of the Top 25 Most Popular posts (as of October 2012); and click here for an archive of all of HILOBROW's most popular posts.
*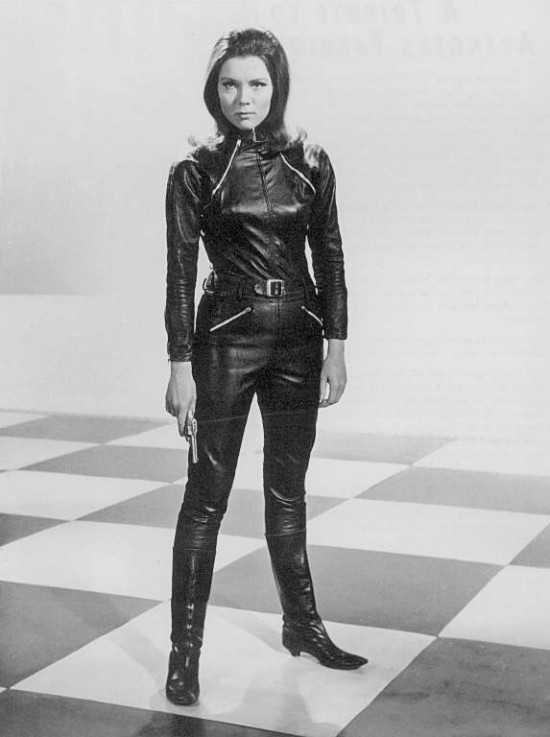 Americans best know DIANA RIGG (1938) for her role in the '80s TV cult film The Worst Witch, co-starring Tim Curry, though in her native England she's considered one of the great stage actresses of her generation, performing the definitive Helena in A Midsummer Night's Dream for the RSC and originating the role of Dottie Moore in Tom Stoppard's Jumpers. I would like to examine, however, a very obscure item on her resume, the lost television series The Avengers. After the infamous ITV warehouse fire of 1970 which destroyed all prints and tapes of their sixties catalog, we only have production stills, the original scripts and the memories of those who saw the show in its original run. The stills conjure a provocative world of kink featuring Diana Rigg in leather catsuits, spiky bondage collars and Merry Widows, where she's either tied up or dominating men with a fierce array of hair-tossing karate chops. But the scripts suggest an entirely different show, as two rather louche and bumbling British agents lounge about bantering and drinking from champagne waterfalls. By the time they bother to round up the ridiculous villain of the week, they've usually managed to stumble over a half dozen corpses, an endless stream of fallen fellow agents and super scientists on the brink of a truly revolutionary McGuffin. If they'd get off their pampered bums for two seconds in the first act they might not need to avenge so many of their cohorts. We have had to depend on the assurances of those few who actually watched the original series that there was a rare wit and chemistry between the two leads, but now we can witness it for ourselves in the recently rediscovered promotional short "The Strange Case of the Missing Corpse." Here we see exactly how much we've lost, as Rigg and Patrick McNee play off each other with a playful, sexy banter unseen since the heydey of Nick and Nora Charles. There's a lightness of touch, a knowing irony that makes sense of the far-fetched scripts. It is that quintessentially British, Alice-in-Wonderland quality of dry composure in the face of relentless silliness that makes it all work. We can only imagine a world where The Avengers and The Prisoner (another fabled lost series with a sort of Pinteresque espionage-as-Theater-of-the-Absurd conceit) had survived and endured in the imagination instead of Adam Adamant Lives!, or Raumpatrouille with its much loved run of late sixties Space Schnitzel films. Can you imagine a world where Diana Rigg was known as a leather clad spy vixen, as cool with a quip as James Bond, rather than the matronly host of PBS dramas? I don't know if that would be a better world, but it would be an infinitely cooler one.
ALSO BORN THIS DATE: Nam Jun Paik.
***
Each day, HILOBROW pays tribute to one of our favorite high-, low-, no-, or hilobrow heroes on that person's birthday.
READ MORE about the Anti-Anti-Utopian generation (1934-43).
READ MORE HiLo Hero shout-outs.
SUBSCRIBE to HiLo Hero updates via Facebook.
SHARE this post, by clicking on the toolbar below.