The Stink-Eye
By: HILOBROW
June 11, 2010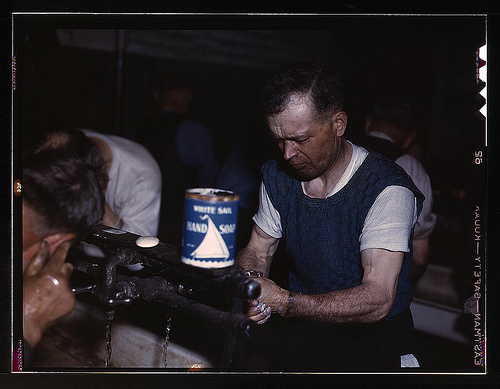 By P.E. Zimmerman
In the bar everyone talked about the slick. There was plenty to discuss. The toxic, incendiary slime crippling the shipyard. The loss of fishing and jobs. Patrons grumbled that Bremerton wasn't getting nearly as much assistance as needed, that the fat cats in Olympia only cared about the rich folks in Bainbridge and Seattle.
"So how are the seals?" Mike asked me. He wasn't as hostile as usual. Normally he only mentioned my work to declare it a waste of taxpayer money.
"Covered in goo," I replied. "Like everything else in the Sound."
"So, what do you do?" Trish asked, an unprecedented kindness in her tone. "Clean them off?"
"Pretty much," I said. I wondered why my brother had asked me to meet him for a beer. Mike never wanted people to know about the liberal treehugger in the family. A few regulars were giving me the stink-eye. I wondered if they gave all newcomers the same look, or only the ones with WDNR written on their jackets.
"Good thing we didn't by that house on the water," Trish said, nudging Mike. No one laughed. Sheepish, she examined the label on her bottle.
"Chris, you know about this stuff," Mike said. "Is it really as bad as they say?"
I knew then why he'd asked me here. He wanted me to say it was nothing a little hard work and elbow grease couldn't fix. My bootstrapping older brother had run into something he couldn't control. And it terrified him.
P.E. Zimmerman is an unemployed research scientist living in Bremerton, Wash.
***
P.E. Zimmerman's story was one of three finalists in our fourth micro-fiction contest. The contest ended on June 5, 2010. Many thanks to everyone who submitted an entry.
CONTEST-WINNING STORIES: 1st contest | 2d contest | 3d contest | 4th contest
FINALISTS: 1st contest | 2d contest | 3d contest | 4th contest