Jonathan Williams
By: Brian Berger
March 8, 2010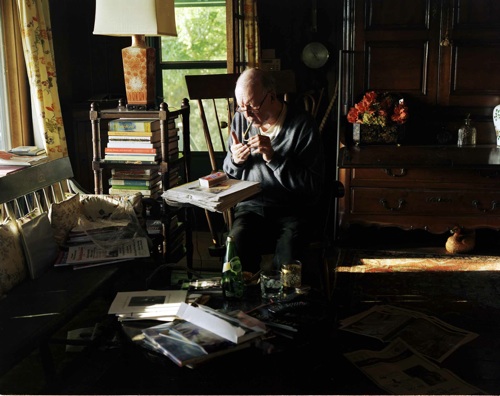 Poet, photographer, Jargon Society publisher, essayist, inspirator: JONATHAN WILLIAMS (1929-2008) was never idle. His career arc was determined when, after a period as Kenneth Patchen's amenuensis, the young litterateur quit stuffy Princeton to study art and design, ending up at Black Mountain College in his native North Carolina. There he studied with Aaron Siskind and Charles Olson, whose The Maximus Poems Williams would publish from Stuttgart in 1953, while serving in the Army Medical Corps. Returning to the States, Williams spent time enough in both San Francisco and New York to know nearly all the Beats, yet — although a secular Appalachian dharma bum in aspect — his was another peripatetic path. For decades, Williams crisscrossed America and England to find and befriend all manner of genius and eccentrics, including lost modernists (Mina Loy), undercover visionaries (Ralph Eugene Meatyard), and outsider folk artists (Howard Finster). Meanwhile, Jargon issued scores of remarkable publications, each uniquely designed and exquisitely printed, only one of which ever made money: Ernest Matthew Mickler's now classic White Trash Cooking. As a writer, Williams was the great gay poet of aesthetic celebration (classical music and jazz especially) and vernacular language; and his titles alone brilliant. Here's one of his poems, whole:
JOHN CHAPMAN PULLS OFF THE HIGHWAY TOWARD KENTUCKY AND CASTS A COLD EYE ON THE MOST ASTONISHING SIGN IN RECENT AMERICAN LETTERS:
O'NAN'S
AUTO
SERVICE
***
Each day, HILOBROW pays tribute to one of our favorite high-, low-, no-, or hilobrow heroes on that person's birthday.
READ MORE about the Postmodernist Generation (1924-33).
READ MORE HiLo Hero shout-outs.
SUBSCRIBE to HiLo Hero updates via Facebook.
SHARE this post, by clicking on the toolbar below.