God's Two-Faced Plan
By: HILOBROW
February 23, 2010
Last week, we published the winning story in HiLobrow.com's first micro-fiction contest. Here's one of three Honorable Mention-winning stories. To read the other two, click here.
***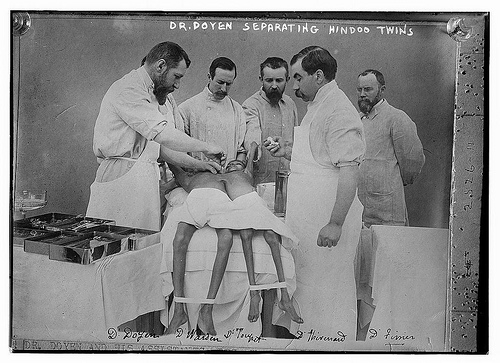 I could never see the tears of my brother. His face was opposite mine on the back of our skull. Craniopagus parasiticus was the precise term for our sorry condition. Mother always said God does things for a reason. Maybe.
It was to her credit that Mother didn't hide us away. I know the other townspeople were horrified by our ghastly appearance. The other children were cruel in ways I won't go into. Still we went with her as she ran her errands while dad worked the fields. I suppose we had as normal a childhood as possible, considering.
At first we only dreamt things; things that came true. The time when the cows got out of the barn, Mrs. Lyons getting into that wreck in the winter, and so on. Well, of course word got out like it does in a small town. They came from the medical college to do tests on us and we didn't like it. That was the first time we made someone have a heart attack. Once we learned we could do that, we knew God did have a plan for us after all.
We dreamt of the day they would come for us. We talked about it, between mirrors, me reading his lips. (I'm the one with the larynx). Mother and Father should have known better than to help them. We aren't going to just burn in the windmill like Frankenstein's monster. We aren't going anywhere.
— by JAY VICK (Oklahoma City, Okla.)
***
CONTEST-WINNING STORIES: 1st contest | 2d contest | 3d contest | 4th contest
FINALISTS: 1st contest | 2d contest | 3d contest | 4th contest
MORE FICTION of all kinds on HiLobrow.com.