Richard Brautigan
By: Brian Berger
January 30, 2010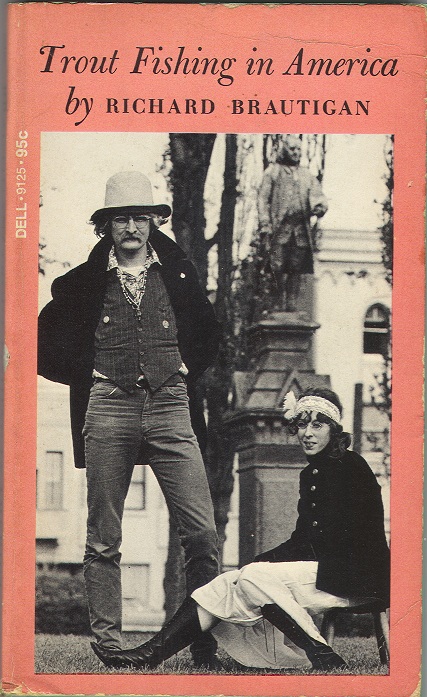 One of America's greatest comic writers, RICHARD BRAUTIGAN (1935-84) was also, shockingly, one of its most successful. Raised in the northwest by a waitress mother, after a rough early adulthood (mental hospital, electroshock therapy) he joined the thriving literary scene (Kenneth Rexroth, Jack Spicer) in mid-1950s San Francisco. Having self-published four books of verse, Brautigan next turned to prose; in 1964, Grove Press published Confederate General In Big Sur: "I've got a garden that grows all year round! A 30:30 Winchester for deer, a .22 for rabbits and quail. I've got some fishing tackle and The Journal of Albion Moonlight. We can make it OK." Brilliant! But the response was underwhelming. In '67, revered editor Donald Allen published Brautigan's next novel, Trout Fishing In America, which changed everything; Brautigan became a counterculture avatar. Two subsequent poetry books were given away free (one of Brautigan's best poems, "Death Is A Beautiful Car Parked Only," is dedicated to Emmett Grogan, the Brooklyn-raised non-leader of the Diggers); and his 1968 spoken-word album was recorded for the Beatles' avant-garde Zapple label. The middlebrow literary establishment hasn't been kind to Brautigan, but even his later work is "slight" only in the way that haunted Japanese haikai masters like Basho or Issa are slight: at moments, yes; but not at all, really.
***
Each day, HILOBROW pays tribute to one of our favorite high-, low-, no-, or hilobrow heroes on that person's birthday.
READ MORE about the Anti-Anti-Utopian Generation (1934-43).
READ MORE HiLo Hero shout-outs.
SUBSCRIBE to HiLo Hero updates via Facebook.
SHARE this post, by clicking on the toolbar below.