DIY Not?
By: Peggy Nelson
December 7, 2009
Like one of my HiLo Heroes, Jean-Luc Godard (profiled previously on HiLobrow), I came to film through criticism. I started writing about it in San Francisco after one Saturday when I discovered Other Cinema, a weekly program of experimental film, performance mashup, soapbox oration, archival anarchy, and just plain weirdness run by Craig Baldwin on Valencia Street.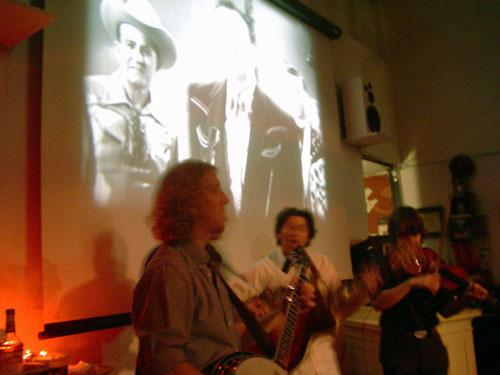 San Francisco was and still is a hotbed of DIY and experiment; the incantatory crucible of little money, untethered, brilliant ideas, and a scavenger practice forged a core community of makers, a freeform Argonaut Folly forcing the garde ever further avant.
It was rich, meaty stuff, philosophy in action, and the words leapt into my head at the first red-shifted, jumpy images, monotracked sound and the fomentation of fellow travelers. I started a weekly column at OtherZine, the companion film journal, and still write for them regularly.
But the words didn't leap onto the screen for me until I realized that anecdotes, the Thelma to analysis' Louise, could jump the gap hand-in-hand. I had put my art studio into storage when I moved to Europe, and did not unpack it immediately upon return. So I was left with two art supplies: my computer, and my stories.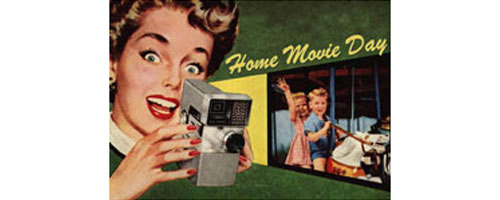 These collided in happy synergy at Boston Open Screen, a monthly "open-mike" night for film and video, run by filmmakers Jeff Stern and Zak Lee: "If it's under 10 minutes, we'll show it!" Sensing a similar just-get-it-done sensibility, east-coast style, I started to create what I had previously critiqued. Sometimes the best art supply is an audience.
Filmstrip was created in response to OS's "Ides of March" theme challenge. Using found footage, I put together an educational filmstrip like the ones I remembered from junior high. Except Filmstrip instructs on etiquette issues of more contemporary concern, like polyamory and Burning Man. And intellectual property rights.
The next Boston Open Screen will be held Tuesday night, 12/8/09, 7pm, at the Somerville Theatre in Davis Square, Somerville, MA. Come out and jump the gap!
Boston Open Screen on Facebook
***
Artists in residence archive.