Chantal Akerman
By: Peggy Nelson
June 6, 2009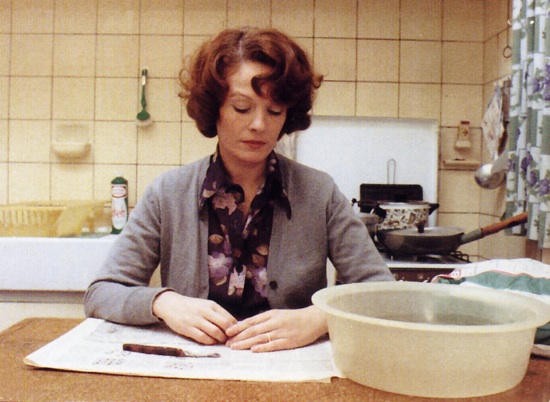 Filmmaker CHANTAL AKERMAN (born 1950), the arthouse precursor to Charlie Kaufman, Jem Cohen, and even Sam Mendes, took one small step for a woman, and one giant leap into interstitial space, with her investigations of what lies between the subject and the object, the intention and the action, the you and the me. Akerman works against the phallic thrust of narrative climax by alternating between leisurely investigations of domestic details (Jeanne Dielman, shown above), and manic picaresque activity (Toute une nuit), the kind usually left out of "the story," in order to show how we build our lives between the overlooked and the busy. Refreshingly feminist, and often very funny, she uses absurd and unrelated settings and events to release the tethers from our stories and set them free.
***
On his or her birthday, HiLobrow irregularly pays tribute to one of our high-, low-, no-, or hilobrow heroes. Also born this date: | Isaiah Berlin |
READ MORE about members of the Blank Generation (1944-53).
To get HiLo Heroes updates via Facebook, click here.