Morris K. Jessup
By: Devin McKinney
March 2, 2015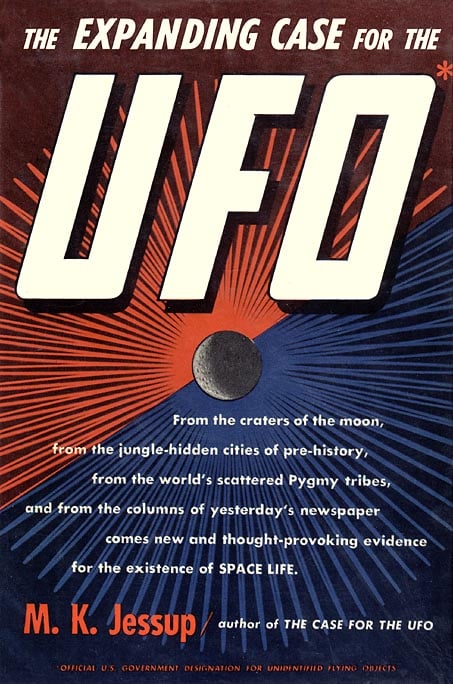 Astromathematician MORRIS K. JESSUP (1900–59) taught at Michigan and Drake, studied Amazonian rubber for the Department of Agriculture, and supervised Mayan digs for the Carnegie Institute. He was also a pioneering UFOlogist whose first book, The Case for the UFO (1955), was one of the soberest studies to appear in that saucer-happy time. In early 1956, Jessup received two letters from one Carl M. Allen, a Pennsylvania resident claiming knowledge of a 1943 government experiment in which a naval destroyer had been "teleported" from the Philadelphia Navy Yard to Norfolk, Virginia, and back — successfully, but with dire aftereffects to the crew. Soon after, the Office of Naval Research contacted Jessup, having received (in an envelope marked "HAPPY EASTER") a copy of Jessup's book filled with annotations apparently representing dialogue between three individuals with inside information about UFOs, aliens, and time travel. Jessup told ONR about Carl Allen — whereupon the agency had the entire book retyped, including annotations, letters, and interpretive material, and printed for internal study.
That private "scholarly" edition eventually leaked. It puts the mystery in your hands, and resolves nothing. Who was Allen? Why was ONR so taken with him, and with the marked-up Jessup book? How was UFO hoaxer and "men in black" fantasist Gray Barker involved? For full particulars, see Vincent Gaddis's Invisible Horizons (1965), or William L. Moore's The Philadelphia Experiment: Project Invisibility (1979). But note here that, on an April night three years following the first Allen letter, in a park in Dade County, Florida, the stargazing scholar and conduit for one of the oddest episodes in UFO lore was found dead. The hose on Jessup's exhaust pipe said suicide. It probably was. But hovering in the dark nearby were growing spirits of popular doubt and dread: the true ghosts of atomic America.
***
On his or her birthday, HiLobrow irregularly pays tribute to one of our high-, low-, no-, or hilobrow heroes. Also born this date: Inez Haynes Irwin, Dr. Seuss, Lou Reed, Scott La Rock.
READ MORE about members of the Hardboiled Generation (1894-1903).