Merit Badge (6)
By: Peggy Nelson
November 1, 2010
Introducing the sixth HiLobrow merit badge, Awaiting Instructions!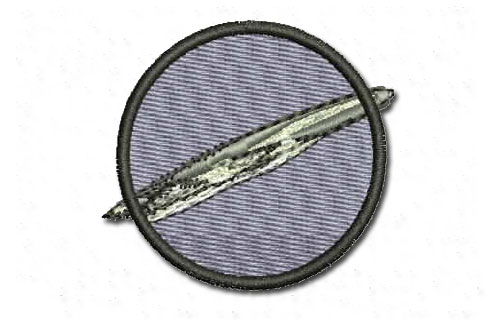 [Badge shown larger than life-size; actual size is approximately 2 inches in diameter]
You may have already earned this badge. Are you an artist that would like to learn the secret of making money from your art? Are you awaiting instructions as to how to obtain that secret?
Here it is: there is no secret.
Follow the instructions to earn this badge, instead.
To earn it: REQUIREMENTS mean something is required; all else is optional. As usual, not all of the steps may be possible, but all badges are earnable. Creativity is encouraged. If you would like to submit independent achievements for consideration, then we will consider them.
***
ART HISTORY / REQUIREMENTS (complete 3 or more):
1. Link to three examples of anamorphic art. Feel free to browse HiLobrow for your answer.
2. How does anamorphic art involve technology? How is it different from trompe l'oeil? How is it different from a palimpsest?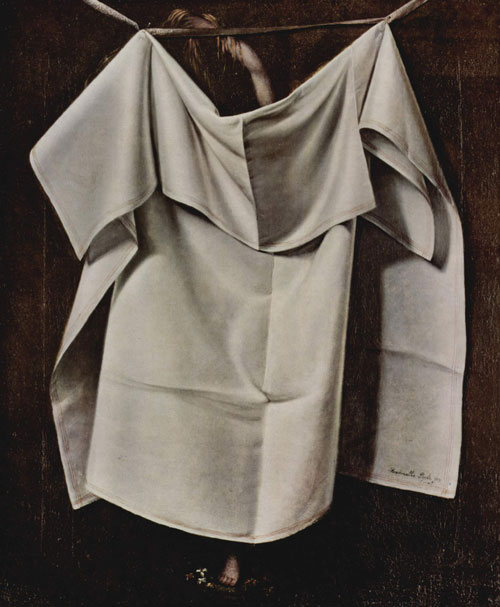 [Venus Rising from the Sea – A Deception (After the Bath), Raphaelle Peale, 1823; Peale is said to have used planned layering of fugitive pigments in the sheet to gradually reveal the body underneath, many years after the death of the artist]
3. If you made the pattern from the Holbein painting featured below into an actual rug, would your work be derivative of Holbein, or an art-historical homage? Would your rug be design, or art? How much do you think you could get for it?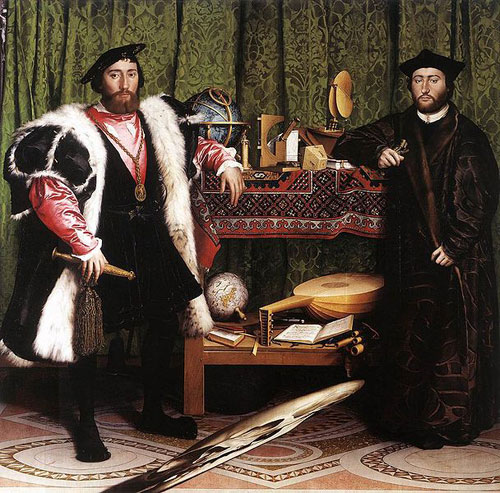 [The Ambassadors, Hans Holbein the Younger, 1533]
4. How many works of art did Vincent Van Gogh sell in his lifetime? How much money did he make from selling art? How much money did he make from selling sunflowers to college students?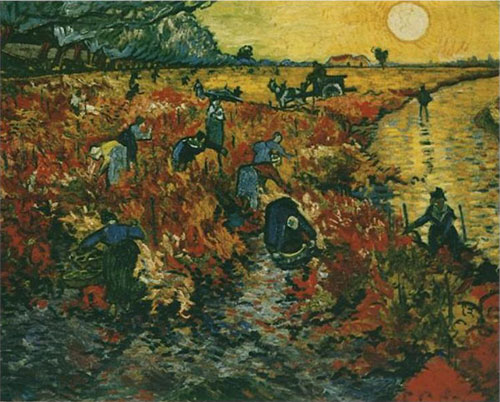 [The Red Vineyard, Vincent van Gogh, 1888]
5. List three artists or writers who did not make a living from their art. List their day jobs.
[Franz Kafka, Personal Injury Claims Investigator, Worker's Accident Insurance Institute for the Kingdom of Bohemia]
MONEY (complete 1 or more):
6. What role did Japanese tax law play in auction house prices for Impressionist art in the 1980s and early 1990s?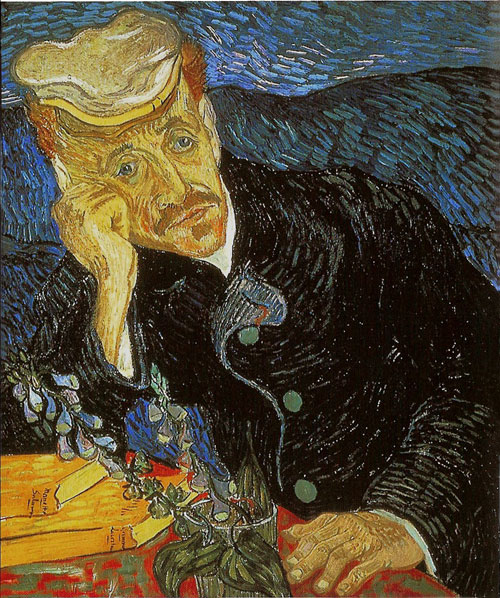 [Portrait of Dr. Gachet, first version, Vincent van Gogh, 1890; fetched $82.5M at auction at Christie's New York in 1990]
7. Finite supplies of Impressionist art drove up the prices of what other category or categories of art?
8. Do you think the high prices for paintings by 1980s art stars like Julian Schnabel, Eric Fischl and David Salle reflected any larger economic forces at play, or are art prices always solely reflective of talent?
EVALUATIONS (complete 2 or more):
9. What role do images play in our culture today? (You may include Facebook profiles, comic books, graffiti, videos, advertising, and reenactments in your answer. If you think paintings are still relevant, you may include them too; but you must explain why.)
10. Is a picture still worth a thousand words?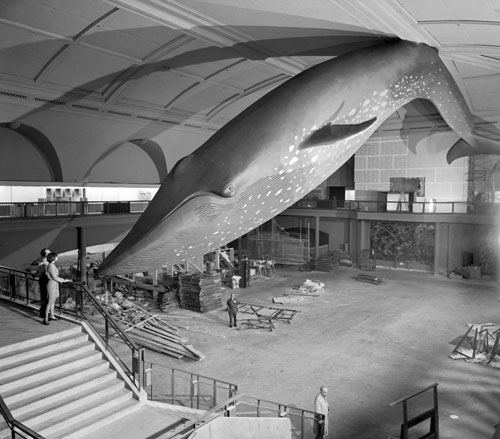 11. Given the prominence of the image in our culture, how would you account for the rise of language-based imagery from venues such as blogging and Twitter?
12. What is design? Is it separate from art or does it overlap? Explain.
13. Fill in the blank: art is to design as writing is to _______________ .
ACTIVITIES (complete 1 or more):
14. In The Hunt for Red October, Sean Connery is awaiting instructions. What are those instructions? What instructions does he ultimately follow? Who has written them?
[The Hunt for Red October, dir. John McTiernan, 1990]
15. List three different systems of value (money/currency can be one). Can they each be translated into each other, or are they partially or fully independent?
a. If yes, write a Babelfish-style algorithm that translates aesthetics into money. Sell it
to Google.
b. If no, describe how you plan to fund your art-making.
16. List an important area of your life where you feel you have been awaiting instructions. What do you think those instructions would be, if they came? Write some of your own to follow.
EXTRA CREDIT:
17. Read your instructions to yourself using your "Sean Connery voice." Upload a video or mp3 of your reading.
[Will Ferrell's Celebrity Jeopardy on Saturday Night Live]
***
Email your name, mailing address, answers, links and any attachments to hilobrow at gmail dot com, with the subject line Merit Badge 6/Instructions. Please number your answers in order.
Badges are free on a limited first-come first-serve basis; there will be a $10 embroidery fee after the free badges have run out. In all cases, HiLobrow reserves the right of final decision, which will be arbitrary.
Important: by submitting material for this badge, you agree to allow HiLobrow to publish excerpts from your submissions at some future point (either linked to your name or anonymously, as you prefer).