SEMIOPUNK (2)
By: Joshua Glenn
August 20, 2023
An irregular, ongoing series of posts dedicated to surfacing examples (and predecessors) of the sf subgenre that HILOBROW was the first to name "semiopunk."
THE GLASS BEAD GAME | FLATLAND | THE HAMPDENSHIRE WONDER | EXPLOITS AND OPINIONS OF DR. FAUSTROLL, PATAPHYSICIAN | A VOYAGE TO ARCTURUS | THE MAN WITH SIX SENSES | THE SPACE MERCHANTS | ODD JOHN | TIME OUT OF JOINT | THE SOFT MACHINE | SOLARIS | LE GARAGE HERMÉTIQUE | CAT'S CRADLE.
---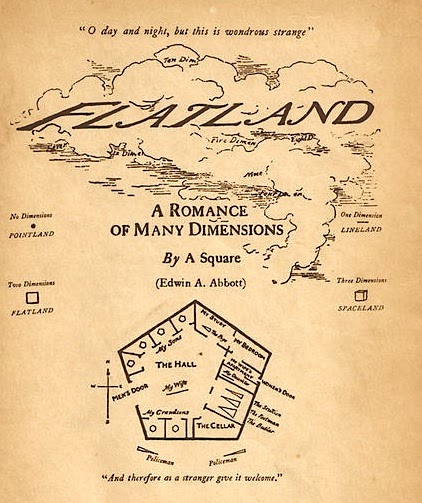 FLATLAND
In 1884, Edwin A. Abbott published the novella Flatland: A Romance of Many Dimensions under the pseudonym A. Square. A British clergyman, Shakespeare scholar, and math aficionado, Abbott offered a whimsical geometry lesson that was also a satirical send-up of Victorian England's hierarchies.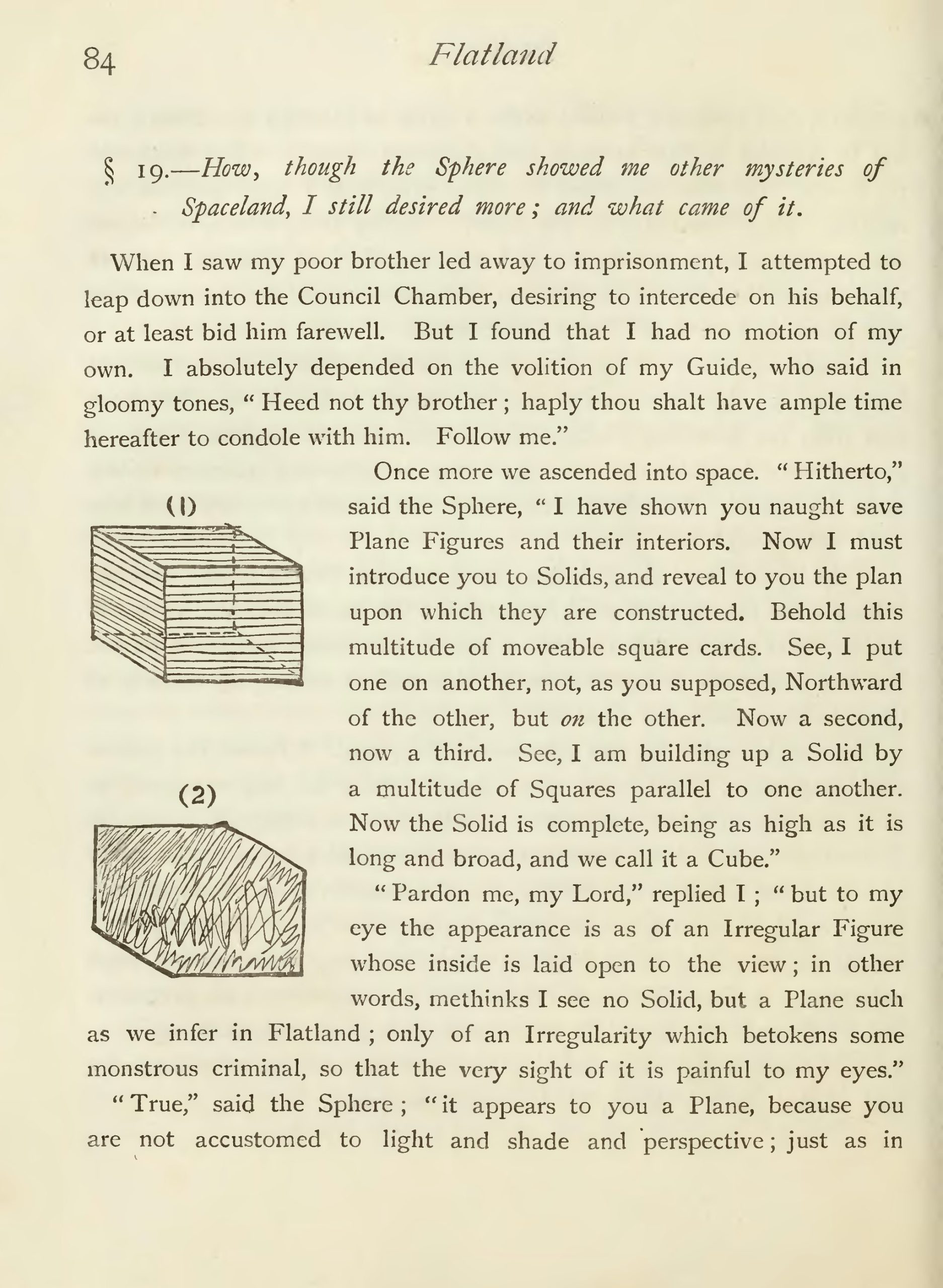 The novella relates the adventures of A. Square, an unusually thoughtful inhabitant of the strictly two-dimensional Flatland. In Flatland, different classes are made up of different polygons, and the laws concerning sides and angles that maintain that hierarchy are pushed to absurd proportions. Women are line segments, while men are polygons with various numbers of sides. The narrator is a square, a member of the caste of gentlemen and professionals.
The first half of the story, which is set in 1999, explains what life is like in a two-dimensional universe. On New Year's Eve of the year 2000, the Square is afforded a vision of Lineland (one dimension; its inhabitants are unable to see the Square as anything other than a set of points on a line), then Spaceland (three dimensions; the Square is visited by a three-dimensional sphere, which he can only perceive — being a two-dimensional creature who can see only one two-dimensional slice of a sphere at a time — as a point, then as a widening circle, then finally as a point as it fades away again. The leaders of Flatland massacre or imprison all witnesses to the Sphere's visitation.
After the Square's mind is opened to new dimensions, he tries to convince the Sphere of the theoretical possibility of the existence of a fourth dimension and higher spatial dimensions. He also visits Pointland, a zero-dimensional space whose sole inhabitant, the Point, perceives any communication as a thought originating in his own mind.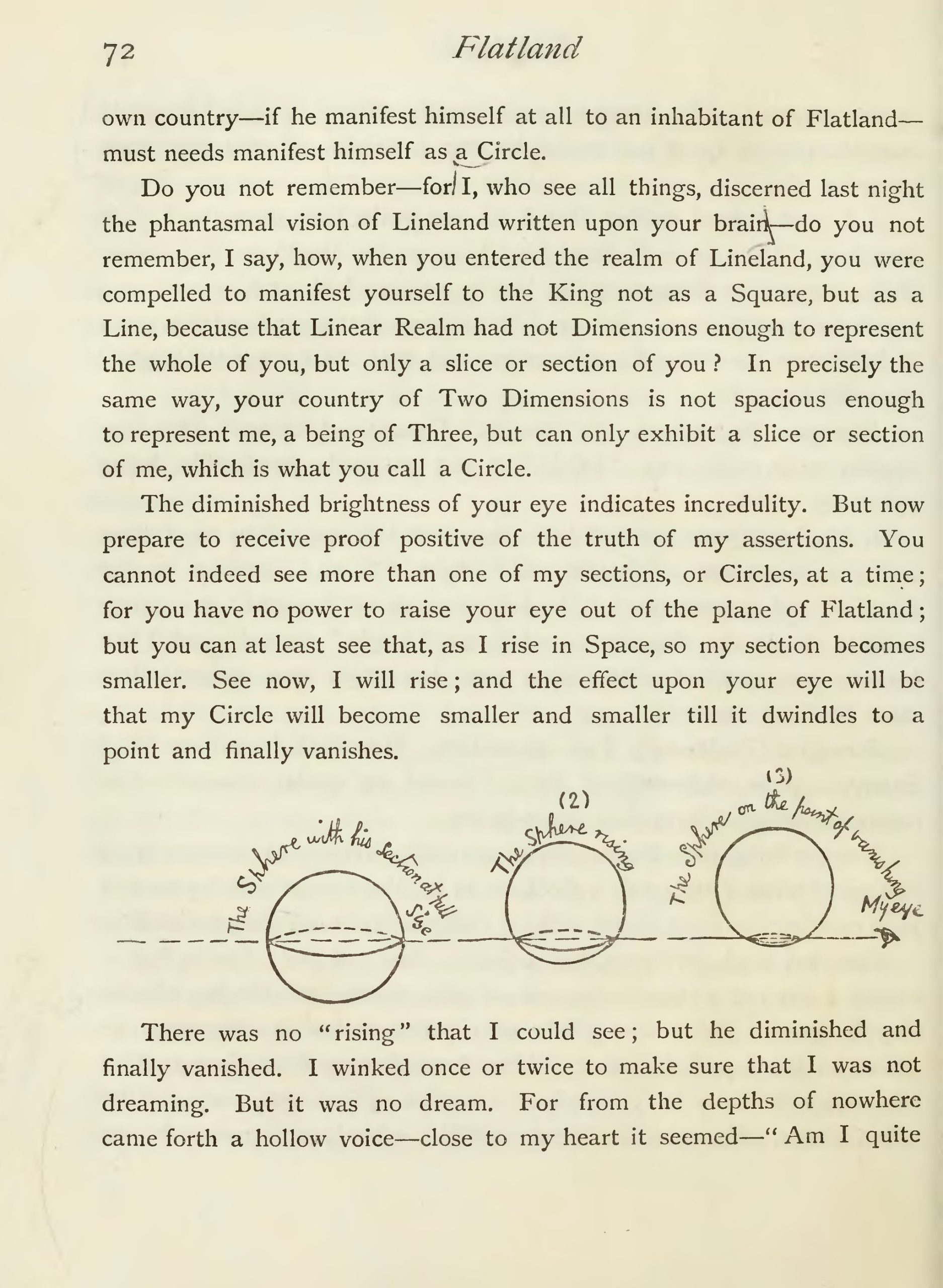 The book only sold modestly at the time and was nearly forgotten… except that in introducing thought experiments on how to visualize higher dimensions to the general public, it paved the way for a more esoteric thinker — the mathematician Charles Howard Hinton — whose 1907 book An Episode of Flatland or How a Plane Folk Discovered the Third Dimension would have much more far-reaching effects.
Also, note that Flatland was written when relativity had not yet been theorized and when quantum theory was not yet discovered. With few exceptions, mathematicians of Abbott's era didn't challenge Euclid by imagining curved space geometries and geometries with infinite dimensionality. Flatland would be rediscovered — via a letter titled "Euclid, Newton and Einstein" published in Nature in February 1920 — and celebrated only after Einstein's general theory of relativity brought to prominence the concept of a fourth dimension.
What seems puzzling and obscure in one dimension can become crystal clear in another! Only a three-dimensional onlooker can see a sphere in its entirety… but that doesn't mean that a two-dimensional theoretical thinker like A. Square can't conceive of a third dimension and imagine what it might be like. Abbott thus challenges those of us who live in Spaceland to imagine other possible modes of existence beyond the familiar.
***
JOSH GLENN'S *BEST ADVENTURES* LISTS: BEST 250 ADVENTURES OF THE 20TH CENTURY | 100 BEST OUGHTS ADVENTURES | 100 BEST RADIUM AGE (PROTO-)SCI-FI ADVENTURES | 100 BEST TEENS ADVENTURES | 100 BEST TWENTIES ADVENTURES | 100 BEST THIRTIES ADVENTURES | 75 BEST GOLDEN AGE SCI-FI ADVENTURES | 100 BEST FORTIES ADVENTURES | 100 BEST FIFTIES ADVENTURES | 100 BEST SIXTIES ADVENTURES | 75 BEST NEW WAVE SCI FI ADVENTURES | 100 BEST SEVENTIES ADVENTURES | 100 BEST EIGHTIES ADVENTURES | 75 BEST DIAMOND AGE SCI-FI ADVENTURES | 100 BEST NINETIES ADVENTURES | 75 BEST HADRON AGE SCI-FI ADVENTURES.