HADRON AGE SF (68)
By: Joshua Glenn
April 21, 2023
One in a series of posts about the 75 best sf adventures published during the genre's Hadron Age era (from 2004–2023, according to HILOBROW's periodization schema). For Josh Glenn's Hadron Age Sci-Fi 75 list (a work in progress), click here.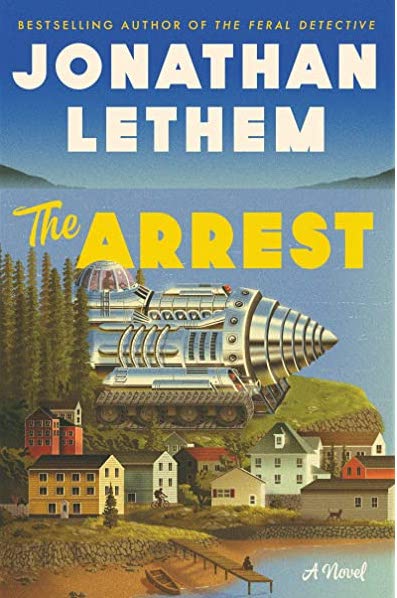 Jonathan Lethem's The Arrest (2020).
A deceptively cozy catastrophe in which Los Angeles screenwriter Sandy Pearlman, aka Journeyman, finds himself stranded in his sister Maddy's bucolic Maine farming collective when almost all technology ceases functioning — the titular "arrest." What's going outside Tinderwick? Impossible to say, since a cordon of grizzled toughs has isolated the peninsula from the mainland. Unsure of his purpose, Journeyman has entered a kind of timeless state of muddled complacency. Enter Todbaum, a manipulative yet charismatic Hollywood macher, who refuses to exit his nuclear-powered, tunnel-boring, espresso-dispensing "Blue Streak" supercar. Establishing himself as Tinderwick's storyteller, Todbaum seduces his captive audience with exaggerated tales of violence and debauchery. He's Hollywood incarnate, that is to say; his supercar represents the intrusion of science fiction themes and tropes into mundane reality. Journeyman and Maddy, we discover, both have past history with the Todbaum; his appearance opens old wounds. "Yet since Todbaum's arrival, time had perhaps restarted. Todbaum was his own ticking clock; he carried deadlines, crises. Worse than a clock. A ticking bomb." What does Todbaum really want? And will Journeyman be able to stop him? As with other sf efforts by this author, including the post-apocalyptic adventures Amnesia Moon, this is meta-fictional stuff; along with Journeyman, we are led to ponder what makes post-apocalyptic fiction so beguiling… and what perverse and uncanny assumptions may be baked into the form itself.
Fun facts: "Journeyman is a self-absolver; there's no morbid secret that his convenient self-exonerations conceal. He's a mild character," Lethem has said in an interview. "But we are all making this world together where Todbaums are allowed to run amok. So I'm looking at what Journeyman's convenient blind spots conceal."
***
JOSH GLENN'S *BEST ADVENTURES* LISTS: BEST 250 ADVENTURES OF THE 20TH CENTURY | 100 BEST OUGHTS ADVENTURES | 100 BEST RADIUM AGE (PROTO-)SCI-FI ADVENTURES | 100 BEST TEENS ADVENTURES | 100 BEST TWENTIES ADVENTURES | 100 BEST THIRTIES ADVENTURES | 75 BEST GOLDEN AGE SCI-FI ADVENTURES | 100 BEST FORTIES ADVENTURES | 100 BEST FIFTIES ADVENTURES | 100 BEST SIXTIES ADVENTURES | 75 BEST NEW WAVE SCI FI ADVENTURES | 100 BEST SEVENTIES ADVENTURES | 100 BEST EIGHTIES ADVENTURES | 75 BEST DIAMOND AGE SCI-FI ADVENTURES | 100 BEST NINETIES ADVENTURES | 75 BEST HADRON AGE SCI-FI ADVENTURES.