Best 1995 Adventures (7)
By: Joshua Glenn
August 27, 2020
One in a series of 10 posts identifying Josh Glenn's favorite 1995 adventure novels.
*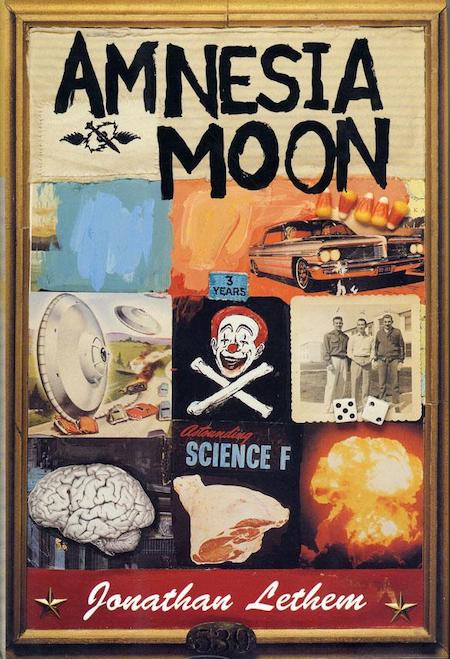 Jonathan Lethem's Amnesia Moon (1995).
A post-apocalyptic picaresque, set in a fragmented future America in which the world as we know it has ended… subjectively speaking. Chaos, whose name may also be Everett Moon, or something else altogether, lives in an abandoned megaplex in Wyoming. Because his dreams are colonized by the more powerful dreams of Kellogg, an irreverent local guru and not-so-strong strongman, Chase hits the road — accompanied by Melinda, a fur-covered young girl. They visit an area covered in a thick green fog, save for an exclusive private school; and a Californian town that has converted to a luck-based social system. There are overt and covert meta-textual references to works by Philip K. Dick, Cornell Woolrich, Jack Kerouac, and Wim Wenders; at one point we hear of a West Marin inhabitant named "Hoppington," a shout-out to the mutant telepath villain of Dick's Dr. Bloodmoney, or How We Got Along After the Bomb. Televangelists in San Francisco have become robots, soap operas star government figures, Los Angeles is overrun by aliens! Along the way, Chaos learns more about his own past, and his own abilities. The narrative thread holding these excursions together is the notion that, in this post-whatever-happened world, reality is shaped — locally, even parochially — by those few individuals able to influence those around them to subscribe to their own subjective worldview.
Fun fact: In interviews, Lethem later explained that Amnesia Moon is "a fix-up of unpublished short stories. I was trying to write out an obsession with dystopias, with collapsed or oppressed realities. At some point, I took a step back and said, 'What am I trying to do here? Why are all the stories similar?' The genesis of Amnesia Moon is my conclusion that what they had in common was this kind of need on the part of the characters, and apparently the author, to have the world destroyed."
***
JOSH GLENN'S *BEST ADVENTURES* LISTS: BEST 250 ADVENTURES OF THE 20TH CENTURY | 100 BEST OUGHTS ADVENTURES | 100 BEST RADIUM AGE (PROTO-)SCI-FI ADVENTURES | 100 BEST TEENS ADVENTURES | 100 BEST TWENTIES ADVENTURES | 100 BEST THIRTIES ADVENTURES | 75 BEST GOLDEN AGE SCI-FI ADVENTURES | 100 BEST FORTIES ADVENTURES | 100 BEST FIFTIES ADVENTURES | 100 BEST SIXTIES ADVENTURES | 75 BEST NEW WAVE SCI FI ADVENTURES | 100 BEST SEVENTIES ADVENTURES | 100 BEST EIGHTIES ADVENTURES | 75 BEST DIAMOND AGE SCI-FI ADVENTURES | 100 BEST NINETIES ADVENTURES | 75 BEST HADRON AGE SCI-FI ADVENTURES | NOTES ON 21st-CENTURY ADVENTURES.