WHAT NOT
By: HILOBROW
October 4, 2022
Under the direction of HILOBROW's Josh Glenn, the MIT Press's RADIUM AGE series is reissuing notable proto-sf stories from the underappreciated era between 1900–1935.
In these forgotten classics, sf readers will discover the origins of enduring tropes like robots (berserk or benevolent), tyrannical supermen, dystopias and apocalypses, sinister telepaths, and eco-catastrophes.
With new contributions by historians, science journalists, and sf authors, the Radium Age book series will recontextualize the breakthroughs and biases of these proto-sf pioneers, and chart the emergence of a burgeoning literary genre.
Today marks the publication of the following Radium Age series title…
---
ROSE MACAULAY
WHAT NOT
Introduction by MATTHEW DE ABAITUA
(October 4, 2022)
---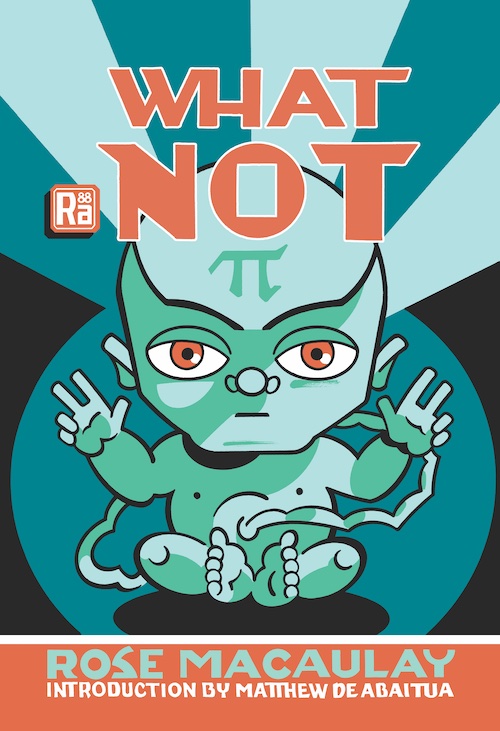 In a near-future England, a new government entity — the Ministry of Brains — attempts to stave off idiocracy through a program of compulsory selective breeding. Kitty Grammont, who shares the author's own ambivalent attitude to life, gets involved in the Ministry's propaganda efforts, which are detailed with an entertaining thoroughness. However, when Kitty falls in love with the Minister for Brains, a man whose genetic shortcomings make a union with her impossible, their illicit affair threatens to topple the government. Because it ridiculed wartime bureaucracy, the planned 1918 publication of What Not, whose alphabetical caste system would directly influence Aldous Huxley's 1932 dystopia Brave New World, was delayed until after the end of World War I.
"Miss Macaulay's 'prophetic comedy' is a joyous rag of Government office routine, flappery, Pelmania, Tribunals, State advertising, the Lower Journalism and 'What Not.' …. A very shrewd piece of observation, whimsicality and tempered malice." — Punch (1919)

"One of the wittiest, most ironical, and altogether funniest books that have appeared these many years." — The Daily Telegraph (1919)

"As a frankly frivolous, always humorous and often witty caricature of modern tendencies, the thing is a brilllant success." — The Observer (1919)

"An entertaining satire upon the current tendecy to put us under Government regulations in everything, even getting married." — Globe (1919)

"Her serious story is impressive and affecting. But the chief delight of the book is in its gay and ridiculous wit." — New Statesman (1919)

"A satire of Britain after World War One, where mental improvement has its own powerful government department. A cross between Brave New World and Orwell's 'Ministry of Truth' — all delivered with a sly wit and arch tongue." — Philippa Levine, William Prescott Webb Chair in History and Ideas, University of Texas at Austin.
ROSE MACAULAY (1881–1958) was an English writer who during the First World War worked in the British Propaganda Department; later, she became a civil servant in the War Office. Several of her satirical novels, including Potterism (1920), Dangerous Ages (1921), and Told by an Idiot (1923) were best-sellers. Macaulay was also a journalist, poet, and essayist, and the author of biographies and travelogues. She is best remembered today for her autobiographical final novel, The Towers of Trebizond (1956).
MATTHEW DE ABAITUA is a senior lecturer in Creative Writing at the University of Essex. His debut science fiction novel The Red Men (2007) was shortlisted for the Arthur C. Clarke Award and adapted into a short film, Dr. Easy. His science fiction novels IF THEN (2015) and The Destructives (2016) complete the loose trilogy. His book Self & I: A Memoir of Literary Ambition (2018) was shortlisted for the New Angle Prize for Literature.
Originally published in 1918. Cover designed by Seth. See this book at MIT Press.
*
The RADIUM AGE series launched in March 2022. Here's a Q&A with Josh. The series has received some nice coverage — including the following comments:
"Joshua Glenn's admirable Radium Age series [is] devoted to early- 20th-century science fiction and fantasy." — Michael Dirda, Washington Post | "Neglected classics of early 20th-century sci-fi in spiffily designed paperback editions." — The Financial Times | "New editions of a host of under-discussed classics of the genre." — Tor.com | "Long live the Radium Age." — Scott Bradfield, Los Angeles Times | "Shows that 'proto-sf' was being published much more widely, alongside other kinds of fiction, in a world before it emerged as a genre and became ghettoised." — BSFA Review. | "A huge effort to help define a new era of science fiction." — Transfer Orbit | "An excellent start at showcasing the strange wonders offered by the Radium Age." — Maximum Shelf | "It's an attractive crusade. […] Glenn's project is well suited to providing an organizing principle for an SF reprint line, to the point where I'm a little surprised that I can't think of other similarly high-profile examples of reprint-as-critical-advocacy." — The Los Angeles Review of Books | "Fascinating." — First Things 
***
RADIUM AGE PROTO-SF FROM THE MIT PRESS: VOICES FROM THE RADIUM AGE, ed. Joshua Glenn | J.D. Beresford's A WORLD OF WOMEN | E.V. Odle's THE CLOCKWORK MAN | H.G Wells's THE WORLD SET FREE | Pauline Hopkins's OF ONE BLOOD | J.J. Connington's NORDENHOLT'S MILLION | Rose Macaulay's WHAT NOT | Cicely Hamilton's THEODORE SAVAGE | Arthur Conan Doyle's THE LOST WORLD & THE POISON BELT | G.K. Chesterton's THE NAPOLEON OF NOTTING HILL | MORE VOICES FROM THE RADIUM AGE, ed. Joshua Glenn | William Hope Hodgson's THE NIGHT LAND | Hemendrakumar Roy's THE INHUMANS | Charlotte Haldane's MAN'S WORLD | Francis Stevens's THE HEADS OF CERBERUS & OTHER STORIES | Edward Shanks's THE PEOPLE OF THE RUINS | J.D. Beresford's THE HAMPDENSHIRE WONDER | John Taine's THE GREATEST ADVENTURE.
RADIUM AGE PROTO-SF: "Radium Age" is Josh Glenn's name for the nascent sf genre's c. 1900–1935 era, a period which saw the discovery of radioactivity, i.e., the revelation that matter itself is constantly in movement — a fitting metaphor for the first decades of the 20th century, during which old scientific, religious, political, and social certainties were shattered. More info here.