NORDENHOLT'S MILLION
By: HILOBROW
August 2, 2022
Under the direction of HILOBROW editor Josh Glenn, the MIT Press's Radium Age is reissuing notable proto-sf stories from the underappreciated era between 1900–1935.
In these forgotten classics, sf readers will discover the origins of enduring tropes like robots (berserk or benevolent), tyrannical supermen, dystopias and apocalypses, sinister telepaths, and eco-catastrophes.
With new contributions by historians, science journalists, and sf authors, the Radium Age book series will recontextualize the breakthroughs and biases of these proto-sf pioneers, and chart the emergence of a burgeoning literary genre.
Today marks the publication of the following Radium Age series title…
---
J.J. CONNINGTON
NORDENHOLT'S MILLION
Introduction by MATTHEW BATTLES
Afterword by EVAN HEPLER-SMITH
(August 2, 2022)
---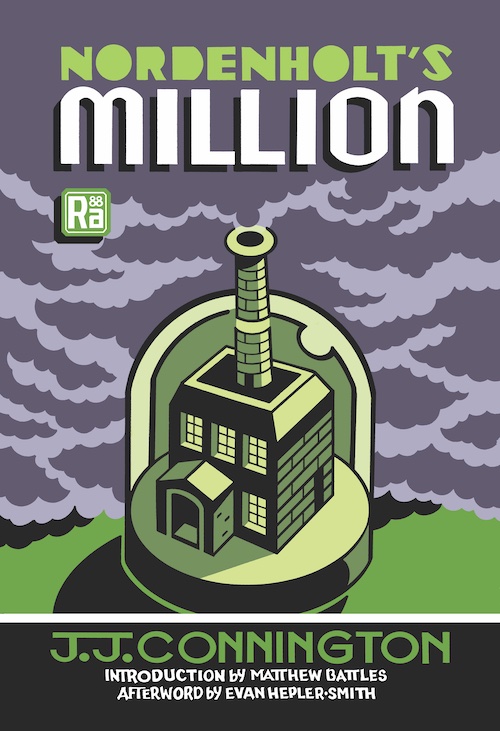 As denitrifying bacteria inimical to plant growth spread around the world, toppling civilizations and threatening to wipe out humankind, the British plutocrat Nordenholt sets himself up as the benignant dictator of a ruthlessly efficient, entirely undemocratic survivalist colony established in Scotland's Clyde Valley. Discovering just how far their employer is willing to go in his effort to spare one million lives, Jack Flint, the colony's director of operations, and Elsa Huntingtower, Nordenholt's personal assistant, are forced to grapple with the question of whether a noble end justifies dastardly means.
"You may like Nordenholt's Million or you may detest it, but there is one thing I defy you to do, and that is to forget it." — Punch (1923)

"I can't think of a more timely moment to reissue Nordenholt's Million, a chilling prediction of eco-catastrophe and the authoritarian regimes that can and do arise during such periods of chaos." — Douglas Rushkoff, author of Team Human
Press for MITP's edition of Nordenholt's Million includes the following…
Nordenholt's Million was featured as "One to Watch" in the w/o May 23 issue of The Bookseller. "As a bacteria threatens mankind, plutocrat Nordenholt creates a survivalist colony in Scotland's Clyde Valley. This is part of the MIT press Radium Age reissue series, celebrating classic 'proto-science fiction stories from the underappreciated era between 1900-35' and, as with all the series, features striking cover art from Canadian comic artist Seth."
"This edition comes with a foreword from Matthew Battles and an afterword from Evan Hepler-Smith. I've been particularly looking forward to this installment of the [Radium Age] series." — Transfer Orbit
ALFRED WALTER STEWART (1880–1947) was a distinguished British chemist and author of the popular textbooks Recent Advances in Organic Chemistry (1908) and Recent Advances in Physical and Inorganic Chemistry (1909). Via a 1918 theory of the physical chemistry of radioactivity, he contributed the term isobar — as complementary to the term isotope — to science. Under the pseudonym J. J. Connington, Stewart wrote seventeen well-received detective novels; Nordenholt's Million is his only science fiction novel.
MATTHEW BATTLES is the author of Library: an Unquiet History (2003), Palimpsest (2015), and Tree (2017), as well as the story collection The Sovereignties of Invention (2016). His writing on the cultural dimensions of science, technology, and the natural world have appeared in the Atlantic, the Boston Globe, and Orion. For Harvard's metaLAB, he develops research into the dark abundance of collections, cultural and technology, and conditions of experience in the context of deep time.
EVAN HEPLER-SMITH teaches the history of science and technology and environmental history at Duke University. He has a special interest in the history of chemicals and chemistry, information technology, and environmental regulation. His book in progress is entitled Compound Words: Chemical Information and the Molecular World. His writing has been published in The New York Times, The Wall Street Journal, Time.com, and Public Books.
Originally published in 1923. Cover designed by Seth. See this book at MIT Press.
***
RADIUM AGE PROTO-SF FROM THE MIT PRESS: VOICES FROM THE RADIUM AGE, ed. Joshua Glenn | J.D. Beresford's A WORLD OF WOMEN | E.V. Odle's THE CLOCKWORK MAN | H.G Wells's THE WORLD SET FREE | Pauline Hopkins's OF ONE BLOOD | J.J. Connington's NORDENHOLT'S MILLION | Rose Macaulay's WHAT NOT | Cicely Hamilton's THEODORE SAVAGE | Arthur Conan Doyle's THE LOST WORLD & THE POISON BELT | G.K. Chesterton's THE NAPOLEON OF NOTTING HILL | William Hope Hodgson's THE NIGHT LAND | MORE VOICES FROM THE RADIUM AGE, ed. Joshua Glenn | Hemendrakumar Roy's THE INHUMANS | Charlotte Haldane's MAN'S WORLD | Francis Stevens's THE HEADS OF CERBERUS & OTHER STORIES | Edward Shanks's THE PEOPLE OF THE RUINS | J.D. Beresford's THE HAMPDENSHIRE WONDER | John Taine's THE GREATEST ADVENTURE.
RADIUM AGE PROTO-SF: "Radium Age" is Josh Glenn's name for the nascent sf genre's c. 1900–1935 era, a period which saw the discovery of radioactivity, i.e., the revelation that matter itself is constantly in movement — a fitting metaphor for the first decades of the 20th century, during which old scientific, religious, political, and social certainties were shattered. More info here.