OF ONE BLOOD
By: HILOBROW
August 2, 2022
Under the direction of HILOBROW editor Josh Glenn, the MIT Press's Radium Age is reissuing notable proto-sf stories from the underappreciated era between 1900–1935.
In these forgotten classics, sf readers will discover the origins of enduring tropes like robots (berserk or benevolent), tyrannical supermen, dystopias and apocalypses, sinister telepaths, and eco-catastrophes.
With new contributions by historians, science journalists, and sf authors, the Radium Age book series will recontextualize the breakthroughs and biases of these proto-sf pioneers, and chart the emergence of a burgeoning literary genre.
Today marks the publication of the following Radium Age series title…
---
PAULINE HOPKINS
OF ONE BLOOD
Introduction by MINISTER FAUST
(August 2, 2022)
---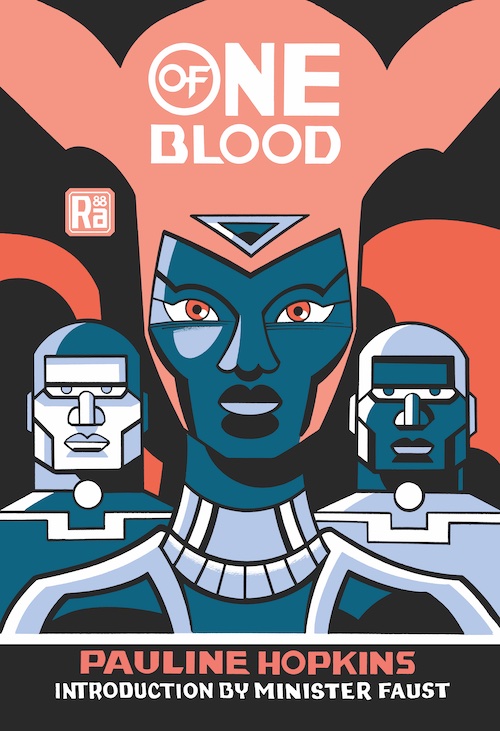 Long before Marvel Comics gave us Wakanda, a high-tech African country which has never been colonized, Reuel Briggs — a mixed-race Harvard medical student who had been passing as white — stumbled upon Telassar. In this long-hidden Ethiopian city, the wise, peaceful inhabitants of which have mastered both advanced technologies and mystical powers, Reuel discovers the incredible secret of his own birth. Now, he must decide whether to return to the life he's built, and the woman he loves, back in America… or play a role in helping Telassar take its proper place on the world stage. Considered one of the earliest articulations of Black internationalism, Of One Blood takes as its theme the notion that race is a social construct perpetuated by racists.
"Deals in no uncertain terms with both the temporal and spiritual solution of the greatest question of the age — The Negro." — The Colored American Magazine (1902)
"Of One Blood returns in this new edition, celebrating a seminal work of Black speculative fiction. Over a century since its original publication, Hopkins's classic remains as relevant today as ever." —P. Djèlí Clark, Nebula-winning author of Ring Shout and A Master of Djinn
Advance press includes the following:
"A fantastic reminder of the long (generally overlooked, ignored, and under-celebrated) legacy of Black speculative fiction!" — Arley Sorg, coeditor-in-chief of Fantasy and Senior Editor of Locus, via Twitter
"Hopkins … transports readers to a technologically advanced, hidden city in Ethiopia that's remained free of colonialist influences and oppression." — Transfer Orbit
PAULINE HOPKINS (1859-1930), an African-American journalist and editor of Boston's The Colored American Magazine, was the author of four novels: Contending Forces: A Romance Illustrative of Negro Life North and South (1900), Hagar's Daughter: A Story of Southern Cast Prejudice (1901–1902), Winona: A Tale of Negro Life in the South and Southwest (1902–1903), and Of One Blood (1903). Her work illuminated African history, racist injustice, and women's liberation, earning her a reputation as a key public intellectual of her time.
MINISTER FAUST is best known as author of The Coyote Kings of the Space-Age Bachelor Pad (2004) and 2007's Kindred Award-winning From the Notebooks of Dr. Brain (retitled Shrinking the Heroes, it also received the Philip K. Dick Award Special Citation). An award-winning journalist, community organizer, teacher, and workshop designer, Faust is also a former television host and producer, radio broadcaster, and podcaster. His 2011 TEDx talk, "The Cure For Death by Smalltalk," has been viewed more than 840,000 times.
Originally published in 1902–1903. See this book at MIT Press.
***
RADIUM AGE PROTO-SF FROM THE MIT PRESS: VOICES FROM THE RADIUM AGE, ed. Joshua Glenn | J.D. Beresford's A WORLD OF WOMEN | E.V. Odle's THE CLOCKWORK MAN | H.G Wells's THE WORLD SET FREE | Pauline Hopkins's OF ONE BLOOD | J.J. Connington's NORDENHOLT'S MILLION | Rose Macaulay's WHAT NOT | Cicely Hamilton's THEODORE SAVAGE | Arthur Conan Doyle's THE LOST WORLD & THE POISON BELT | G.K. Chesterton's THE NAPOLEON OF NOTTING HILL | William Hope Hodgson's THE NIGHT LAND | MORE VOICES FROM THE RADIUM AGE, ed. Joshua Glenn | Hemendrakumar Roy's THE INHUMANS | Charlotte Haldane's MAN'S WORLD | Francis Stevens's THE HEADS OF CERBERUS & OTHER STORIES | Edward Shanks's THE PEOPLE OF THE RUINS | J.D. Beresford's THE HAMPDENSHIRE WONDER | John Taine's THE GREATEST ADVENTURE.
RADIUM AGE PROTO-SF: "Radium Age" is Josh Glenn's name for the nascent sf genre's c. 1900–1935 era, a period which saw the discovery of radioactivity, i.e., the revelation that matter itself is constantly in movement — a fitting metaphor for the first decades of the 20th century, during which old scientific, religious, political, and social certainties were shattered. More info here.