MORE VOICES FROM THE RADIUM AGE
By: HILOBROW
August 1, 2023
Under the direction of HILOBROW's Josh Glenn, the MIT Press's RADIUM AGE series is reissuing notable proto-sf stories from the underappreciated era between 1900–1935.
In these forgotten classics, sf readers will discover the origins of enduring tropes like robots (berserk or benevolent), tyrannical supermen, dystopias and apocalypses, sinister telepaths, and eco-catastrophes.
With new contributions by historians, science journalists, and sf authors, the Radium Age book series will recontextualize the breakthroughs and biases of these proto-sf pioneers, and chart the emergence of a burgeoning literary genre.
Today marks the publication of the following Radium Age series title…
MORE VOICES from the RADIUM AGE
EDITED BY JOSHUA GLENN
Introduction by JOSHUA GLENN
(August 1, 2023)
---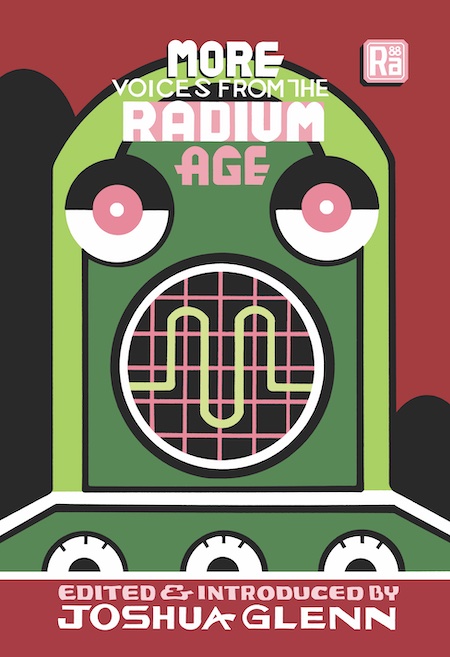 A planetary escape pod, an alien body-snatcher, an underground Alaskan city, and a war between the sexes in Atlantis! These are just a few of the outré elements you'll find in More Voices from the Radium Age, a showcase of proto–science fiction edited and introduced by Joshua Glenn. This volume brings together well-known and lesser-known writers in an inclusive collection that features E. Nesbit and May Sinclair, two of the genre's first female writers.
More Voices from the Radium Age also introduces readers to writers who have fallen into obscurity, including proto–sf pioneer George C. Wallis, the Russian Symbolist Valery Bryusov, and "weird" horror master Algernon Blackwood. It also includes H.G. Wells, who continued to make startling predictions in the early 20th century, and Abraham Merritt and George Allan England, two of the biggest names in the era of the pulp scientific romance.
An essential collection for any sci fi fan, More Voices from the Radium Age is a wild and darkly cathartic ride through the anxieties, fantasies, and nightmares that ultimately shaped the genre we now know as science fiction.
Press for More Voices from the Radium Age includes the following…
"A diverse, captivating collection… highlighting neglected voices in speculative and science fiction." — Foreword (starred review)

"Add [it] to your August Reading List." — Gizmodo
*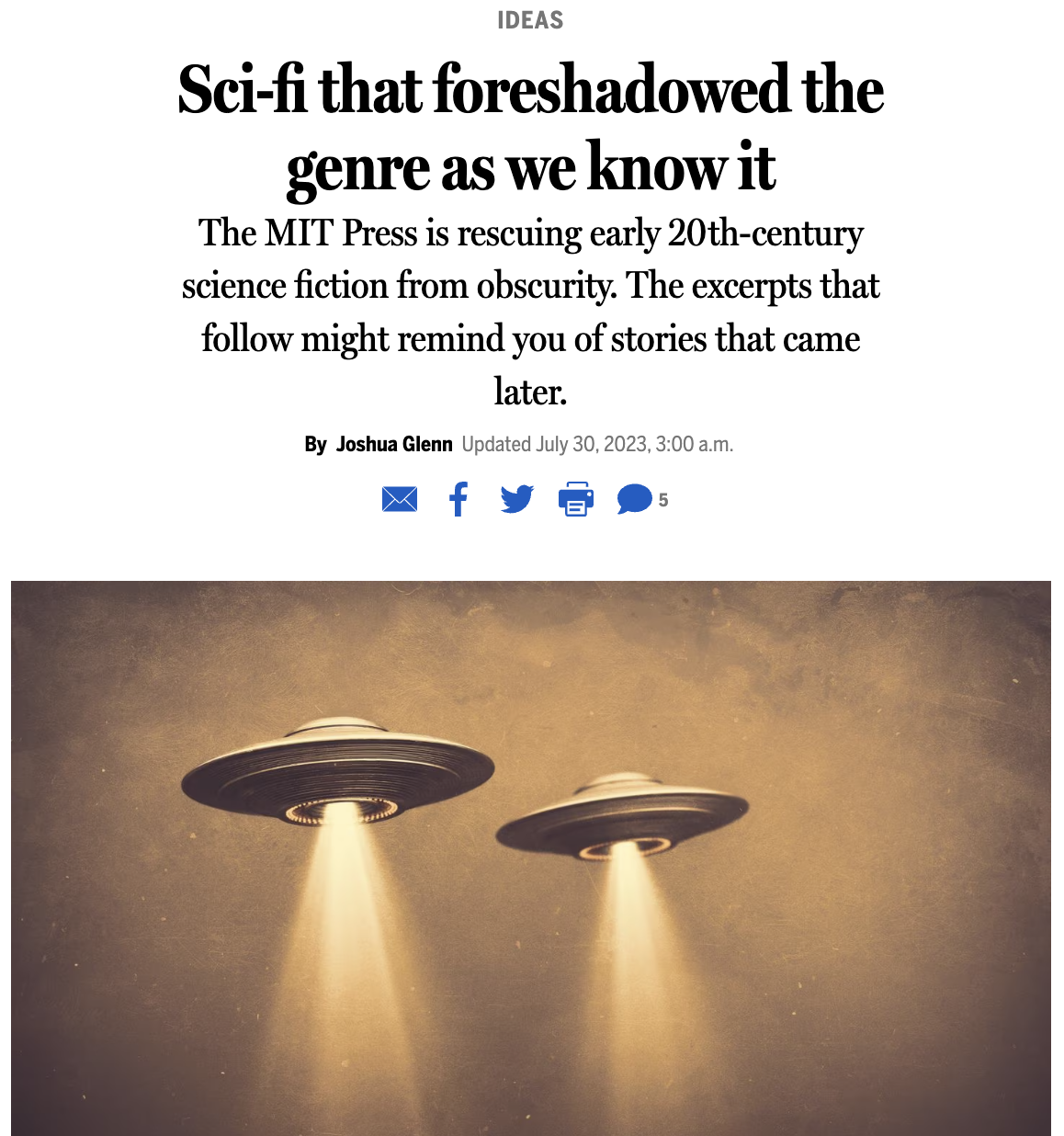 I'm grateful to the Boston Globe for publishing several excerpts from these stories, along with a few introductory notes by yours truly.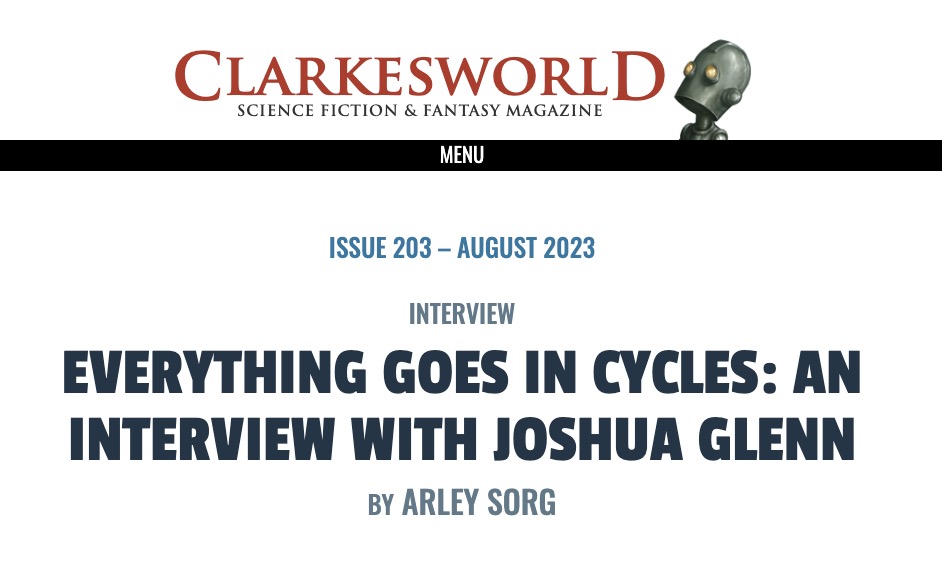 Also see this Q&A — about More Voices — in the August issue of the sf/f magazine Clarkesworld.
*
JOSHUA GLENN is a consulting semiotician and editor of the websites HiLobrow and Semiovox. The first to describe 1900–1935 as science fiction's "Radium Age," he is editor of the MIT Press's series of reissued proto-sf stories from that period. He is coauthor and co-editor of various books including the family activities guide UNBORED (2012), The Adventurer's Glossary (2021), and Lost Objects (2022). In the 1990s, he published the indie intellectual journal Hermenaut.
ALGERNON BLACKWOOD (1869–1951) is best known as the author of supernatural fiction with cosmic aspirations — including The Centaur (1911), Julius LeVallon (1916), and The Bright Messenger (1921), as well as stories like "The Willows" (1907) and "The Wendigo" (1910). The English author's best-known horror stories, and his series of stories featuring the occult detective John Silence, seek less to frighten than to induce a sense of awe. His work was a significant influence on H.P. Lovecraft and his circle.
VALERY BRYUSOV (1873–1924), a poet, dramatist, art critic, and historian, was one of the principal members of the Russian Symbolist movement. He anticipated giant domed computerized cities, ecological catastrophe, and a totalitarian state in his 1907 story collection Zemnaya Os (Earth's Axis), published in English as The Republic of the Southern Cross (1918, translator unknown). Though many of his fellow Symbolists fled the country after the Russian Revolution of 1917, Bryusov remained until his death.
GEORGE ALLAN ENGLAND (1877–1936) was an American writer and explorer, best known for proto sf-novels including the Darkness and Dawn Series (1912–1914), as well as The Elixir of Hate (1910), The Empire in the Air (1914), and The Air Trust (1915). Like some other proto-sf writers of the era, he was anti-capitalist; in 1912 he ran for Governor of Maine as the Socialist Party of America's candidate. His story "The Thing from—'Outside'" appeared in Hugo Gernsback's magazine Science and Invention.
ABRAHAM MERRITT (1884–1943), who wrote as A. Merritt, was one of the most successful and influential proto-sf writers of the pulp era. He is best remembered today for his novels The Moon Pool (1919), The Ship of Ishtar (1924), The Face in the Abyss (1931), and Dwellers in the Mirage (1932). His stories' suggestion that lost races, ancient technologies, and other far-out phenomena were waiting to be discovered beneath the surface of everyday modern life were a major influence on subsequent sf and fantasy.
EDITH NESBIT (1858–1924) was an English author best remembered today for her fantasies for children — written as E. Nesbit, they include The Wouldbegoods (1901) and Five Children and It (1902) — which have directly influenced everyone from C.S. Lewis and Diana Wynne Jones to J.K. Rowling. In addition to essentially inventing the children's fantasy adventure as we know it, she was author of horror, supernatural, and proto-sf stories. A political activist, she co-founded Britain's socialist Fabian Society.
MAY SINCLAIR was the pseudonym of English author and suffragist Mary Amelia St. Clair (1863–1946). She is best remembered for semi-autobiographical novels such as Life and Death of Harriett Frean (1922). Sinclair's supernatural and proto-sf tales, which would find champions in T.S. Eliot and Jorge Luis Borges, explore her idiosyncratic take on the idealist notion that reality is a mental construct closely connected to ideas; they were also influenced by contemporary mathematical theories of hyperspace.
BOOTH TARKINGTON (1869–1946) was an American author best remembered for The Magnificent Ambersons (1918) and Alice Adams (1921), both of which won the Pulitzer Prize; as well as for Penrod (1914), a collection of comic sketches about the titular 11-year-old boy, and its many sequels. In the 1910s and 1920s he was considered to be America's greatest living author, as important as Mark Twain; today, he is forgotten. An admirer of Charles Fort, Tarkington's only sf story is "The Veiled Feminists of Atlantis."
GEORGE C. WALLIS (1871–1956) began writing scientific romances in the 1890s. Early stories of interest, besides "The Last Days of Earth," include "The White Queen of Atlantis" (1896), "The Great Sacrifice" (1903), and "In Trackless Space" (1904). His novel Beyond the Hills of Mist (serialized 1912) concerns a Tibetan lost race that plans world domination; and his last sf novel, The Call of Peter Gaskell, appeared in 1948. He is most likely the only Victorian-era sf writer to continue to publish after World War Two.
H.G. WELLS (1866–1946) is best known today as author of pioneering scientific romances such as The Time Machine (1895), The Island of Doctor Moreau (1896), The Invisible Man (1897), and The War of the Worlds (1898). An important influence on sf authors from Olaf Stapledon to Arthur C. Clarke, the prodigious English writer was also a social critic and futurist who penned dozens of novels, stories, and works of history and social commentary — in which he proposed more rational ways to organize society.
Cover designed by Seth. See this book at The MIT Press.
***
RADIUM AGE PROTO-SF FROM THE MIT PRESS: VOICES FROM THE RADIUM AGE, ed. Joshua Glenn | J.D. Beresford's A WORLD OF WOMEN | E.V. Odle's THE CLOCKWORK MAN | H.G Wells's THE WORLD SET FREE | Pauline Hopkins's OF ONE BLOOD | J.J. Connington's NORDENHOLT'S MILLION | Rose Macaulay's WHAT NOT | Cicely Hamilton's THEODORE SAVAGE | Arthur Conan Doyle's THE LOST WORLD & THE POISON BELT | G.K. Chesterton's THE NAPOLEON OF NOTTING HILL | MORE VOICES FROM THE RADIUM AGE, ed. Joshua Glenn | William Hope Hodgson's THE NIGHT LAND | Hemendrakumar Roy's THE INHUMANS | Charlotte Haldane's MAN'S WORLD | Francis Stevens's THE HEADS OF CERBERUS & OTHER STORIES | Edward Shanks's THE PEOPLE OF THE RUINS | J.D. Beresford's THE HAMPDENSHIRE WONDER | John Taine's THE GREATEST ADVENTURE.
RADIUM AGE PROTO-SF: "Radium Age" is Josh Glenn's name for the nascent sf genre's c. 1900–1935 era, a period which saw the discovery of radioactivity, i.e., the revelation that matter itself is constantly in movement — a fitting metaphor for the first decades of the 20th century, during which old scientific, religious, political, and social certainties were shattered. More info here.