Best 1989 Adventures (10)
By: Joshua Glenn
April 24, 2020
One in a series of 10 posts identifying Josh Glenn's favorite 1989 adventure novels.
*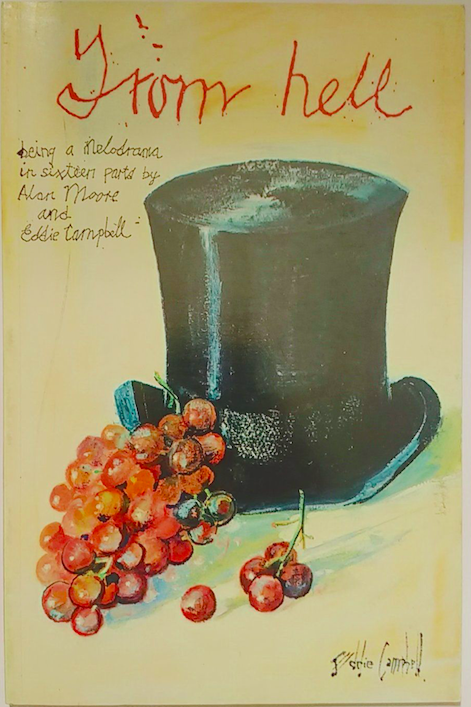 Alan Moore and Eddie Campbell's historical-crime graphic novel From Hell (1989–1996).
A comic that is difficult to read — not only because of the graphic violence, but literally, because Eddie Campbell's black-and-white art is crabbed, crowded, and scratchy, like the mind of a maniac. Also, Moore's nearly 600-page meditation on the identity and motives of "Jack the Ripper," the still-unidentified serial killer active in the impoverished areas in and around London's Whitechapel district in 1888, is complex. Inspired by Douglas Adams's notion of solving crimes "holistically," Moore sets about "solving" Victorian-era British society — in whose injustice, racism, and casual violence he locates the origin of every variety of 20th-century horror. From Hell takes as its premise the — unproven, evocative, self-parodying — theory that the Whitechapel murders were the work of royal physician Sir William Gull, who was conspiring with the British royal family to conceal the birth of an illegitimate child, to Annie Crook, a shop girl, fathered by Prince Albert Victor. When a group of prostitutes — Annie's friends — threaten to reveal the prince's secret, Gull begins a campaign of violence against them. He justifies the murders by claiming they are a Masonic warning to an Illuminati threat to the throne; the story's psychogeography, which reveals the hidden mystic significance of London landmarks, owes a debt to Iain Sinclair's White Chapell, Scarlet Tracings, though Sinclair was also influenced by Moore. Like other brilliant, difficult comics of the era, readers may yearn for explanatory footnotes; not to worry — the collected edition features over 40 pages of additional info.
Fun facts: Loosely adapted as a not-very-good 2001 film, made by the Hughes brothers, and starring Johnny Depp, Heather Graham, and Ian Holm. The series was published in ten volumes between 1991 and 1996. The series and an appendix were collected in a trade paperback and published by Eddie Campbell Comics in 1999.
***
JOSH GLENN'S *BEST ADVENTURES* LISTS: BEST 250 ADVENTURES OF THE 20TH CENTURY | 100 BEST OUGHTS ADVENTURES | 100 BEST RADIUM AGE (PROTO-)SCI-FI ADVENTURES | 100 BEST TEENS ADVENTURES | 100 BEST TWENTIES ADVENTURES | 100 BEST THIRTIES ADVENTURES | 75 BEST GOLDEN AGE SCI-FI ADVENTURES | 100 BEST FORTIES ADVENTURES | 100 BEST FIFTIES ADVENTURES | 100 BEST SIXTIES ADVENTURES | 75 BEST NEW WAVE SCI FI ADVENTURES | 100 BEST SEVENTIES ADVENTURES | 100 BEST EIGHTIES ADVENTURES | 75 BEST DIAMOND AGE SCI-FI ADVENTURES | 100 BEST NINETIES ADVENTURES (in progress) | 1994 | 1995 | 1996 | 1997 | 1998 | 1999 | 2000 | 2001 | 2002 | 2003 | NOTES ON 21st-CENTURY ADVENTURES.