Best 1987 Adventures (9)
By: Joshua Glenn
March 10, 2020
One in a series of 10 posts identifying Josh Glenn's favorite 1987 adventure novels.
*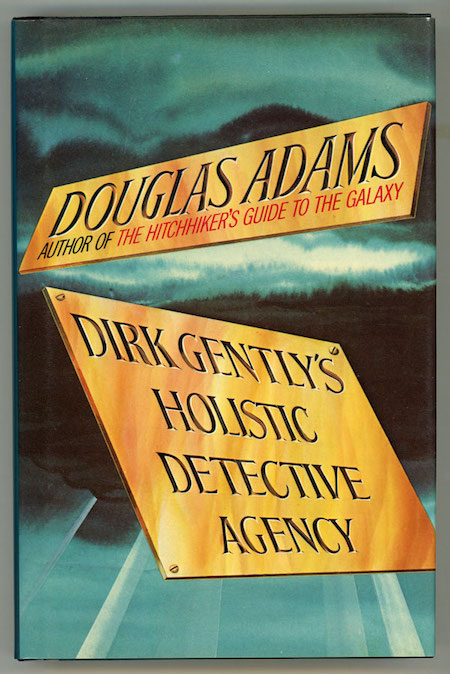 Douglas Adams's sci-fi/crime adventure Dirk Gently's Holistic Detective Agency.
Dirk Gently, self-proclaimed Holistic Detective, is convinced that even the most inexplicable mystery can be cracked via deep insight into the fundamental interconnectedness of all things. (He is, that is to say, a semionaut; or an affectionate parody of one; he also bears more than a passing relationship to Wodehouse's Psmith.) Gently's theory is put to the test when his old schoolmate, Richard MacDuff, apparently murders his boss, Gordon Way. Way was killed after MacDuff attended an event during which Professor Urban "Reg" Chronotis, performed an inexplicable magic trick… and at the finale of which an Electric Monk and his horse traveled from an alien planet to Chronotis's bathroom. Might ancient astronauts, time travel, and Coleridge be involved? Is the fate of humankind at stake? Is this, as the author claimed, a "thumping good detective-ghost-horror-who dunnit-time travel-romantic-musical-comedy-epic"? Yes.
Fun facts: Dirk Gently would reapper in The Long Dark Tea-Time of the Soul (1988); Adams never completed the third installment in the trilogy. Samuel Barnett (as Gently) and Elijah Wood (as Gently's sidekick, Todd) starred in the 2016–2017 BBC America TV series, which was set in Seattle (first season) and a fictional Montana town.
***
JOSH GLENN'S *BEST ADVENTURES* LISTS: BEST 250 ADVENTURES OF THE 20TH CENTURY | 100 BEST OUGHTS ADVENTURES | 100 BEST RADIUM AGE (PROTO-)SCI-FI ADVENTURES | 100 BEST TEENS ADVENTURES | 100 BEST TWENTIES ADVENTURES | 100 BEST THIRTIES ADVENTURES | 75 BEST GOLDEN AGE SCI-FI ADVENTURES | 100 BEST FORTIES ADVENTURES | 100 BEST FIFTIES ADVENTURES | 100 BEST SIXTIES ADVENTURES | 75 BEST NEW WAVE SCI FI ADVENTURES | 100 BEST SEVENTIES ADVENTURES | 100 BEST EIGHTIES ADVENTURES | 75 BEST DIAMOND AGE SCI-FI ADVENTURES | 100 BEST NINETIES ADVENTURES (in progress) | 1994 | 1995 | 1996 | 1997 | 1998 | 1999 | 2000 | 2001 | 2002 | 2003 | NOTES ON 21st-CENTURY ADVENTURES.